Today covered (in alphabetical order):
BTCUSD
DGBBTC
ETCBTC
ETHBTC
ETHUSD
HZBTC
USDRUR
XMRBTC
The digest contains a compiled list of cryptocurrency trading opinions and was made with tools approved by the host to be used on social websites. Original author is always mentioned. Entries are sorted by symbol in alphabetical order to make it coherent and easy to read. Every image links directly to a full screen analysis.
---
CRYPTOCURRENCY PAIR: BTCUSD
Bitcoin Snapshot for weekend!
Fri, 14 Oct 2016 00:16:14 -0500, zippy1day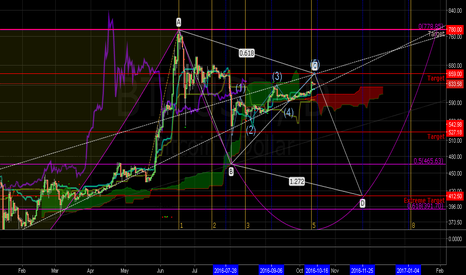 This is definitely an idea but things seem to be aligning themselves with this scenario?
Information Shock 2
Thu, 13 Oct 2016 20:19:28 -0500, Gladitrader12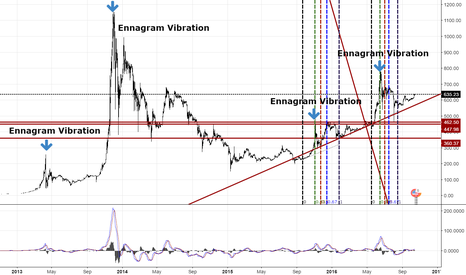 No, This is not Shanghai Index

This is Bitcoin . They are similar markets because they have very low "Real Value" and highly inflated " Intrinsic Value"
- ask Warren B. he is an expert in the Intrinsic Valuation.
Point of Reference
Thu, 13 Oct 2016 15:53:36 -0500, blibby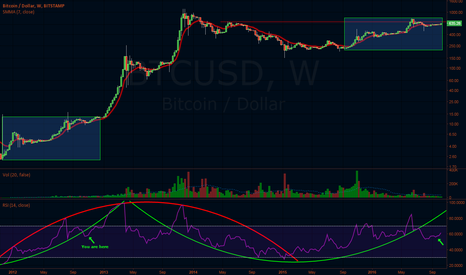 "History never repeats, but it often rhymes."


long range,
Thu, 13 Oct 2016 15:10:14 -0500, To4kaTrader
tihgt stop?
BITCOING TRIANGLE OF LOVE
Thu, 13 Oct 2016 12:17:58 -0500, sum1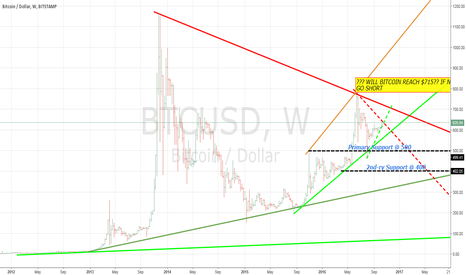 Bitcoin still trading in Triangle pattern. There are 3 triangles in different degrees in play with BITCOIN :

1) One higher degree from 2013 HIGH $1100 (REDLINE) & 2012 LOW $5 ( DEEP GREEN LINE)

2) One smaller degree from 2016 high (RED LINE) $770 & 2015 low of $200 (LIGHT SOLID GREEN LINE)

3) SMALLEST DEGREE 2016 JUNE high (DOTTED red LINE) $770 & 2016 Aug low $460 (DOTTED Green line)

So once number 3 triangle breaks then it has to test number 2 triangle then PRICE has to break number 1 triangle support to go fully SHORT/BEAR MARKET. ANY THOUGHTS? DISCUSSION WELCOME!!!



---
CRYPTOCURRENCY PAIR: DGBBTC
Appreciation of the DGB in the coming days?
Thu, 13 Oct 2016 15:13:34 -0500, Beto4lves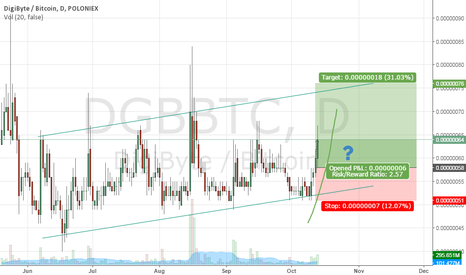 Betting on the appreciation of the DGB up to the house of 0.70
---
CRYPTOCURRENCY PAIR: ETCBTC
Buy ETC/BTC at 0.00156
Fri, 14 Oct 2016 03:44:14 -0500, HamzaAbbasi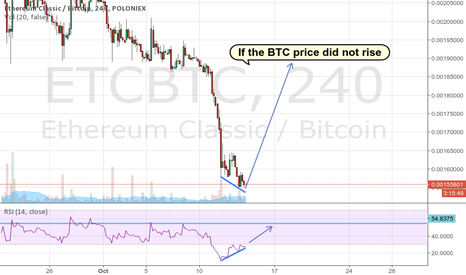 Buy ETC/BTC at 0.00156, ( Beware of the rise price of Bitcoin )
---
CRYPTOCURRENCY PAIR: ETHBTC
hi
Fri, 14 Oct 2016 01:40:54 -0500, Caravaggio58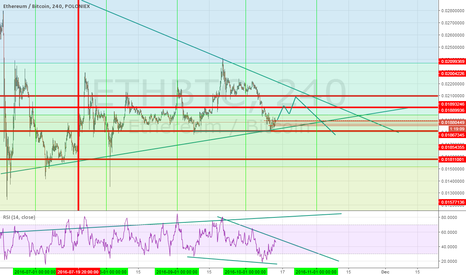 osca
Long ETH hard for for Monday
Thu, 13 Oct 2016 22:03:24 -0500, joshr799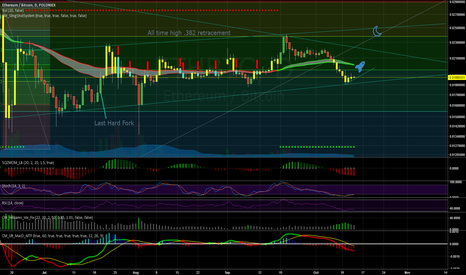 Just in case everyone forgot, here is a chart showing the results of the last hard fork. Not counting the rally the day before, ETH/BTC was up 30%.

I think we at least go to .022 but now would be our chance to break through the all time retracement of .382. If we were to rise another 30% that would put us at .025
Etherium Buying idea
Thu, 13 Oct 2016 13:56:25 -0500, marketplaceguy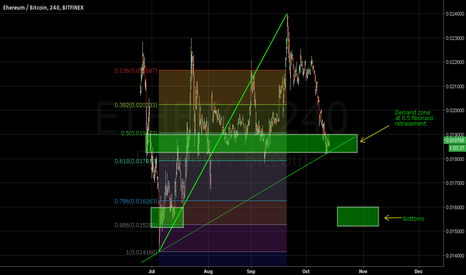 Buy it if it bounces back from fibonacci retracement or buy it from bottoms if the trend breaks down
---
CRYPTOCURRENCY PAIR: ETHUSD
Potential Reversal Pattern?
Thu, 13 Oct 2016 21:21:56 -0500, YoungMula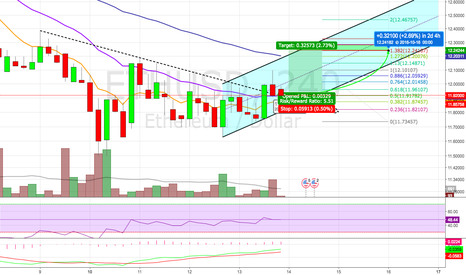 Target 11.25-2.40
---
CRYPTOCURRENCY PAIR: HZBTC
HZ TO THE MOON TARGET USD 322,-!!!!!!!!!
Thu, 13 Oct 2016 23:23:26 -0500, AndresThomasShirakawa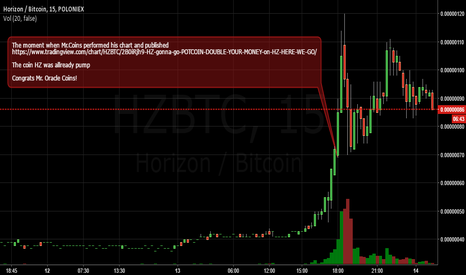 Everybody take a look at this chart

HZ gonna go POTCOIN !!!! DOUBLE YOUR MONEY on HZ !!! HERE WE GO
Thu, 13 Oct 2016 16:03:33 -0500, MrCoins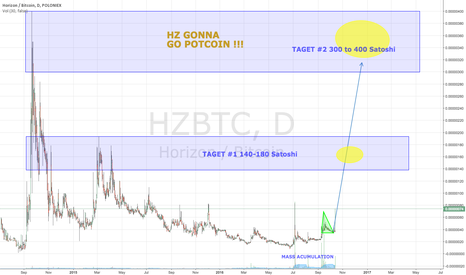 Here's another 2014 sleeper with continuous development.

MASSIVE accumulation caught my eye!!!!

TARGET #1 150sat
TARGET #2 350sat

If HZ blows past old highs it will go FULL POTCOIN !!!!

---
CRYPTOCURRENCY PAIR: USDRUR
Key support level
Thu, 13 Oct 2016 09:55:24 -0500, alexander.virtus
buy at 60.50 stop at 60.00
---
CRYPTOCURRENCY PAIR: XMRBTC
Waiting for Monero recover, like old times
Fri, 14 Oct 2016 06:09:21 -0500, AndresThomasShirakawa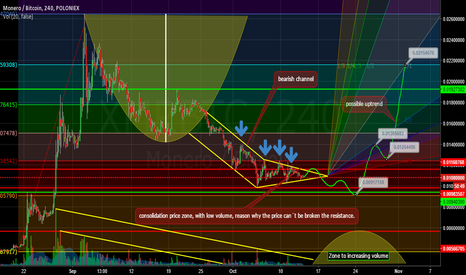 For the third time XMR tried to break the resistance at 0.382 fib without success. After solving the figure of the triangle, they may go and reach towards the next level of 0.236 fib to accumulate volume and finally go upwards forcefully.
We can not ignore manipulation, being the key factor and which is a strong influence on the price.
Greetings to all and thanks for your time
---
Upvote if you find it useful!