Today covered (in alphabetical order):
BTCUSD
DGBBTC
ETCBTC
ETHUSD
ETHXBT
XRPBTC
The digest contains a compiled list of cryptocurrency trading opinions and was made with tools approved by the host to be used on social websites. Original author is always mentioned. Entries are sorted by symbol in alphabetical order to make it coherent and easy to read. Every image links directly to a full screen analysis.
---
CRYPTOCURRENCY PAIR: BTCUSD
Buyers took control of the trend
Thu, 13 Oct 2016 03:54:52 -0500, andoseg2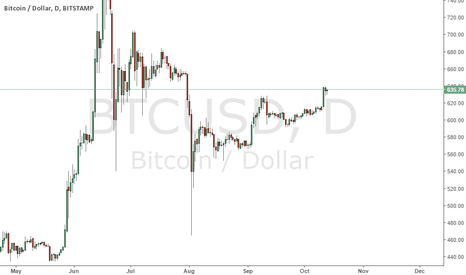 Finally bulltrend. Check the related Idea to a old post I've created and the updates comments
Bitcoin - Bullish embedded stochastic!
Wed, 12 Oct 2016 14:17:28 -0500, MidasTouchConsulting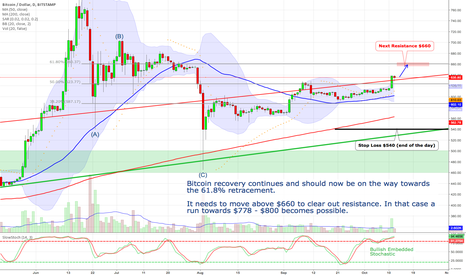 Since the flash crash in early august bitcoin has been slowly but steadily recovering. Yesterday the price quickly exploded higher and bitcoin has regained a rather important uptrend line. Despite the fact that there a some overbought tendencies we have the most bullish development of all: The slow stochastic oscillator is now bullish embedded and should push prices higher. Once bitcoin can clear the 61.8% retracement at $660 the rally will gain momentum .
One could argue that the recovery in the last 10 weeks was kind of modest and did cost a lot of energy but on the weekly chart there is still a lot of room to the upside before getting overbought.
The important 200-day exponential moving average ($560) is the line in the sand. I don't want to see bitcoin falling below that number again. Therefore I am raising our stopp to $540.
Overall Bitcoin should test the recent high at $778 soon or later. Just continue to hold your bitcoins .
BTC ABCD Pattern?
Wed, 12 Oct 2016 13:47:21 -0500, zippy1day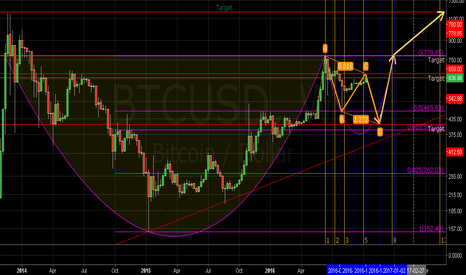 Bit of a stretch but would be good for Bitcoin long term.
If $659 cleared will probably be invalid and would have to top out this week to conincide with Fib Time Lines since 20th May 2016.
---
CRYPTOCURRENCY PAIR: DGBBTC
DGB-Bullish
Wed, 12 Oct 2016 19:19:08 -0500, TheoshanMoodley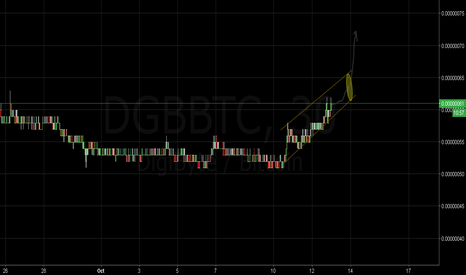 Ever since mention of the release of the Digibyte roadmap this Friday (14th Oct ), the price has steadily increased. It seems big players have been slowly accumulating DGB over these past few days without trying not to attract too much attention to the coin.

What I have noticed :
Buy volume has increased.
Sell volume has decreased.
Buy wall has increased significantly.
Overall trade volume increased.
Price averaging about a 6% increase each day.

I don't have a target price in mind, but discussions in various forums suggest >100 satoshi

Like they say, you get what you pay for. Therefore free advice should always be researched.
---
CRYPTOCURRENCY PAIR: ETCBTC
ETCBTC Very Bullish. Big Bounce.
Thu, 13 Oct 2016 00:54:12 -0500, dudesl
Big bound. Good support 1570.
---
CRYPTOCURRENCY PAIR: ETHUSD
Potential Rebound?
Wed, 12 Oct 2016 18:25:36 -0500, YoungMula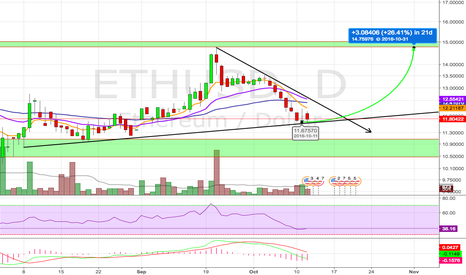 Sitting on trendline support
---
CRYPTOCURRENCY PAIR: ETHXBT
Ethereum Test Chart Please Ignore
Wed, 12 Oct 2016 18:51:31 -0500, veryevilone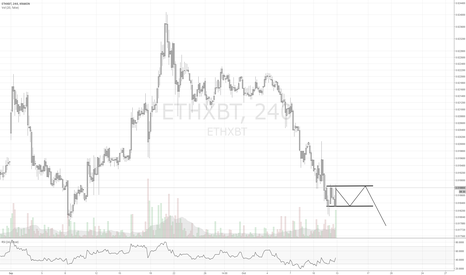 Test Chart Please Ignore
---
CRYPTOCURRENCY PAIR: XRPBTC
Xrp long.
Wed, 12 Oct 2016 17:36:30 -0500, AiliKing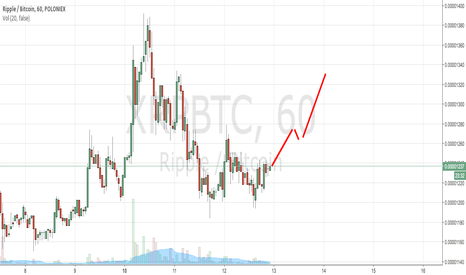 Market looks good.

open - 1200

target - 1340

stop - 1170


But nevertheless, this is a risky position.
Be careful.
---
Upvote if you find it useful!