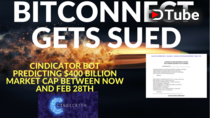 ---
I love cryptocurrency! I love the community! The fact that we have freedom from any centralized entity or even government makes this community beautiful. But we are quickly seeing that disappear and it's our fault. We need to protect our community from misleading entities and promoters to prevent regulators from having the means to come in an disrupt our community.
While it makes me happy the big promoters of Bitconnect are facing consequences for misleading people, it makes me unhappy that gives regulators one more reason to get involved. It's our responsibility as cryptocurrency investors and enthusiast to call out anything that can harm our community and to protect all of our investors.
Be sure to watch my DTube video by clicking the picture above to see a copy of the class action filling against Bitconnect and its promoters.
---
▶️ DTube
▶️ IPFS