House Prices Are Falling You Better Get Used To It
Over the last 3 months Australians have witness something that has not happened in a long time. Real estate prices have been falling in Sydney and they have being do so for around 12 + weeks. Without some sort of surprise rate cut the prices are most likely to continue to fall.
The latest Corelogic real estate price reports show that because of the continual weakness in Sydney real estate prices, the 12 month return for prices is now sitting at a low 1.4% return for investors and home owners. In comparison just 6 months ago the 12 month return was sitting above 10% returns for home owners.
Looking at the latest monthly figures you can also see that prices have fallen by -0.7% in January 2018 in Sydney and just last week prices fell another -0.2%.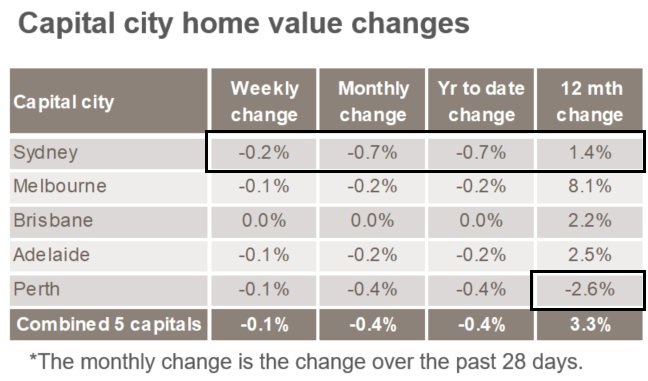 So far the pullback has been minor and considering the large run in prices over the last 5 years the decline is immaterial. This is true for most investors who purchased several years ago.
However for the many who purchased in the last 12 months this is bad news, especially when you consider that real estate prices are so high in Australia and in Sydney your guaranteed to lose money renting them out each year as the rental yields are usually below 3.5% in gross returns.
So Why Have They Fallen Now?
There are a few reasons why real estate prices have been falling, however one of the main reason is actually quite simple. 6 - 9 Months ago Australian banks began tightening their lending standards while simultaneously raising interest rates for investor and interest only loans.
When you take a closer look at the chart below the spread for an owner occupier and investor mortgage rate using interest only loans has spiked considerable in the last 6 months (green line) as its now sitting around 1.5%+ higher when compared to owner occupier mortgage rates.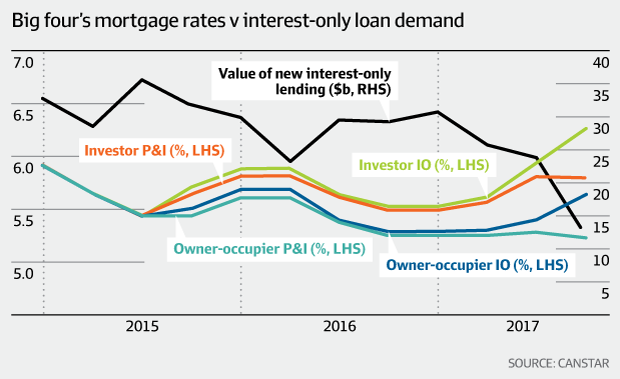 The resulting impact of the tighter lending standards and raising rates outside of Australia Reserve bank official policy, has caused a considerable slow down in the growth rate of lending by investors who have led the huge spike in prices over the last few years.
From the chart below you will notice the investor loan mortgage growth (bright yellow line) peaked at around April - May 2017 and has been falling as the higher rates started to take effect that began earlier in 2017.
This is why I am suggesting that prices will continue to fall further while lending growth to investors continues to wane. Considering the RBA is hinting the next move for rates is up in Australia, there may be little relief in the short to medium term for real estate prices.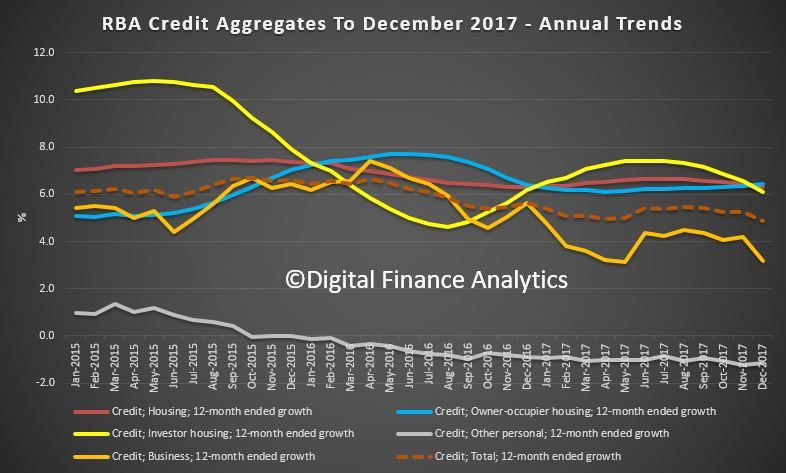 China Real Estate Demand Is Over
The other major driver of rising real estate prices over the last 5 years in Sydney and Melbourne has come from the massive appetite from wealthy Chinese investors buying up large amounts of Aussie real estate also driving prices higher.
Thanks to recent change from China's Government on foreign investment, they have decided to place heavy restrictions on purchasing foreign real estate investment to stem the outflow of wealth leaving China. When you consider this to be the 2nd biggest driver for prices rising in Australia, this is actually really bad news for the Australian market considering demand has finally dried up.
The chart below provided by ANZ Bank report (provided by Afr.com) shows the many restrictions in place for Chinese investors on Sydney & Melbourne real estate market. Some of those restrictions have been put in place by the Australian Government to also slow down purchases from foreign buyers with increased stamp duty and regulations.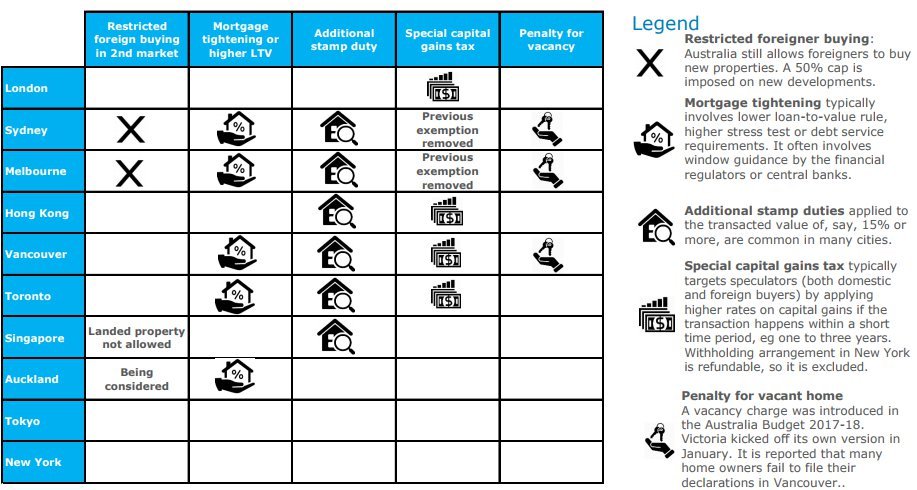 What Happens When You Take Away The Two Drivers Of The Real Estate Bubble?
The short video below produced only days ago from the ABC highlights the impact on the real estate market higher rates and restrictions from foreign investors have had on the market.
One real estate agent suggests that prices have fallen $150,000 or more for new off the plan apartments, as developers try unethical tactics to sell their apartments at overvalued prices.
Australia and Sydney especially has just reached the milestone of being the second most expensive real estate market in the world relative to household income according to the annual Demographia survey.
Considering how over priced the Australian market on an international scale, you can see that if left without any future monetary support from the Government or the RBA lowering rates in the future, a severe drop in prices is in fact possible given to relative size of the bubble the Australian market is now faced with.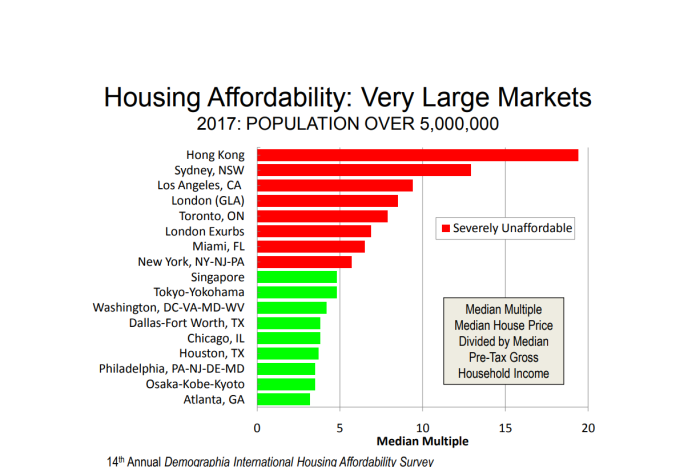 The Aussie Banks Have Come To Same Conclusion - Prices Are Now Expected To Fall Further
In another report released today from the National Australia Bank (NAB), they have finally conceded that prices in Sydney among other cities are now expected to fall in 2018 as well as 2019. This is surprising as only a few months ago the banks were still expected higher prices for Sydney and other major cities.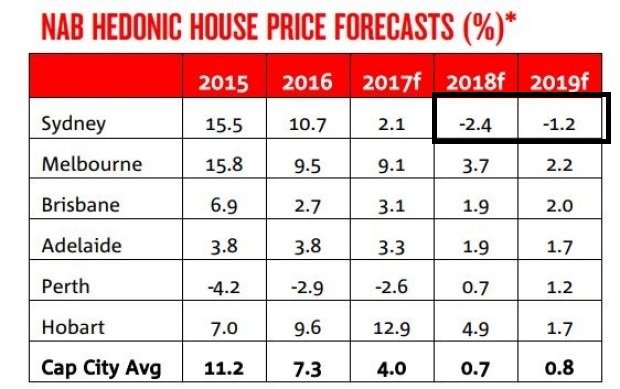 The forecasts are similar for the unit / apartment market with falls expected in Sydney, Melbourne and Brisbane apartment market as the massive oversupply caused from the booming development market is going to have large implications on these major cities real estate prices as well as rent prices paid as the market digests the new supply on apartments being delivered in 2018 & 2019.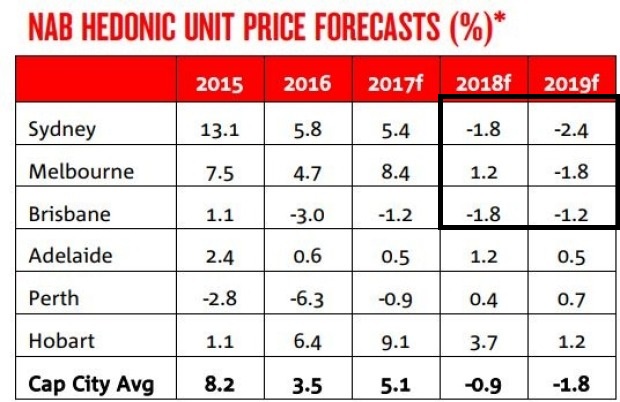 Thanks for viewing this post.

Disclaimer: This post is for educational purposes only, and all the information contained within this post is not to be considered as advice or a recommendation of any kind. If you require advice or assistance please seek a licensed professional who can provide these services.
Sources:
AFR
Digital Finance Analytics
Youtube
Demographia
Click the links below to view my latest Steemit posts:
Bitcoin BTC - Is A Breakout Imminent As US Stocks Come Under Pressure?
Trading Update - AUD/NZD Breakout Confirmed
Netflix Smashes Expectations & Soars To Record Highs - But What About The Cash Burn?