Testing Out Copytip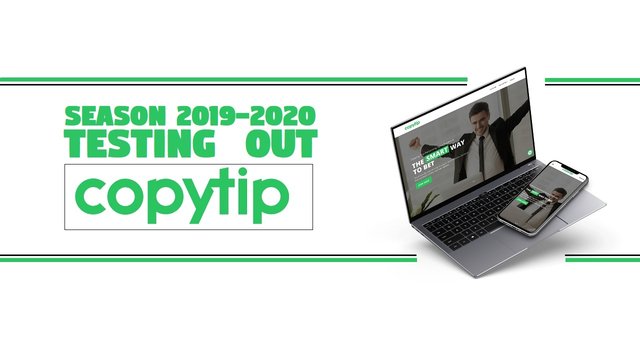 I came across Copytip last yeas as it was advertised on Blogabet and instantly liked the solution they offered for the Sports Betting Tipping Market. I plan to test it out all season long and make a proper evaluation afterward.
---
WHAT IS COPYTIP ?
Most betting tip services or websites send you the tips by email leaving you responsible to manually follow them trying to catch the correct odds at the stakes you desire which most of the time is very difficult. Copytip is basically a bookmaker in many ways similar to Sportmarket Pro that allows others to follow your bets automatically. This solves the issue of having to be online 24/7 to catch tipsters bets along with the dropping odds and the reselling of tips. The main downside from what it looks like for those that want to 'copy tips' is the costs and fees it involves currently.
---
TESTING IT OUT MYSELF

Aside from working for a couple of betting syndicates in the past, I never really had any kind of interest in having a paid betting service. I always handicap and bet the Belgian League for myself in the first place trying to make a profit out of that while blogging helps me to stay Sharp while it having the potential to earn some blogging and affiliate earnings.
In the past when blogging/posting on Private betting forums I got a lot of good picks that I could bet myself and make a profit out of myself. Those days seem to have passed through as the market got a lot harder to beat which made many just entirely lose their edge along with the fact that everyone was trying to get as much as possible in return for their bets making it impossible to know how many got in dropping the price before the pick was posted on the closed forum.
I don't really have the intention to start a paid service or anything, but Copytip seems to be something worth testing when you have bets to share especially for Live Betting as it's a good way to keep track of a record while giving some more exposure and potentially earn a little bit from it in case it produces profit while having some followers.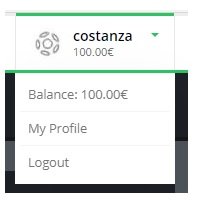 So I made an account and Deposited 100€ on it just for record-keeping purpose as I will continue to use
Sportmarket Pro
as my main betting Broker for my real Stakes. Similar to how I have been keeping stats for myself here on my blog the past 2 seasons, Copytip will just be an added tool for that.
---
COPYTIP WEBSITE AND BELGIAN LEAGUE
The website itself seems to be well-made and all the info is fairly straightforward. When going to the 'Copy Strategy' tab it shows everyone who is submitting bets and their record along with their following. As all these websites it mainly shows the winners on top as if it's easy to make anything by following these tipsters. (Reality is probably Different)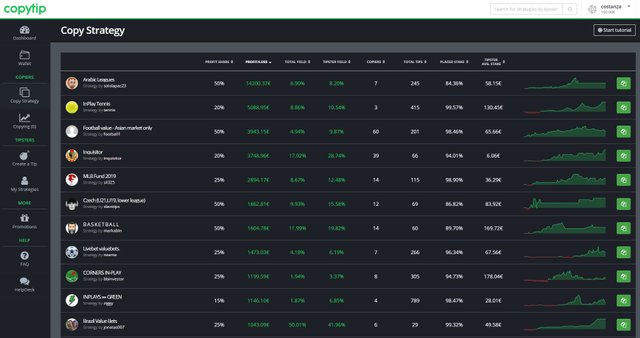 The bookmaker where you can create the tips / place the bets also looks quite nice and has all the offers on the Asian markets. The Belgian League is well presented and it offers everything I need especially when it comes down to more officially tracking the live bets that I'm sharing on the SBC Discord Channel.

Copytip also has many other sports on offer including MMA. They operate as a regular bookmaker and do require KYC which probably restricts citizens of certain countries.

---
TIPSTER STRATEGIES
As a tipster, you can make different strategies so copiers can choose to follow a specific range of your bets. It's also possible as a tipster to select how big of a profit share is required for copiers to follow a strategy. I'm not sure yet how to do this myself but will likely have both a pre-game and Live Strategy that only include those bets. I do not really expect anyone to follow and it's also not my main goal so i will likely set the profit Share % rather low.
---
COPIER FEES
This is basically the part where this service completely breaks down as the fees involved to copy bets from others on the website just seem to have been set way too high increasing the risk to follow and lose money. At first sight, I would say that it's a great deal for tipster but a fairly bad deal for followers. All info on fees can be found here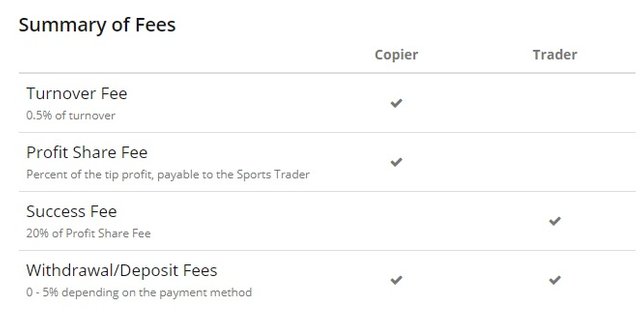 I would not recommend anyone to actually use Copytip to follow tips honestly and I'm unlikely to use that function myself at any given time because the fees will be hard to overcome in most cases.
---
TAX FREE FIRST DEPOSIT
I don't see much downside in using Copytip as a tipster to bet and track bets right now though (I might change my mind on that). Bank Transfers to get some initial money on there are Free and when signing up with a referral link it also gives a Free initial Deposit using payment methods that otherwise charge a fee.

---
I'll see how it all goes and works out while testing it out. In the worst case it will bring some attention from Sports bettors to Scorum and Steemit hoping that they will discover the 0% Fee Betscorum Betting Exchange and try it out...