As retail investors in the cryptocurrency space, many of us look at the famous metrics like the price of a coin, the trade volume, the circulation and the market cap. When we compare cryptocurrency to large companies in the stock exchange, we often think that we have a long way to go to catch up and exceed their valuations of billions and billions of dollars.
The truth is those numbers aren't a true reflection of the companies wealth, yes, these companies are worth billions and moving closer to the trillions, but they are not as big as you might think.
Production used to mean value
In previous years companies had to produce new products or acquire new customers to get people excited about the company to generate revenue and entice investors to buy stock in their company. It was also a way to keep companies honest as the value was tied to performance and capital would move to companies who innovated and performed the best.
Companies would use their profits to either improve their products and production, keep skilled staff happy and out of the hands of competition by paying them more and retaining their edge and then providing dividends for shareholders who funded the operations.
The great buyback
Then came the stock buybacks came into play where companies could use their profits to buy back their stock, remove it from the market and thus bump up the share price through scarcity and large buy orders. Companies like Apple, GM and GE, have been doing it for years, and even Walt Disney (DIS) reduced its number of outstanding shares in the market by buying back 73.8 million shares, collectively valued at $7.5 billion, back in 2016.
This is a quick fix for the balance sheet and makes companies seem in a better position than they are without having to produce any additional goods and services. Stock buybacks have made the rich and wealthy even more money than ever before, and it continues to strip value from the market to drive up shareholder value and line the pockets of investors.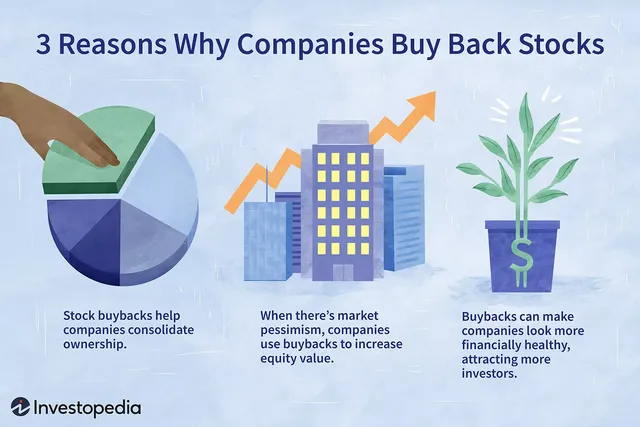 Image source: - investopedia.com
There have been calls for a ban on stock buy-backs or change the policies to force companies to give some of the stock back to employees and not just the executive board and shareholders benefitting from this practice.
Legal market manipulation
Stock buybacks are basic market manipulation that has been made legal and grossly abused by companies so they can continue to asset strip other companies and make their balance sheet look good. Innovation is starting to fall to the small guy, and when they do innovate, they are bought up and asset-stripped, and so the process continues.
While governments can fight for new regulation to fix a broken system and patch it to have it move on it shows that we need an open and decentralised way of pumping or removing value from companies and only encourage behaviour that is beneficial for the staff and the consumers as well as the market.
Which is why I think utility tokens will become a more popular medium of running many tech companies while STOs is also an asset class we should be looking at to try and break the ties that these companies have with banks and institutional money.
Let's connect
If you liked this post sprinkle it with an upvote or resteem and if you don't already, consider following me @chekohler


---
| Buy & sell STEEM | Donate LikeCoin For Free | Earn Interest On Crypto |
| --- | --- | --- |
| | | |