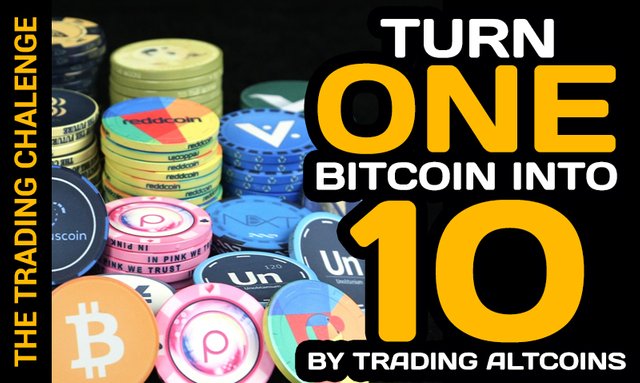 small intro...
Hello! I'm a #Bitcoin and #Blockchain enthusiast and I have been in love with this technology since early 2014. For a long time, I only bought Bitcoin and tried to trade it but I was trying to trade Bitcoin while it was going down and after a few foolish trades a lost a little of my first bitcoins and I stopped trading opting to use the Buy and Hold (hoard) strategy.
More or less a year later, I started to look at the #altcoin markets and at that time, some projects that caught my attention and I bought my first altcoin. Then another project and another altcoin, and soon after I was holding not only Bitcoin but also more than 3 altcoins.
At the same time, I felt that I had to learn how to read market #charts and also try to learn the basic concepts of #trading. Thankfully, the internet and youtube saved the day and soon after I was surrounded by knowledge and only limited by time and my own will.
Slowly I started to gather more information and I felt more secure on my decisions, the first profits started to appear, and as usual and inevitable some losses too. At this time I understood a lot better about market behaviors, and the overall "altcoin game" but I still lack emotional strength to deal with all the balance swings.
It took some months of trading in this twirl of emotional states until one day I realized that I was doing my trades based on good #analysis and logic and that emotional state was no longer in command.
Soon after I decided to go FullTime trading and have been doing that for almost 1 year without any regrets.
Today I was thinking about what I really would like to write about and after some failed ideas I realized that I could write a blog about "how I would turn 1 bitcoin into 10 bitcoins doing altcoin trading!" and here we are! At the very beginning of this quest!
On this road ahead, I'll try to explain the best way I can about what I'll do and I'll try to teach some basic technical analysis before choosing an investment. It will be a fun ride and my goal is to show how it can be possible to make money from money.
I'm thinking about starting in one or two days. Until then, do you have any coin you would like to suggest? what projects and/or markets do you like the most?
Leave your comments below and share some love (up votes) if you like this idea / project!
Ch33rs!
BrunoPro
---
What to expect in the following posts:
Choosing markets to invest and technical analysis
Setting Buy orders and planning Sell orders
Managing the overall balance
and many, many trades!
Follow up or useful links:

Read it at: https://steemit.com/trading/@brunopro/what-websites-and-apps-have-i-been-using-on-my-daily-trading
---
PS: Sorry if my English isn't perfect, I'm Portuguese and I usually don't write a lot in English