Our relationship in Steemit is special. No doubts in that. Positive atmosphere - is something natural for Steemit. I want to share with my friends a big doze of positive, that I have recently got from exchanging service Changelly - http://changelly.com/
Наши отношения на Стимите особенные. В этом нет никаких сомнений. Позитивная атмосфера - это естественный атрибут Стимита. Сегодня я хочу поделиться с друзьями очередной дозой позитив, которую я получил от сервиса Changelly http://changelly.com/
Sure, most of you know what am I talking about. And many of you have already used it successfully. But a few days ago I did it for the first time.
Наверняка многие из вас понимают о чём я говорю и даже не раз воспользовались этим обменником. Несколько дней назад я тоже решил испробовать этот сервис.
Frankly speaking, I am not so attentive to details. As a result I made a few mistakes. To begin with, I made my first transaction... without memo.
Откровенно говоря, я нсегда придаю значение деталям, даже когда они очень важны. Поэтому для начала, я отправил свой первый платёжный перевод... без мемо.
I was ready to say "Good-bye!" to that 10 SBD, but for any case wrote to Support a message.
To my surprise I got this answer:
"Without the memo your payment cannot be processed automatically. Please, provide the hash of your payment, we'll try to push it manually. Thanks"
На моё удивление был получен следующий ответ:
"Без мемо невозможно осуществить платёж в автоматическом режиме. Пожалуйста, укажите данные хэша и мы попробуем соврешить операцию врчную".
And they really did it. They helped me get this transaction. But that is not the end of the story.
И они попробовали. Точнее, они сделали это и я получил свои деньги. Впрочем, это был ещё далеко не конец истории.
Next day, I send two more transactions and again made it the wrong way. I will not write you the details. Better I will place here the screenshot.
На следующий день, я сделал ещё пару транзакций и.. снова через пень колоду. На этот раз я отправил деньги не SBD, а STEEM. Дабы долго не описывать всё произошедшее, просто дам вам возможность прочитать всё смим с помощью этого скриншота.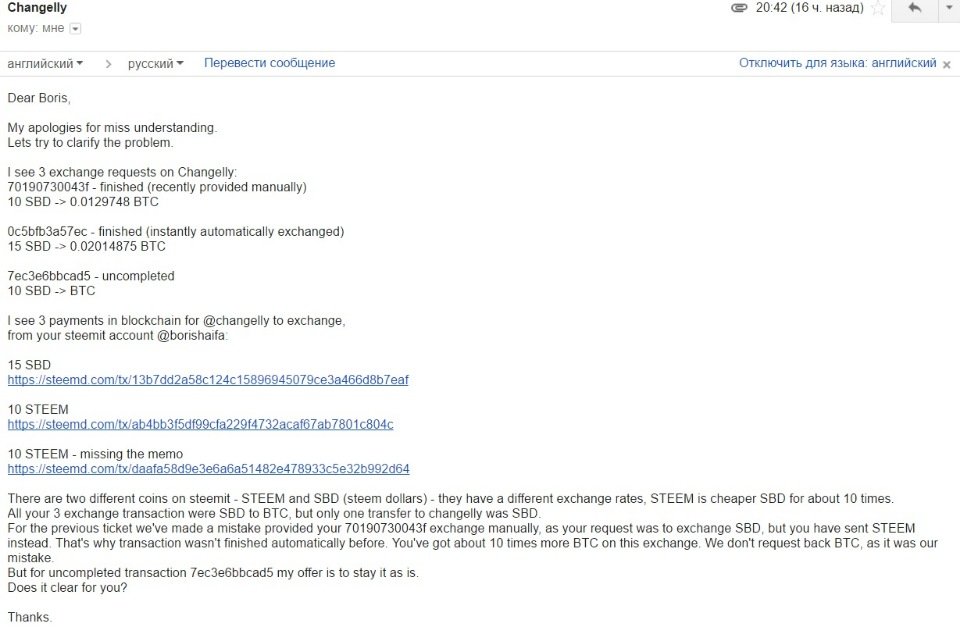 I think, you have understood what happened and what a great patience have these people. I don't even speak about the money. I wanted to send it back but they REFUSED.
Теперь я думаю вы поняли как разрулилась вся эта ситуация. Я даже не говорю уже о деньгах. Хотя я и предложил их вернуть, там отказались и просто подарили их.
Probably, it can happen only in Steemit. Such positive surprises are very seldom in our days. Thank you, Changelly! Thank you Steemit!
Я так думаю, что в наши дни подобное может происходить разве что на Стимите, уж больно редки подобные явления сегодня. Спасибо тебе, Changelly! Спасибо тебе, Стимит!