Money and politics shouldn't mix together, it creates a system where those who have the money have the power – forget one person one vote, corporations don't have the right to vote, yet the government bends over backwards to appease them rather than listen to the people who voted for them. Corporations are both greedy and rich, a lethal combination, they are able to buy your elected official whether it be with gifts, money or invitations to expensive holidays. Corporations do this so the next time they go into your elected official's office in Canberra or call them up, he or she becomes nothing more than a yes man or woman (but in the case of the Liberals chances are you don't have a woman who is a Liberal politician). "But surely, they can't spend ungodly sums of money and get away with it, isn't that illegal?" I hear you say! Short answer, no. Long answer under the guise of a "Private Trust" the big four banks (Commonwealth, ANZ, Westpac and NAB), Rio Tinto, BHP Billiton, Telstra and Wesfarmers gave the Liberal Party $2.3 million, the trust has the goal of "[advancing] libertarian causes".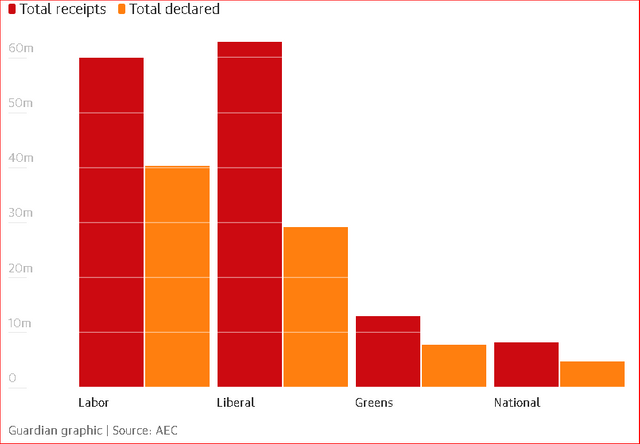 For those of you who don't know:
"Libertarians seek to maximize political freedom and autonomy, emphasizing freedom of choice, voluntary association and individual judgment."
Essentially a corporation's wet dream where there is no corporate tax, no regulations and the government effectively serves as an oligarchy. The above graph states that bot parties have taken a lot of money, some money is recorded and we can see where it came from, but the majority of the donations are from dark money donors, both the Labour and Liberal governments are corrupt based on this graph, with Liberals being slightly worse. Of the donors we know about, we can honestly say that its not looking good for the future of Australia, here is a list of the donor and the monetary amount given to the party:
• Philip Morris, which is lobbying to overhaul a vaping ban, donated $56,500 to the Nationals and $40,000 to the Liberal Democrats.
• ANZ bank gave $500,000 to both Labor and the Liberals during political wrangling over the royal commission
• The gambling lobby donated more than $500,000 to the Liberals to help defeat Tasmanian Labor and stymie plans to remove poker machines from the state's pubs and clubs.
• The Liberal party declared that the Tasmanian Hospitality Association gave $160,000 in 2017-18, while Kalis Hospitality, Jonod, the Federal Group, and EBC Leisure – all companies with Tasmanian gaming interests – gave $244,000 between them.
• Wesfarmers also gave, $110,000 to each of the main parties (Liberal and Labour)
• Village Roadshow, donated a total of $163,144 to both major parties.
There's tonnes more so here is the full list: https://www.theguardian.com/australia-news/ng-interactive/2019/feb/01/political-donations-2017-18-search-all-the-declarations-by-australian-parties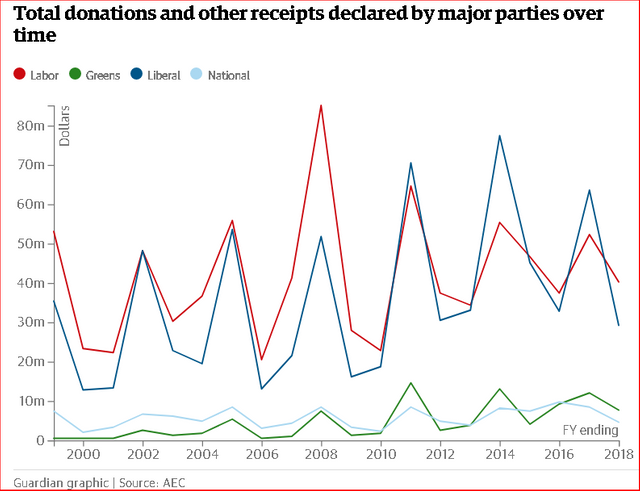 Both Liberal and Labor take a significant amount of money from the corporations that run this country, there needs to be more regulation when it comes to political donations, at the very least dark money meeds to be eliminated or become more transparent, so at least we can see who is buying our elected officials. If we want to gov further (Libertarians Alt + F4 now) we can totally ban all political donations and have public financing of elections, meaning every person get a tax credit once they have donated to a political party of there choice, perhaps $300 - $500 per person. I believe this is the only way that we can have a system where the powerful at the top have no choice but to listen to the people who vote for them, if we do nothing and allow corporations to continue buying our elections and our politicians, our voices will be drowned out behind the waterfall of money that is being spent.
It shouldn't be necessary for me to say but unfortunately, I think it might be worth saying: CORPORATIONS DON'T GIVE A FUCK ABOUT YOU, THEY ONLY CARE ABOUT MAKING MONEY, AND IF THEY HAPPEN TO SIDE WITH YOU ITS ONLY BECAUSE ITS COSTING THEM NOTHING OR IT MIGHT MAKE THEM MONEY IN THE SHORT TERM – IN SOME CASES CORPORATIONS PROFIT IS LITTERALLY KILLING YOU (oil, gas and defence contractors), THEY ARE THE ENEMY.
References:
Gambling lobby gave $500,000 to Liberals ahead of Tasmanian election
https://www.theguardian.com/australia-news/2019/feb/01/gambling-lobby-gave-500000-to-liberals-ahead-of-tasmanian-election
Political donations 2017-18: search all the declarations by Australian parties
https://www.theguardian.com/australia-news/ng-interactive/2019/feb/01/political-donations-2017-18-search-all-the-declarations-by-australian-parties
Big donors take a punt on their hobby horses
https://www.smh.com.au/business/big-donors-take-a-punt-on-their-hobby-horses-20100201-n8wh.html
Australia's largest donors revealed: Discover the millions funding politicians
https://www.abc.net.au/news/2019-02-01/donations-australia-federal-politics-foreign/10768226
Michael Kroger takes on Charles Goode over Liberal Party supporter fund
https://www.afr.com/news/michael-kroger-takes-on-charles-goode-over-liberal-party-supporter-fund-20180319-h0xo5e
Unions say members know how much money goes to Labor
https://www.theaustralian.com.au/national-affairs/industrial-relations/unions-say-members-know-how-much-money-goes-to-labor/news-story/45a6a13151da9afcfdb9433fb9ee7f3c