Monero is a promising crypto currency that heavily focuses on anonymity and privacy. Monero price recently exploded (late August 2017) by reaching $150 which is about 3X times higher than Monero's previous all time high.
Monero was a viable candidate for mining but the above facts make it an even more viable option, especially for CPU mining. Monero can be mined both with CPU and GPU. But is one of the few coins that do not give much advantage to GPUs. In other words with a modern hexa or even quad core processor you can achieve comparable hashrates to cards like GTX970, GTX1060, RX480. I will add another article on my experience with monero hashrates across various gpus and cpus, in this article I will explain how to boost your CPU monero mining hashrate with huge pages.
I find that the hashrate of a decent processor i7 5820K @ 4.2GHz (six cores) can be increased by up to 20% with huge pages.
The below graph shows that with huge pages the hashrate increased from approximately 312H/s to 375H/s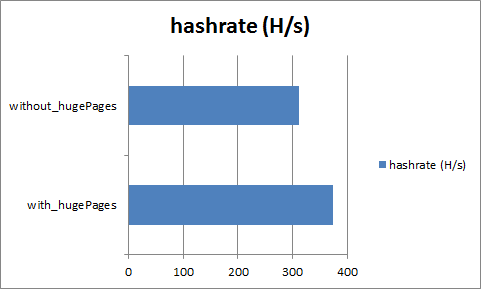 Here are the instructions on how to achieve similar hashrate with i7 5820K (or just improve your CPU hashrate) on Windows 10 (similar instructions should apply to other windows operating systems as well)
*1. To enable huge page support
From the Start menu, open Local Security Policy (under Administrative Tools).
Under Local Policies\User Rights Assignment, double click the Lock Pages in Memory setting.
Click Add User or Group and type your Windows user name.
Restart your computer (logging off and on might work as well)
*2. Use xmrig
You can find it in https://github.com/xmrig/xmrig/releases
For windows download the xmrig-2.3.1-msvc-win64.zip or the latest available version.
Run it as administrator and enjoy the performance boost
Also don't use the hyperthreading cores. Monero mining doesn't benefit from hyperthreading, the performance actually worsens (I will add an article in the next day showing results and explaining how to avoid using the hyperthreading)
Please note that I have seen this improvement only with the xmrig miner. I have been using the wolf-xmr-miner as well but I didn't see the hugepage performance boost with that miner. Despite the fact that in the github they mention that the miner could potentially benefit from turning on the hugepages. The xmrig has a 5% dev fee but due to the huge pages boost is still the best option, at least for my setup.
Please consider supporting me as a Steem Witness by voting for me at the bottom of the Witness page; or just click on the upvote button if I am in the top 50: