Chael Sonnen (28-15-1) vs. Wanderlei Silva (35-12-1)
This fight was originally supposed to happen in the Ultimate Fighting Championship (UFC) almost three years ago. The bad blood between these two reached a fever pitch during the filming of The Ultimate Fighter. On the show, Silva and Sonnen came to blows (leaving Sonnen bloodied after a 4-on-1 assault). However, after Silva ducked out of a surprise drug test, the fight dissolved and ultimately led to Silva being banned from the UFC for life. Fast forward to 2017, the fight that almost never was is FINALLY happening.
Wanderlei hasn't fought in over 4 years (A phenomenal knockout win over Brian Stann). However, during that contest, he was dropped multiple times. Look no further than his weigh-in photos and you can see Silva is not the same man he once was.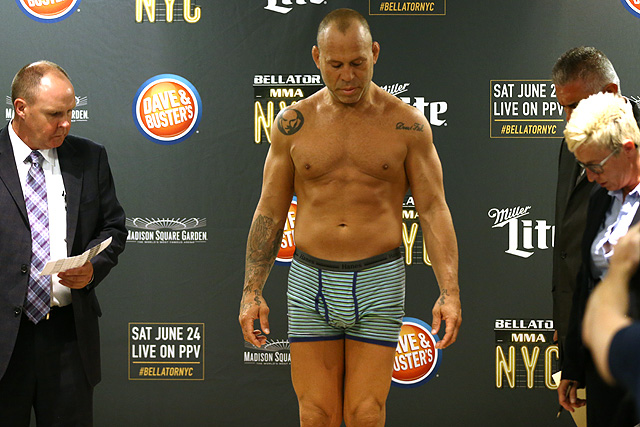 Photo courtesy of Sherdog.com
Silva appears far removed from "The Axe Murderer" moniker he used to command during his PRIDE years.
Sonnen, at one point, was simultaneously the most loved and hated fighter during the height of his career. He built his reputation off insulting the entire Brazilian population. While not in good taste, Sonnen admitted he was channelling his inner-pro wrestler and purposefully gaining heat in order to obtain a competitive advantage over his foes. Coming minutes within being the first man to dethrone Anderson "The Spider" Silva, he eventually succumbed to a triangle choke in heartbreaking fashion. Even though his last fight saw him succumb to a rear naked choke via Tito Ortiz, Sonnen in shape and tough for any opponent.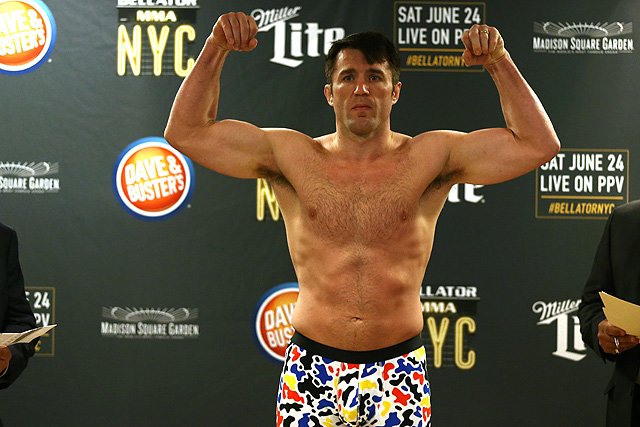 Photo courtesy of Sherdog.com
Silva has been in war after war for the past 21 years and I believe this will be his undoing in this fight. Sonnen is too smart to engage in a battle of fisticuffs with the always dangerous Silva. Look for Sonnen to turn this into a wrestling match and search for a submission when Silva becomes gassed. However, Silva is to savvy on the ground to be submitted.
My prediction is Chael Sonnen will win by lackluster unanimous decision