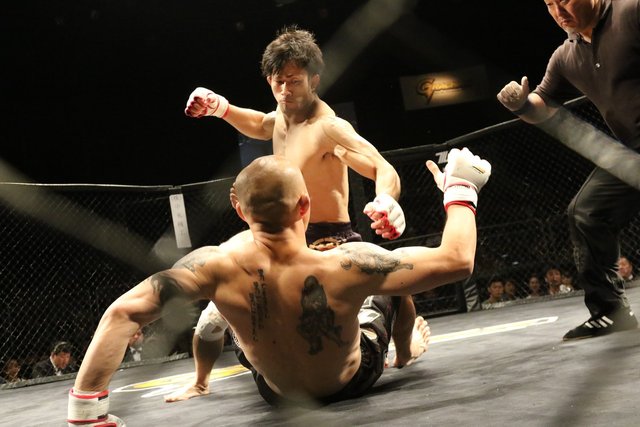 So, right out of the gate, my first UFC pick article I hit the trifecta! All 3 underdogs I picked won! Needless to say I had a good night, and tripled my money!
Pick one: Tyron Woodley 2.72 def. Robbie Lawler 1.45 via KO (Punches) R1 2:12
We knew Tyron had heavy hands. We've also seen Robbie get tagged hard early, but manage to survive. Difference here, Tyron hit a little harder, swarmed a lot faster and the ref actually called the fight. $100 is now $272!
Pick two: Karolina Kowalkiewicz 3.02 def. Rose Namajunas 1.38 via Split Decision (29-28, 29-28, 28-29) R3 5:00
I'm a little surprised this decision was split. But I'm pretty happy with my prediction! I mean, I'm good at analyzing things from a gambling theory perspective, looks like my MMA foresight/analysis might be catching up!
But I think Kowalkeiwicz's Muy Thai clinch will turn this into a striking battle that goes the distance on the feet, with Kowalkeiwicz nullifying much of Namajunas's attacks. She has used this to her advantage in her last couple of decisions, and I think the odds justify this risk.
$100 is now $302!
Read more about the fight here
Pick three
Jake Ellenberger 3.35 def. Matt Brown 1.31 via TKO (Kick to the Body and Punches) R1 1:46
I did not see this one ending like this! I thought the fight would be everywhere, stand up, clinching and grappling, with a good chance for Ellenberger to get lucky or squeeze out a decision. To me, this is why 3.35 is too good of odds to pass up on a contender or former contender, unless you're betting against someone who has simply been slaughtering top competition (like Wonder Boy, Mighty Mouse or Jon Jones).
Needless to say, $100 is now $335!