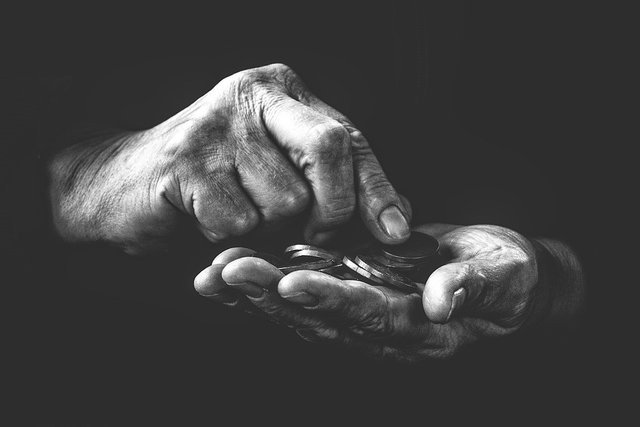 Quelle Pixabay
[DE]PMittwochsquickie - Armut
Ich hab heut im Kindergarten die verantwortungsvolle Aufgabe mit den Kids über Armut zu reden. Was ist Armut aber überhaupt? Arm wird man bezeichnet wenn man sich im Grunde nix leisten kann. Hier in Deutschland ist Armut anders wie in anderen Ländern.
In Afrika haben sie nix zu Essen über Tage und hier bei uns geht es um das Existenzminimum. Egal wie man es sieht, niemand müsste Arm sein. Es gibt soviele Menschen mit soviel unmengen an Geld, welches man durchaus teilen kann.
Andererseits muss ich sagen, das wenn jemand Reich geworden ist, dann hat es sich diesen Reichtum sicher auch verdient.
Viel schlimmer finde ich, das sich Armut besonders hier in Deutschland oft vererbt und Kinder aus armen Familien meist auch weiterhin arm bleiben. Sowas muss nicht sein. Bildung sollte für alle Schichten keine finanzielle Belastung sein, damit hätten auch Kinder aus Sozial schwachen Familien die gleichen Möglichkeiten wie die anderen. Erst dann geht es wirklich darum, was jemand zu leisten im Stande ist.
Nun ich selber befinde mich in einer (momentanen Lage) in der es mir nicht schlecht geht. Ich bin nicht Arm, ich bin aber auch nicht Reich. Ich liege im guten durchschnitt. Es ging mir aber auch mal sehr schlecht im Leben. Ich hatte eine Zeit in der mit dem Geld nicht so toll war. Als ich Anfang 20 war, gab es eine Zeit aus der ich mich ewig nicht erholen konnte.
Nach der Bundeswehrzeit bin ich nach München gegangen um dort zu arbeiten. In der Zeit als ich als Kellner angestellt war, ging das alles noch recht gut. Trotzdem wurdest als jung und dummer Mensch teilweise sehr ausgenutzt und hast dann mal keine Kohle bekommen, gut das es damals Trinkgeld gab. Dann ging es in eine Firma welche am Anfang wirklich gut Geld zahlte. Doch dann ging diese Firma in Insolvenz und kündigte einen nicht. Das Amt fühlte sich nicht zuständig, man war ja in Anstellung. Man war auch jung und dumm. Die Arbeitsamt Mitarbeiterin ging mir richtig auf die Nerven und ich wollte da gar nicht mehr hin. Es bildeten sich Schulden, immer mehr und immer mehr.
Irgendwann fing ich dann im Sicherheitsdienst an zu arbeiten. Da gab es in München auch einige Firmen welche einen mehr oder weniger ausbeuteten. 6,34 Euro Brutto verdienst. Damit ist man dem Hungertot nahe. Nun was soll ich sagen, das war aber mein Sprungbrett. Ich hab nicht den Kopf in den Sand gesteckt und bin meinen Weg gegangen und hab dann wieder gutes Geld in der Sicherheit verdient. So konnte ich nach einigen Jahren meine Schulden wieder bezahlen und wieder etwas sparen.
Auch mein Motorradunfall 2011 hat mich nicht aufhalten können. Gut ich sag mal so, wenn die Versicherung der Unfallgegnerin nicht so toll wäre, hätte mich das wahrscheinlich wieder in ein Loch geworfen, aber es geht halt scheinbar auch ohne Streit und ohne Probleme. So konnte ich meinen Weg bis heute gehen.
Was ich damit sagen will: Armut kann dich ganz schnell treffen, egal ob du nun 10 000 Euro auf dem Sparbuch hast, oder nur 10 Euro und wenn es dann soweit ist, ist es auch sehr schwer sich wieder aufzurappeln und nach vorn zu sehen.
Thema heute: Armut
Schreibt doch mal eure Gedanken zu dem Thema auf!
Jetzt aber noch einmal kurz zu den Regeln des MQ
Schreibe innerhalb von 10 Minuten alles auf, was dir zum aktuellen Thema einfällt und poste deinen Beitrag mit dem Tag #MittwochsQuickie.
Das wars schon :)
Für alle jungen Steemianer hab ich mal noch einen Rat (ich weis gar nicht mehr wo ich das aufgeschnappt hab).
Ein Held kann auch jemand sein der nur wenig Kraft hat, es ist immer die Frage wie er sie einsetzt.
Also sei ein Held.
Kurze Info wie bei jedem MQ werde ich @nissla in den Beneficaries mit 5 % einbauen, ich denke das hat er sich verdient.
(EN)Wednesdayquickie - penuriousness
Today in kindergarten I have the responsible task to talk to the kids about poverty. But what is poverty anyway? You are called poor when you can't afford anything. Here in Germany poverty is different than in other countries.
In Africa they don't have anything to eat above ground and here with us it's about the subsistence minimum. No matter how you see it, nobody has to be poor. There are so many people with so much money that you can share.
On the other hand, I have to say that if someone has become rich, then he has certainly earned this wealth.
Much worse, I find that poverty is often inherited, especially here in Germany, and children from poor families usually remain poor. That does not have to be the case. Education should not be a financial burden for all classes, so that children from socially weak families would have the same opportunities as the others. Only then is it really a matter of what someone is able to achieve.
Well I myself am in a (momentary) situation where I am not feeling bad. I am not poor, but I am also not rich. I lie in the good average. But I also had a very bad time in my life. I had a time when money wasn't so great. When I was in my early 20s, there was a time I couldn't recover from forever.
After the Bundeswehr time I went to Munich to work there. In the time when I was employed as a waiter, everything still went quite well. Nevertheless, as a young and stupid person, you were sometimes very exploited and then got no money, good that there was then tip. Then it went into a company which paid at the beginning really well money. But then this company went into insolvency and didn't quit. The office did not feel responsible, one was in employment. One was also young and stupid. The employment office employee really got on my nerves and I didn't want to go there anymore. Debts formed, more and more and more.
At some point I started to work in security. There were also some companies in Munich which more or less exploited one. 6,34 Euro gross earnings. Thus one is close to starvation. Well what can I say, but that was my springboard. I did not put my head in the sand and went my way and then earned good money in security again. So after a few years I could pay my debts again and save some money again.
Also my motorcycle accident in 2011 could not stop me. Well I say, if the insurance of the accident opponent would not be so great, it would probably have thrown me again into a hole, but it just goes apparently also without quarrel and without problems. So I could go my way until today.
What I mean to say is that poverty can hit you very quickly, no matter if you have 10,000 Euros on your savings account or only 10 Euros and when it's time, it's also very difficult to get back on your feet and look ahead.
Topic today: penuriousness
Why don't you write down your thoughts on the subject?
The Rules
Write down everything you can think of about the current topic within 10 minutes and publish your thoughts with the tag #WednesdaysQuickie.
That's it :)
For all young Steemians I have some advice for you
A hero can also be someone who has little strength, it is always the question how he uses it.
So be a hero.
---