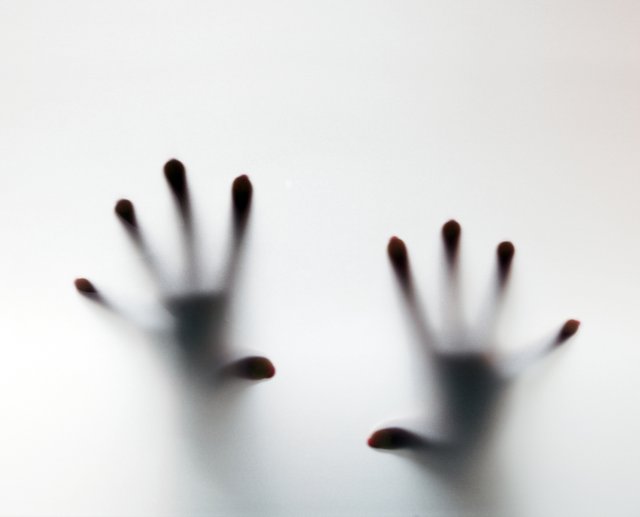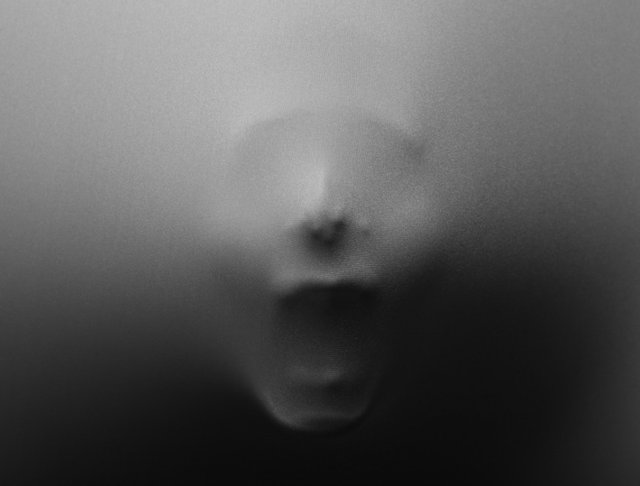 odysseyonline
venturebeat.com
---
Missing Children Vanish from Virginia

The rates of missing children in Virginia are astounding. Since this is a lengthy post I will provide you with the stats first and let you decide if you'd like to continue reading as this post is lengthy.
2017 Missing Children (up to Nov. 9th, 2017)
Virginia: 347
Rate per 100,000 : 4.13
California: 178
Rate per 100,000: 0.45
---
Alarming Number of Missing in Virginia for 2016

This is a follow up post to Virginia where we explored the available data on missing children in the state of Virginia for 2016.
The data clearly shows that there was a disproportionate number of missing children per 100,000 in the state of Virginia when compared to the all other states including California and New York. Although the numbers are certainly alarming, the researcher who made the original analysis, and posted it to YouTube, cautioned that the results may be a result of poor reporting or incomplete data and that we should be cautious about reaching any definitive conclusions.
Even though 2017 has yet to come to an end, curiosity got the better of me and I decided to dig into data supplied by the NCMEC in the state of Virginia for this year. Since no complete databases with statistics on missing children exist, I decided to gather information manually and build a data set plugging in individual profiles into an Excel spreadsheet. All the data comes from the NCMEC database of missing children for Virginia and California (accessed - October 10th to November 10th).
The NCMEC's public database is organized and sorted alphabetically with the profiles of missing boys and girls from different years all intermixed onto one page.
If for example, you'd like to search for missing children in 2017 there's no way to separate this year from the remaining profiles. As a result, the process of gathering all of the profiles (for a specific year) is a slow and painstaking process.
What I'm about to share with you is truly shocking

I collected the data over several weeks in October and early November 2017 and I can still hardly believe some of the numbers and patterns that emerged.
The numbers compiled here are from January 1st to November 9th, 2017.
---
Missing Children in Virginia 2017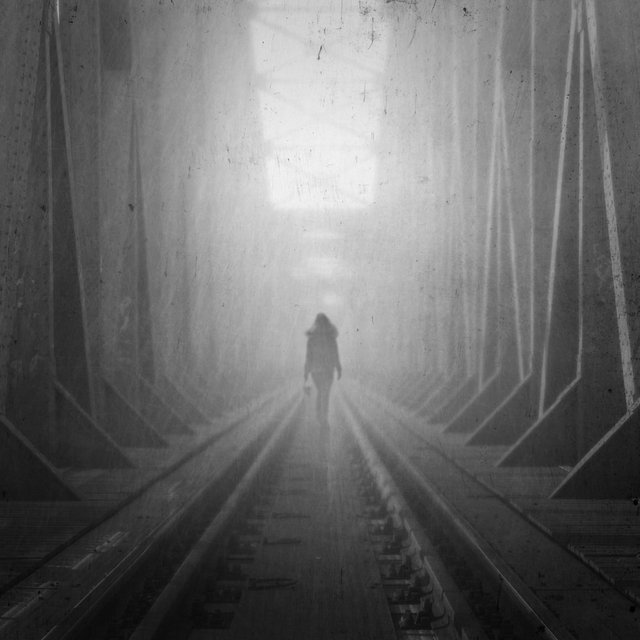 deviantart.net
deviantart.net
If you want to find data/information on missing children in the state of Virginia you may find yourself at the Virginia State Police page in association with Virginia.gov.
http://www.vsp.state.va.us/MissingChildren.shtm
When you click on 'missing' you are redirected to a page dedicated to missing children in Virginia. A repository of missing children is compiled by the
Virginia Missing Children Information Clearinghouse

This organization works in conjunction with state law enforcement, the FBI's National Crime Information Center (NCIC) and the National Center for Missing and Exploited Children (NCMEC).
Unfortunately, the links to the Virginia Missing Children Information Clearinghouse are broken. Therefore, we must rely on the NCMEC's website for any available data.
NCMEC

As I mentioned, the NCMEC website leaves a lot to be desired. There are plenty of pages on how to protect children, the various programs and partnerships of the NCMEC, etc., however information related to actual missing children is not as accessible as you might imagine.
You can search for individual profiles However, there's a certain lack of organization. This is certainly perplexing to some extent since it's well documented that the organization uses some of the most advanced real-time data analytic software available, namely the CIA seeded Palantir.
Palantir software is used by the military, government agencies, financial institutions and even charities such as the Clinton Foundation. Essentially, Palantir is an infrastructure for data analysis that can incorporate existing software used by any given organization to help them make sense of their data and increase efficiency.
Yet, the organization that receives tens of millions of dollars in private and federal funding, which also uses the most advanced data analytics available is somehow unable to provide basic numbers regarding missing children state-to-state.
Granted, some of the difficulties of tracking the number of missing children in America is that there are certainly cases of; runaways, children that return home but not reported or even false reporting of a missing child.
---
Comparing Virginia and California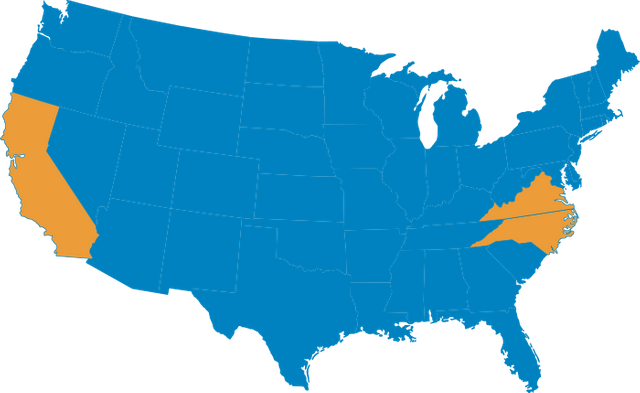 Let's start with the total amount of reported missing children from both Virginia and California.
Population
California: 40 million (approx.)
Virginia: 8.4 million (approx.)
Total Missing Children (January 1st 2017 to November 9th, 2017)
California Total Missing Children: 179
Virginia Total Missing Children: 347
Rate per 100,000 people
Virginia: 4.12
California: 0.45
2016
Virginia: 3.76
California: 0.41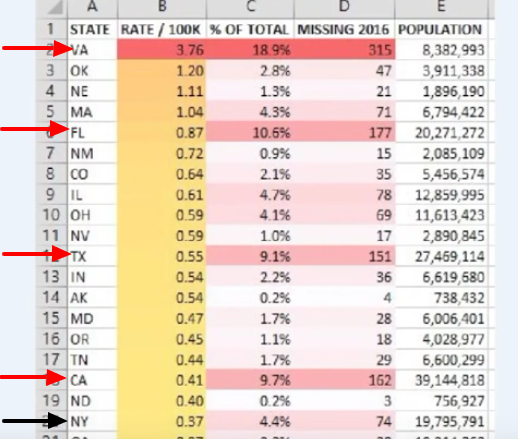 Already this doesn't seem right.
Virginia has over 100 more missing children than California, a state with a population 5 times larger. Just by examining the total numbers we see similarities emerging with the 2016 data.
As the 2017 data comes in, it appears that the shocking rates for Virginia discovered in 2016 are not an anomaly. It would appear that Virginia's, indeed, at the epicenter of missing children in the United States.
How is it that Virginia has more missing children than California?
What's going on in Virginia, why are so many children going missing?
---
Norfolk, Virginia Beach - Missing Children Bermuda Triangle

One of the most striking things about the data from Virginia is the concentration of missing in the Norfolk area.
Norfolk
Virginia Beach
Portsmouth
Newport News
Hampton
We can also add Chesapeake and Suffolk on the periphery. Taken together the region's population totals approximately 1.4 million people.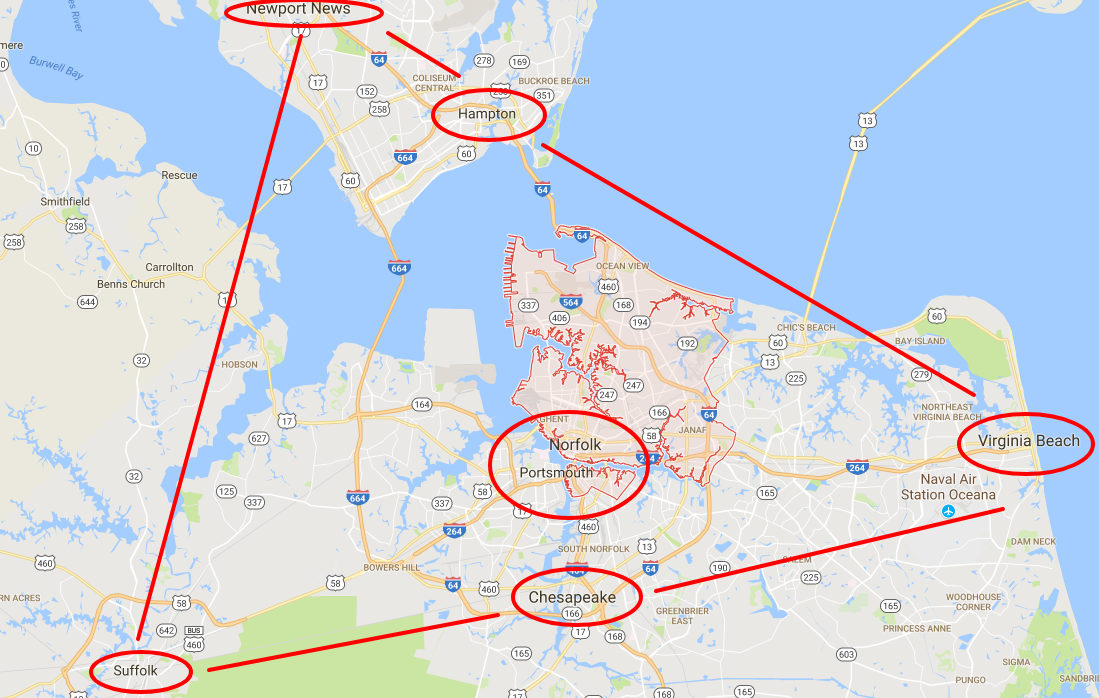 In combination, this area makes up half of all the missing children in the state of Virginia with 159 to date.
In the Norfolk region, there's been an incredible 131 reported cases of missing children in 2017.
Norfolk city has 38 cases, thus far.
Calculating the rate per 100,000 for the greater region we come to an incomprehensible number of:
9.11 Missing Children per/100,000

Not to be ignored, other areas that have high rates of missing children are Fairfax (30), Manassas (23) and Alexandria (12).
---
October Occurrences

If the overall statistics were not enough, the October 2017 numbers are even harder to comprehend. While compiling the individual profiles for Virginia's missing, it soon became clear that the rates in October were off the charts.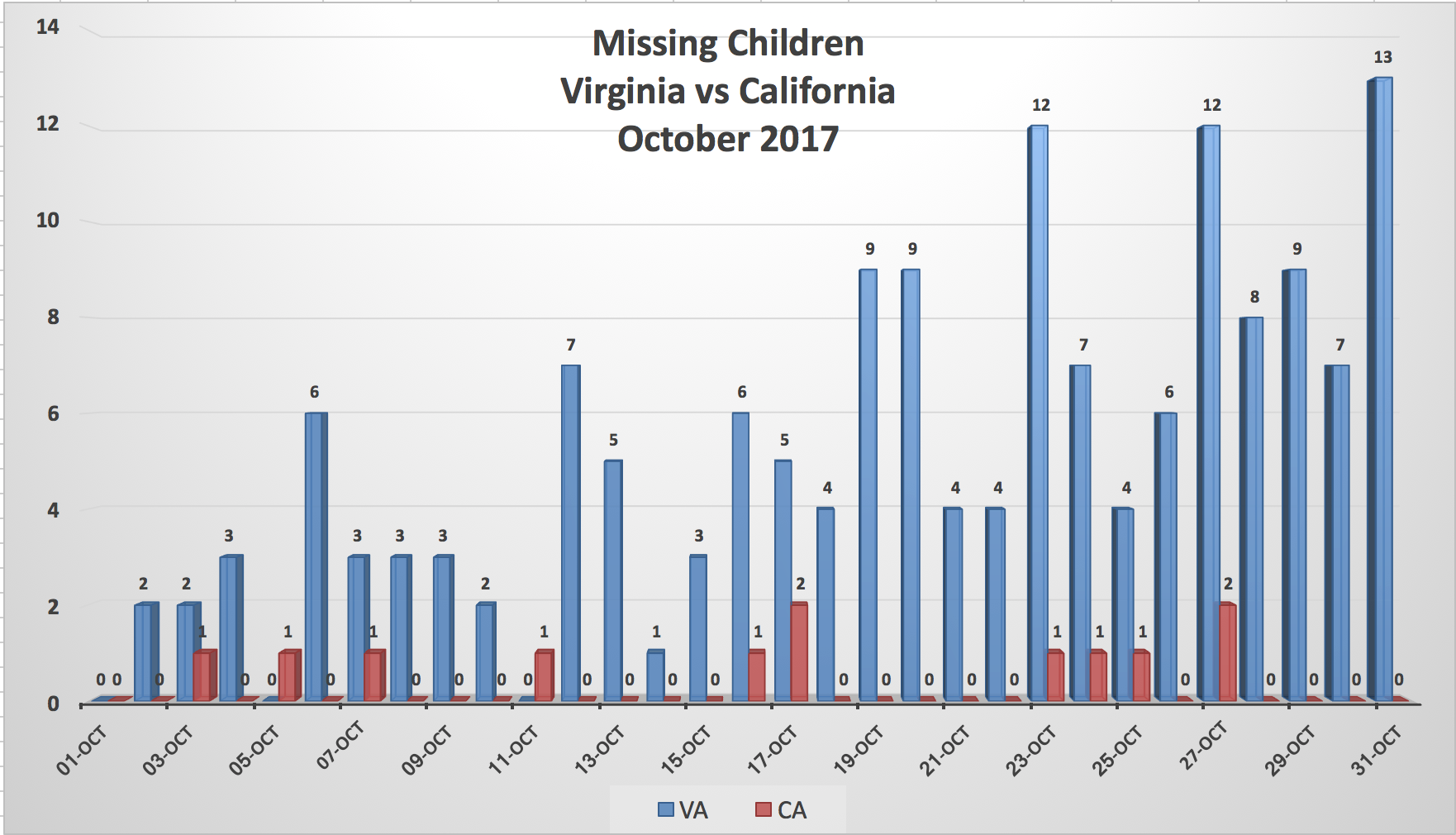 According to the data collected from the NCMEC, the number of missing children in just the month of October is:
159!

The numbers from the Norfolk region are equally incomprehensible:
84!

Here are a few graphs with comparisons that help us get a better idea of how the significance of these numbers really are. Comparatively, the total number of reported cases in California is just 12.
Rate per 100,000
Norfolk Area: 9.113
California: 0.454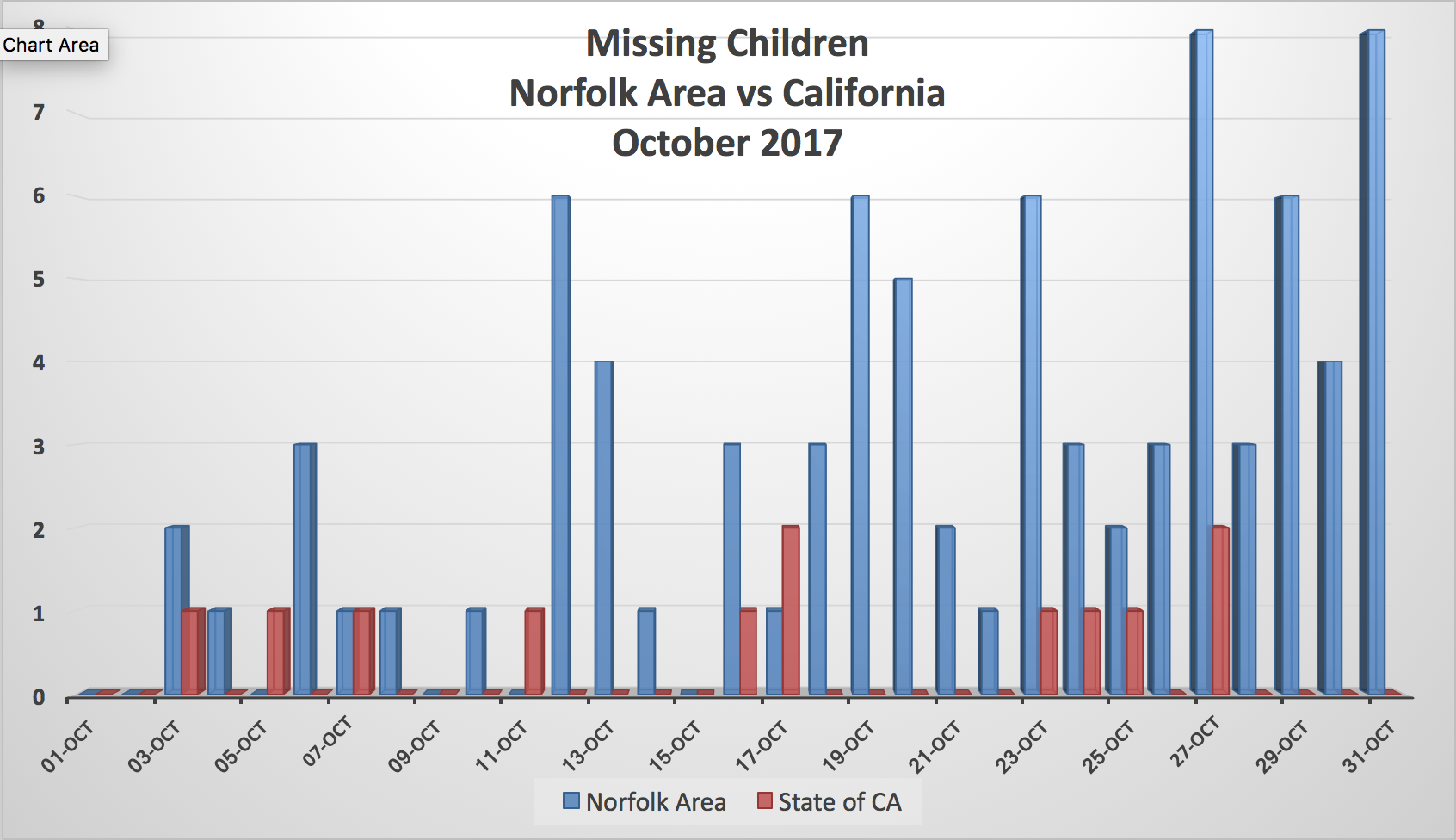 ---
October Raw Statistics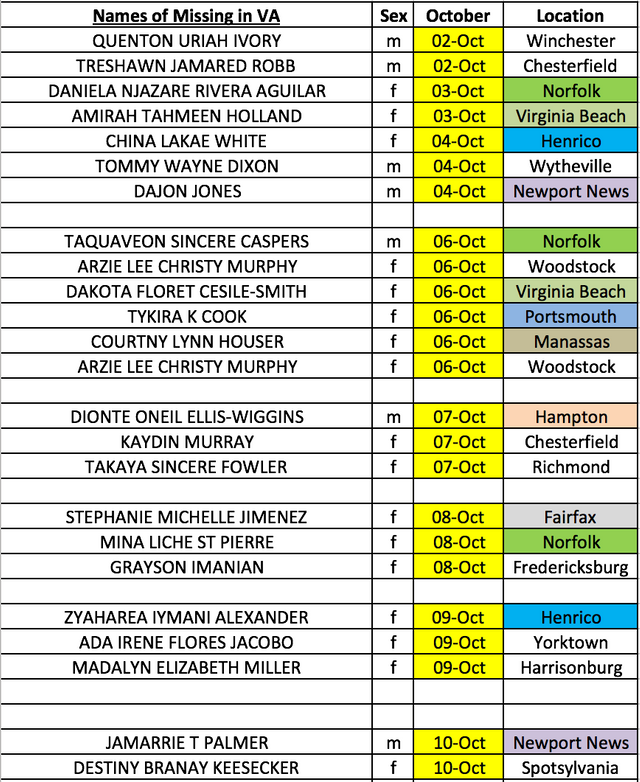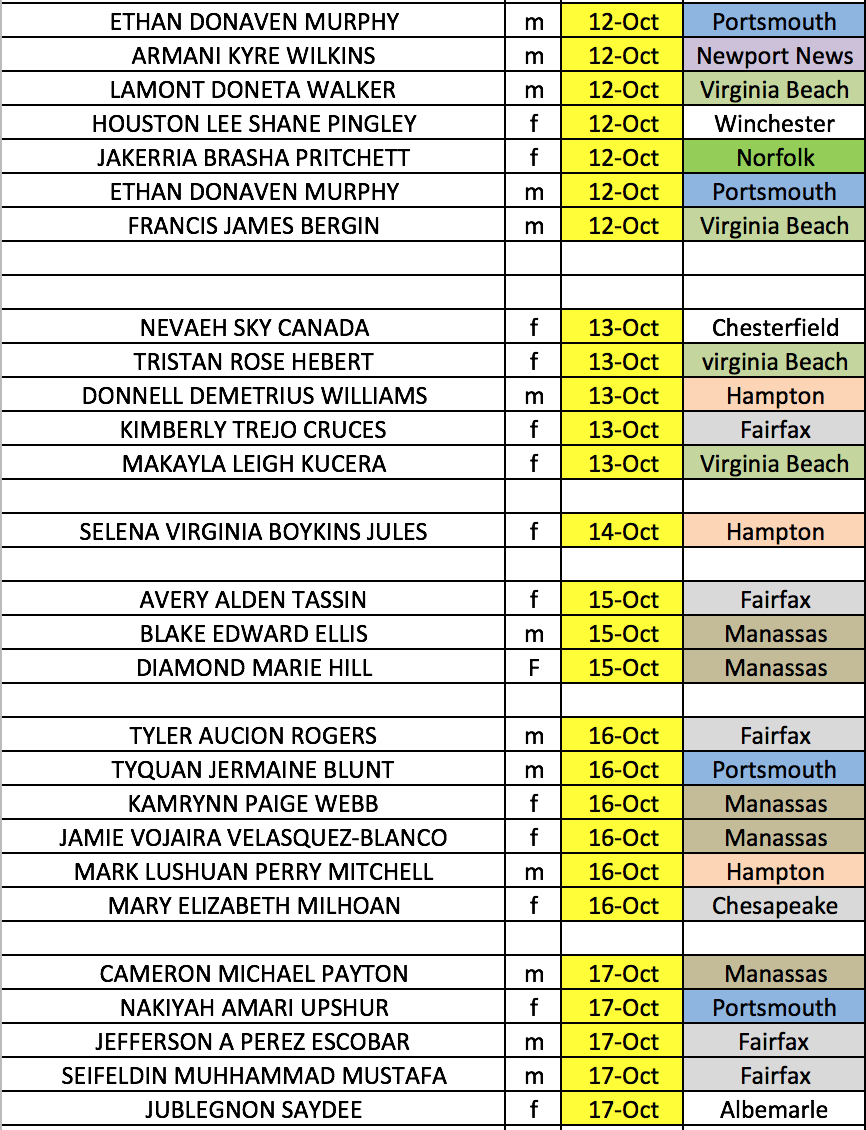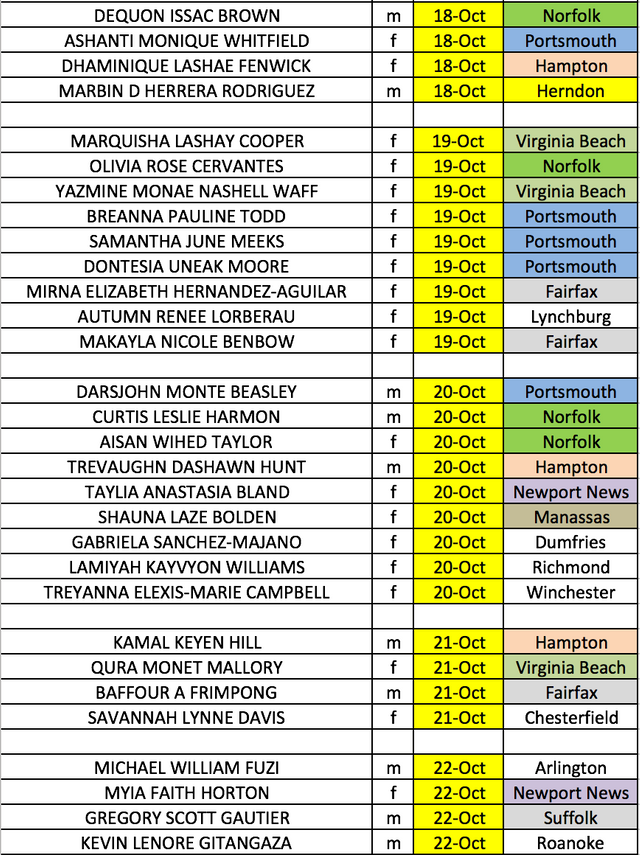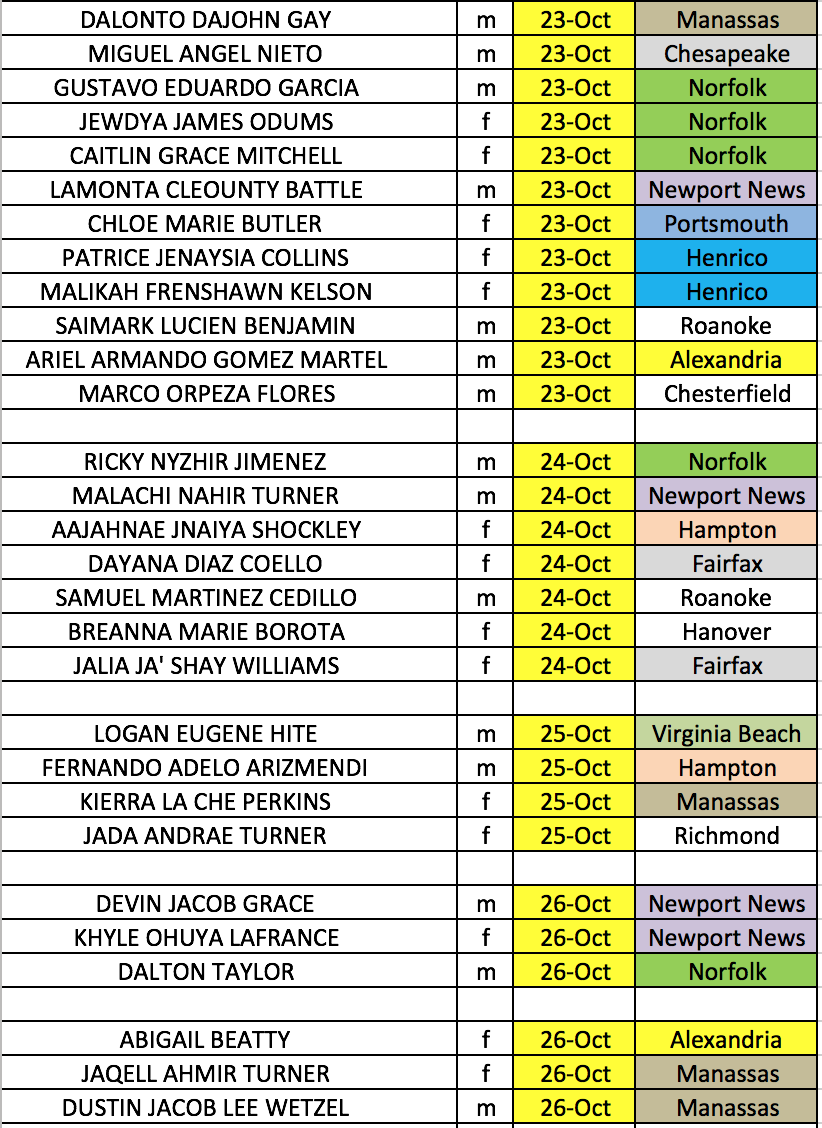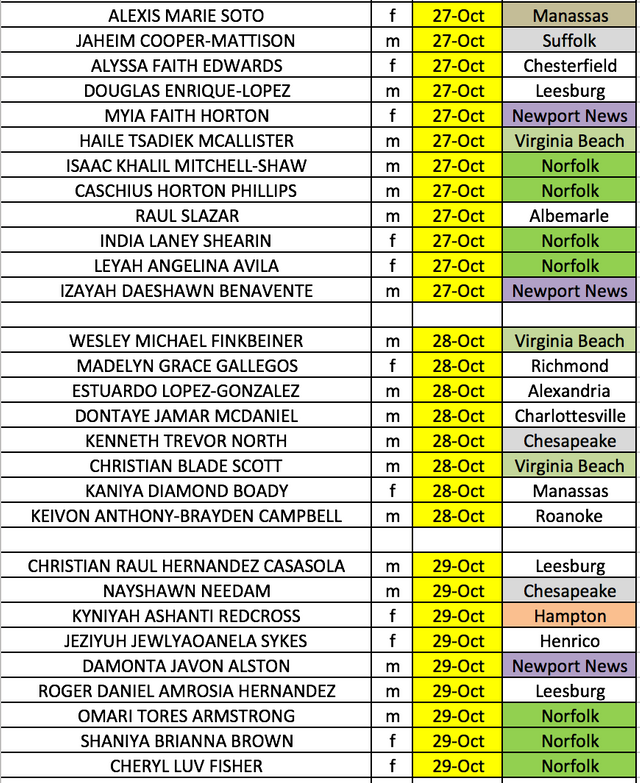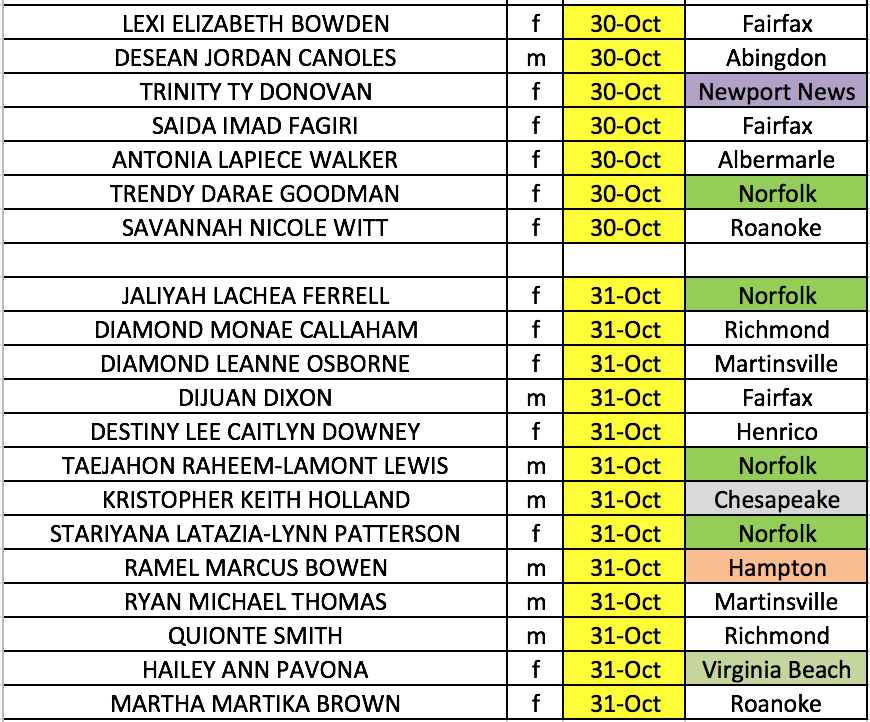 ---
Norfolk, Virginia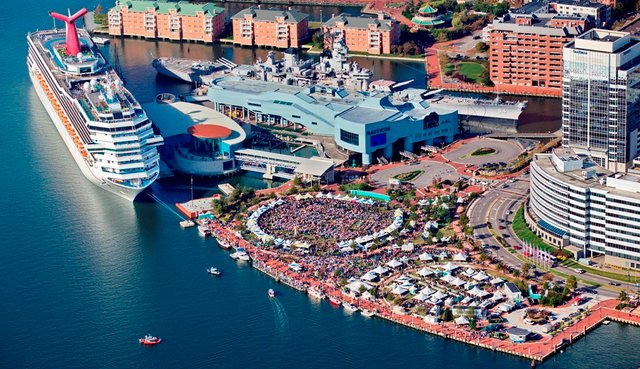 Downtownnorfolk.org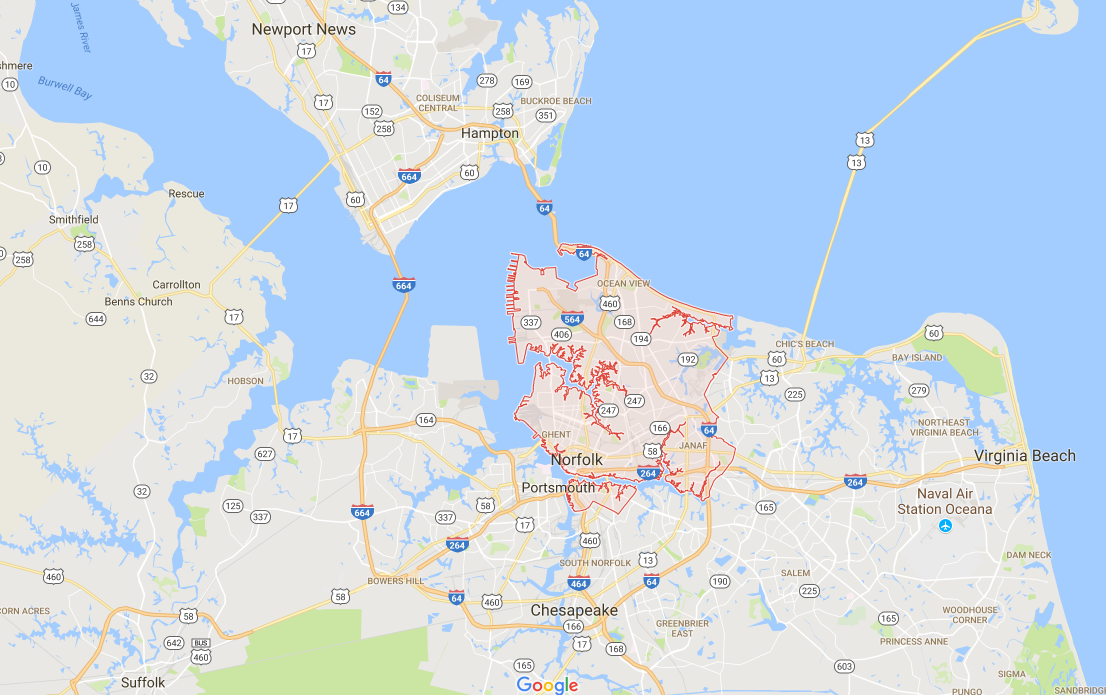 What can explain these unbelievable high rates of missing children in the Norfolk area?

First, let's find out a little bit more about Norfolk, Virginia. According to the US Census Bureau, Norfolk county has a population of 245,115 inhabitants.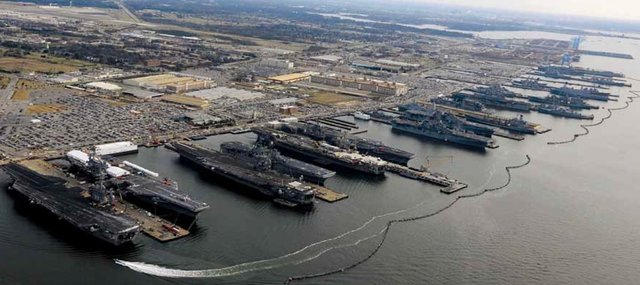 The American Prospect
Historic military and strategic transportation point
Largest Navy base in the world – Naval Station Norfolk
Location of one of NATO Strategic Command headquarters
Headquarters of Norfolk Souther Railway
Maersk Line world's largest fleet of US-flag Vessels
Extensive network of interstate highways, bridges, tunnels, etc.
Let's look at a few stats comparing Norfolk to the State of Virginia as a whole.
Virginia
Population: 8,411,808
Average household income: $65,015
Ethnicity
White 70%
Black 20%
Latino 9%
Norfolk
Population: 245,115
Average household income: $44,480
Ethnicity
White 49%
Black 43%
Latino 7%
The census information indicates that Norfolk has a much higher African American representation compared with the overall state percentages. This is also reflected in the number of African American children featured in the NCMEC profile page.
From my limited knowledge of Norfolk, it appears that Norfolk has higher crime rates than the surrounding areas.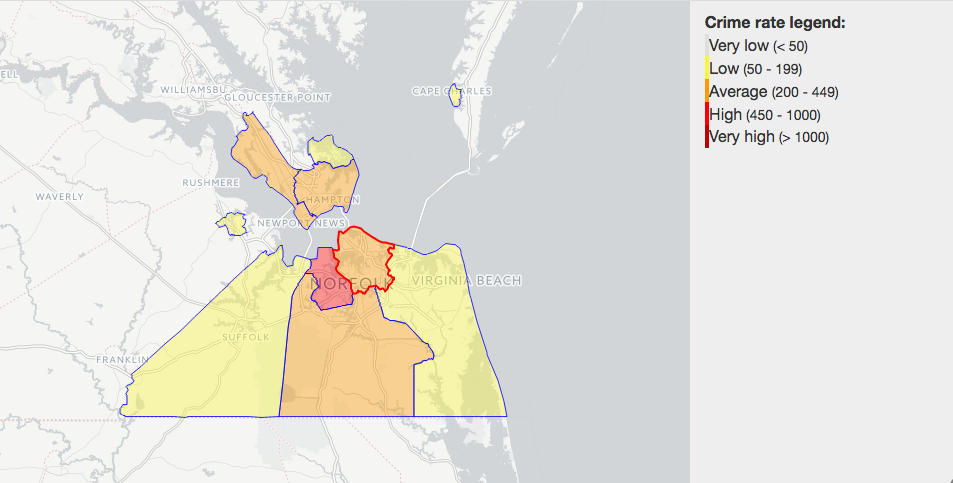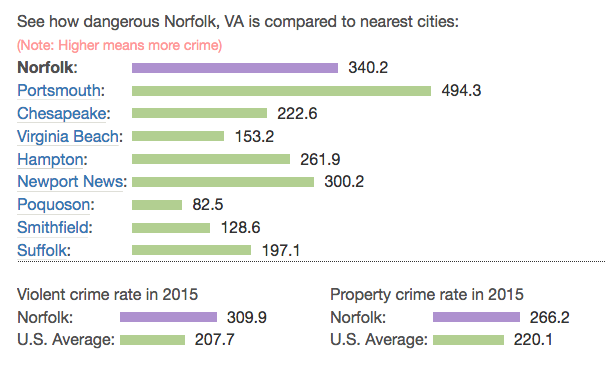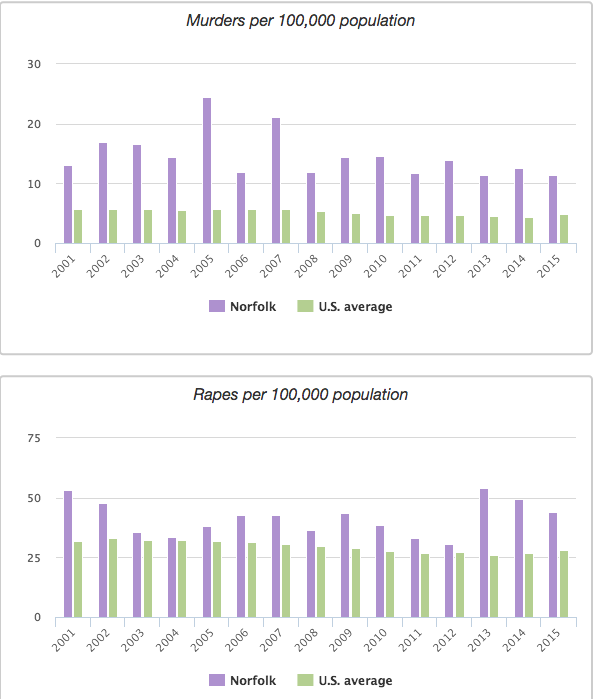 ---
Human Trafficking in the Hampton Roads Area
https://www.fbi.gov/investigate/civil-rights/human-trafficking/@@@images/image.jpg
fbi.gov
Most people would not identify the Norfolk area as a major hub for human trafficking but according to the Virginia Beach Justice Initiative human traffickers have been known to be active in the region.
McKenna is the director and a co-founder of the Virginia Beach Justice Initiative, and he spoke at the church to let them know human traffickers like Hampton Roads because the network of interstates makes it easy to ferry women below the radar.
Similarly, Immigration and Customs Enforcement (ICE) identifies the area as a major connecting point for Interstate highways suggesting this may be a major factor in the disappearance of young men and women from this part of Virginia.
Experts believe Virginia's central location along major interstate corridors and its international points of connection make it vulnerable to human trafficking activity. Through June 30, 2016, Virginia had the 13th most cases reported to the National Human Trafficking Resource Center hotline. This year, the hotline received 339 calls, reporting 73 cases of human trafficking in Virginia. The majority of those called referenced women forced into sex work against their will. In 2015, the hotline received 624 calls, referencing 145 cases of human trafficking in Virginia.
The average age of teens entering trafficking 12-14
Nov. 10, 2016
Recently, the Hampton Roads Human Trafficking Task Force was created with funding from the Department of Homeland Security in coordination with: the U.S. Attorney's Office for the Eastern District of Virginia, the Virginia Attorney General's Office, Homeland Security Investigations and the police departments and commonwealth's attorneys of Virginia Beach, Chesapeake, Norfolk, Hampton and Newport News. Samaritan House, a Virginia Beach-based nonprofit, is helping the victims.
The goal of the task force is to combat human trafficking in the region receiving a federal grant of 1.4 million dollars to kick-start the initiative.
Although there appears to be some indirect acknowledgement of the severity of the situation in the area, there has been very little in terms of national coverage. A handful of missing persons cases have garnered some attention, such as the disappearance of Ashanti Billie from her place of work on a naval installation who was later found dead in North Carolina. A former naval officer has been charged with her murder. Although there's no evidence Ashanti Billie's case has anything to do with human trafficking, the case has drawn more attention to the disappearance of African Americans women in Virginia. However, the vast majority of the cases of missing teens in Virginia has gone largely unnoticed in the media.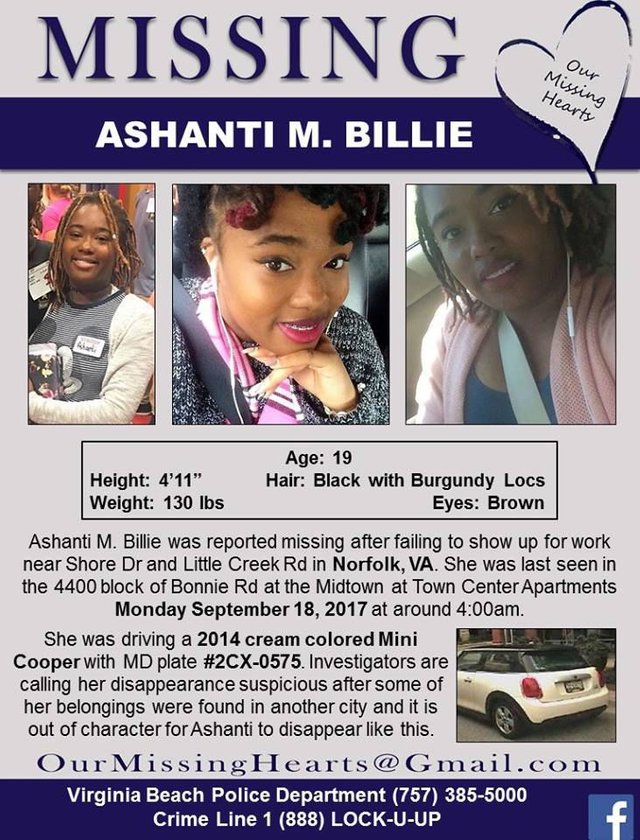 The Virginia Pilot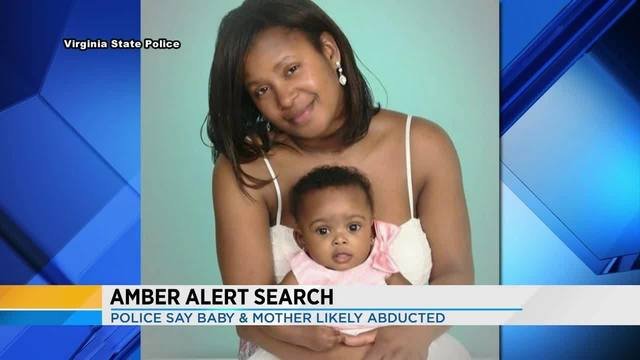 wsls.com
From the profiles available from the NCMEC, it appears that a large percentage of the missing young men and women are African American teens. The following news story reports that:
African Americans make up 40% of all missing people in the United States.
http://www.13newsnow.com/news/local/black-and-missing-group-tries-to-find-black-men-women-who-disappeared/434956669
---
Missing and Exploited Data

I must caution you that if you visit the NCMEC website many of the profiles included in the analysis here are no longer listed on the organizations website.
I assure you that the profiles I have presented here are accurate as I used the NCMEC profiles as the only source of data.
When going back over the profiles I was also perplexed to find that many of the profiles that I had been compiling no longer appeared on the Virginia missing list.
My first reaction was to ask – have these children been found?
If this were the case then you'd expect some sort of celebratory update.
"Missing Virginia Girl Found!"

The return of just 1 missing child is a cause for celebration but in this case several dozen profiles that were on the site the week prior, are now nowhere to be found.
If there were dozens of children that were returned to their homes it would be national news.
So, I decided to search the individual names that were no longer listed using the search query: "(name) missing Virginia 2017 found" and several other variations.
The search results did not display any headlines of children that had been returned to their homes but there were links to the NCMEC's missing children profile pages. However, when following the link provided with the child's name back the NCMEC's missing in Virginia page one of 2 things happened.
Page not found
Link to the NCMEC's page but the profile did not appear in the listings
This makes you wonder as to why the profiles are no longer displayed on the website. There may be good reason to remove profiles, for example, when someone is falsely reported missing. Yet, with the sheer numbers of children who are reported missing in Virginia, it seems unlikely that a national clearinghouse would profile so many 'false reports' in their official website.
When you spend enough time on the NCMEC missing children profile pages you'll soon notice another glaring discrepancy between state listings. Again, I will use California and Virginia as examples here.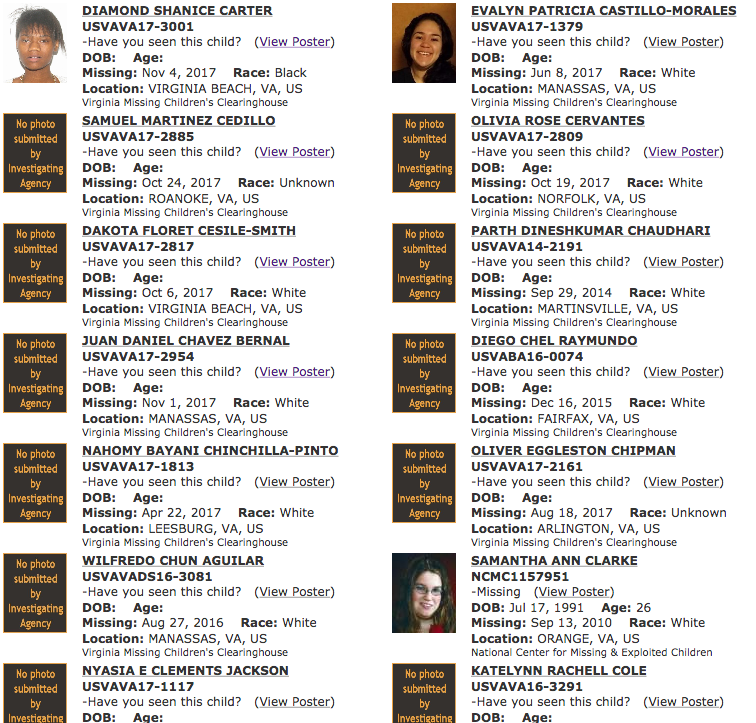 Some profiles do not have a photograph of the child with the profile and vital stats. When viewing the California profiles, there may be a dozen or so that do not have a picture. Sometimes, a sketch is used instead or an article of clothing that the child may have been wearing. By contrast, the Virginia page of 370 reported cases has an astounding
179 profiles without a photograph!
Instead, the following message is displayed –
No Photo submitted by Investigating Agency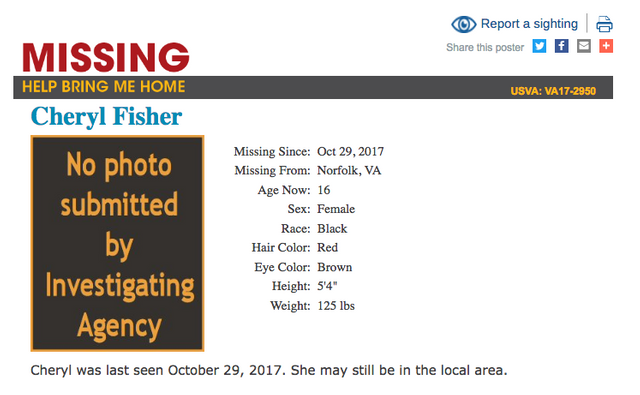 In this day and age of social media and smartphones, having a profile without a single photograph that could be used finding and/or identifying a missing child is truly unbelievable. Surely, these teens have some kind of social media presence or a phone full of selfies.
How is it possible that as of writing this (Nov. 10, 2017), there is an equal amount of 2017 profiles of missing children in Virginia without a photograph (179), with the total amount of reported cases of missing children in the state of California (179)???
---
Amber Alert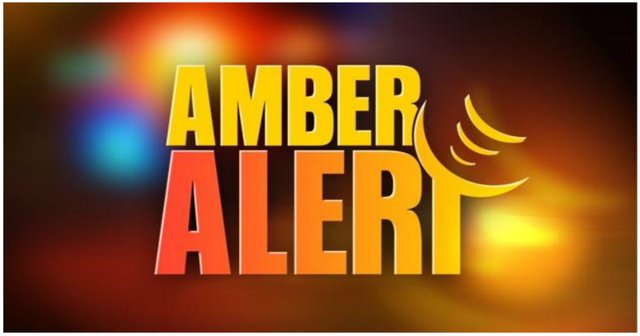 Sunflowerstateradio.com
This is an Amber Alert.

If you live in Virginia, if you have family in Virginia and especially if you have children in Virginia you should make everyone aware of the increasing high rates of missing teens statewide. African American youths are particularly high risk. The research shown here shows that the data from 2016 was not a one-off occurrence and that Virginia has the highest rates of missing children in the country.
In addition, I'm of the opinion that teens need to be made aware and educated on the threat of human trafficking. As the Department of Homeland Security has noted, the Hampton Roads area is a prime location for human trafficking due to the state's interconnected transportation networks.
---
Notes on Research

For anyone skeptical of the analysis that I have done here I would like to assure you that I have gone over the data numerous times to make sure that I had not made some sort of major error. Of course, there may be some small mistakes but I believe that the information is as accurate as can be expected. There are several points that might create controversy, however.
1.The Disappearance of Profiles from NCMEC Website.
I will do all I can to provide evidence to back up this claim. In my next post, I will provide screenshots of the profiles that were posted previously but have since gone missing. As mentioned previously, there may be good reasons for the disappearance of some profiles.
2.Double Entries
Several profiles were found to have been uploaded about the same missing teen providing different dates of disappearance. Any 'double posts' have been removed from the data. For example: The date of disappearance and location of disappearance of Michael William Fuzi has changed/updated at least 3 times since I began my research.
3.More Research
If you care about missing children or you're interested in doing research please look into this and examine the data available from the NCMEC website. I welcome any scrutiny of the data, criticism and any feedback you might have.
4.Incomplete Data
At the time of posting there's still roughly two months left in 2017 and the number of missing in November is already at (53) in Virginia. Help me record, organize and keep track of the data coming out of the NCMEC before it disappears.
---
Thank you
Dedicated to the children who have gone missing in Virginia, in California, all across the US, and the world. Bless their souls.
---