Minnow University // Creating Value by Helping Others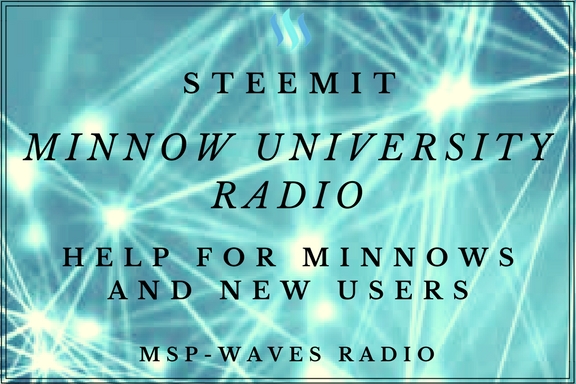 Your True Value is Not Based on Your Wallet Size

I was out of town over the weekend so @swelker101 had the wonderful @meno on the show.
They had a great discussion about creating value and helping others…which has nothing to do with wallet size.

The combination of those on Steemit with a large wallet having the ability to upvote at a higher percentage and those with a small wallet referred to as tiny Minnows can often come across the wrong way.
Your true value here on Steemit is NOT based on the size of your wallet.
One of the most important themes here on Steemit is Community.
We all have the ability to create value through community and helping others, no matter what our wallet size.

Creating Value by Helping Others
A scarcity mindset is the idea of taking in fear that there will never be enough.
An abundance mindset is about giving rather than receiving.
You don't have to have a large wallet to create value and help others.
In fact, it is often said that
kindness costs nothing.
We don't need money to give our time, thoughts, ideas, and energy to help others

Ways to Create Value and Help Others on Steemit


Write a meaningful comment on a post
Provide a helpful comment that improves someone's steemit experience
Write a steemit tutorial guide
Donate your time to help out with a steemit charity such as @youarehope or @tarc
Promote other Steemians on your blog
Help new members navigate their way through the steemit waters
Guide new users in Steemit chat or Steemit discords
Offer writing tips or assistance
Create a contest
Create your own initiative to help others
Become part of a curation team
Become part of a community

Helping Others Can Also Help You!


When I first started on Steemit 8 months ago I had diddly squat in my wallet so I couldn't exactly help others with my upvotes.
I joined the Minnow Support Project which in itself inspired me to help others.
In time, I started a radio show to help promote creative Steemians, a show to promote Steemit musicians, a show to help Minnows and new users, and another show to spread the values of Peace, Abundance, and Liberty.
Helping others not only creates value and abundance, but it also has a positive effect on our own personal well-being.
It helps us to connect with others, gives us a feeling of gratitude, confidence, a sense of purpose, and personal fulfillment.

Minnow University Episode 3 Show Audio

Minnow University is brought to you by witness @swelker101 with support from @isaria and @kubbyelizabeth to help new Steemit users understand the concepts and basics of Steemit and other STEEM blockchain platforms. We have working relationships with MSP at PALnet and The Writer's Block to help educate minnows on how to grow their accounts without resorting to spam or practices that may stunt their ability to flourish on the platform. Please join us at our discord server.