As we all know, Naija no dey Carry Last, and we are set to own Steemit for good.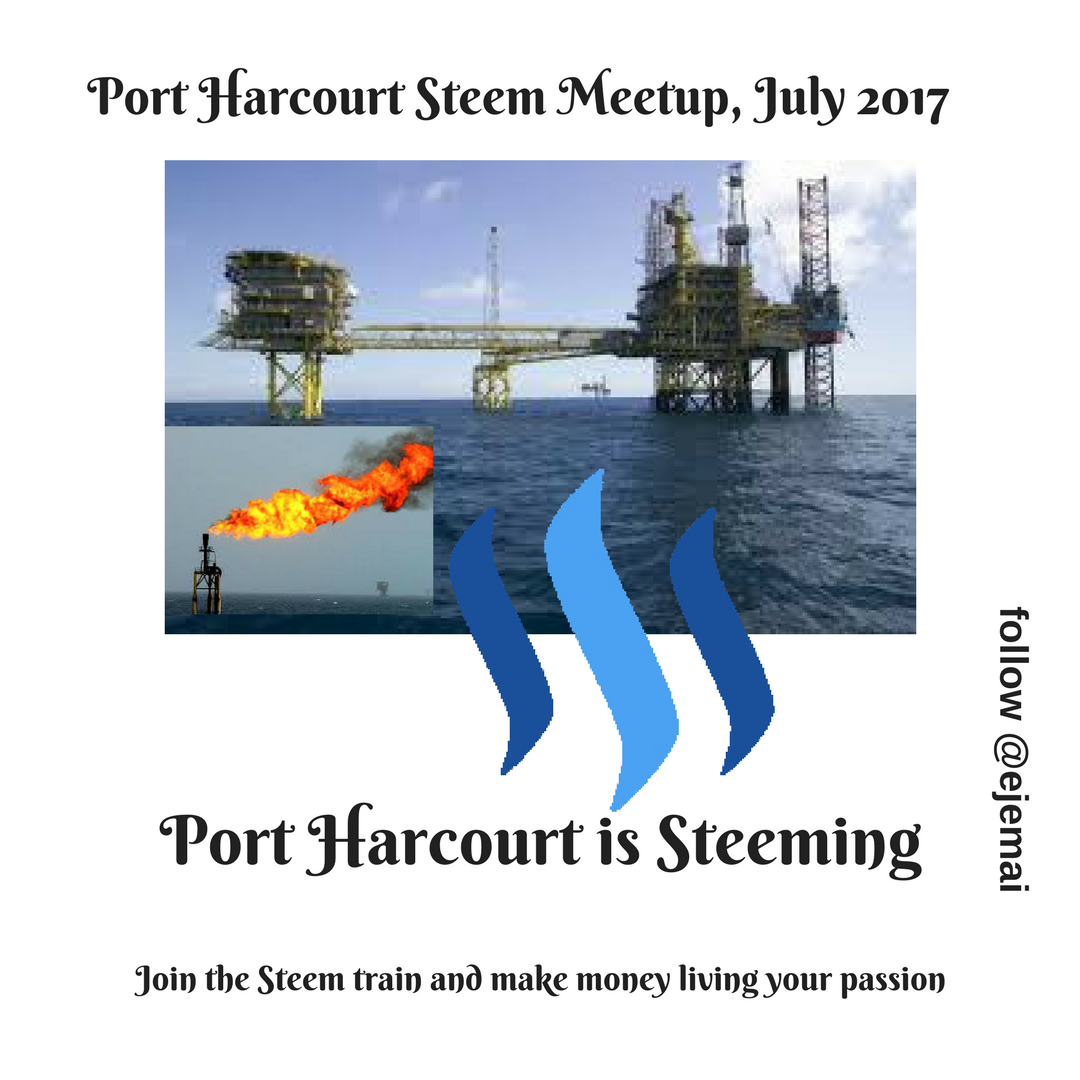 Are you a Nigerian resident in Port Harcourt? Do you Steem and see yourself as an Ambassador of this great community? Then this is your invitation to the Steemit Port Harcourt Meet-Up.
I will be hosting this meetup together with a notable radio show host and I am sure you won't want to miss out as there will be gift for the first 10 people to RSVP and also custom made Steemit T-Shirts will available.
The Port Harcourt meetup is an initiative inspired by #Minnowsupportproject where minnows are catered for. The MSP has played an important role in the lives of many Steemians myself inclusive and we will be teaching users how to fully capitalize on the rich resources of the platform.
Port Harcourt is the Garden and Oil Rich city in Nigeria and anything that has to do with Social Media always finds its bearing here that is why the first ever Meetup of Steemers will be holding in Port Harcourt this July and you won't want to miss as it is going to be fun and rewarding. There will be music, comedy and a roadshow that will put some jazz in the city.
This is going to be the huge and the first of its kind with an aim to bring together fellow Steemians of Nigerian Origin and share ideas while seeking ways to grow together.
Topics to be Discussed will include:
What is Steemit and how you can become better through it.
Steeming for Success
How to navigate the site as a Minnow
How to join and use the Minnowsupportproject
How to Steem
What are Minnows and Whales
How to be a Whale
What are witnesses
Brain Storming session.
...and of course there will be some booze and chews.
There will be the presence of industry super weight who will be imparting you with words and support needed to help you create a truly paying online career; (Online or Offline, it is going to be really rewarding).
The Steemit Port Harcourt Meetup coming up in July, are you Steemed yet? First Calling!
Make sure to type RSVP in the comment and also indicate your interest in getting the custom made Steemit T-Shirt.