Hello Steemians
Hope your having a great day.
I have another article for you about my art in the making and yes it's long so I've cut it into parts again.
Part 1: Sketching and Blocking In
He's a sneak peak at the final painting but please read on to find out my process.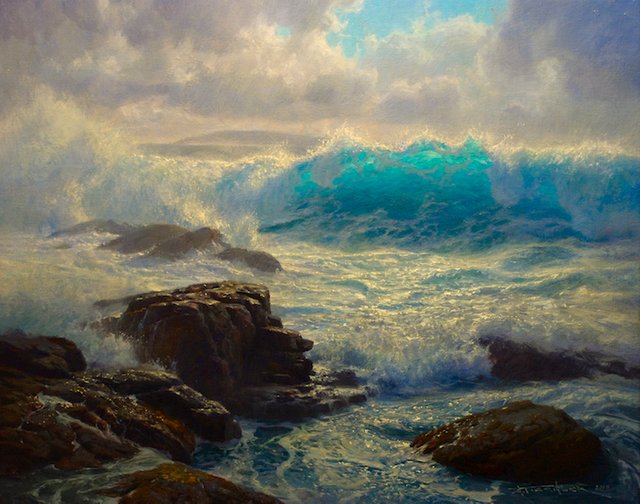 Pencil and Colour Studies
The painting I would like to talk to you about in this article "Albany Blue", had taken up 2 weeks of studio time, and was a commission. As such, I wanted the client to feel at ease with the process. I find often, clients are afraid of a nasty shock that may be presented to them at the end of our toil and hard work in the studio. Perhaps they end up with a product they didn't have in mind? I try to eliminate this eventuality by allowing them to be part of the creative process. This has a couple of advantages for me: one, I am able to familiarize myself with the subject further, by producing some little paintings where I can really nail down my palette, and two, I am able to show a variation on the theme, making them a little more comfortable with the process.
As the brief was open: "Dramatic Albany Seascape", I was able to really throw ideas out there, in an uninhibited way. I began to sketch whatever came to mind, thinking of my experiences in the field. Many compositions were coming to mind. I laid these out in the sketchbook. Each little Drawing was no bigger than the area of 2 postage stamps.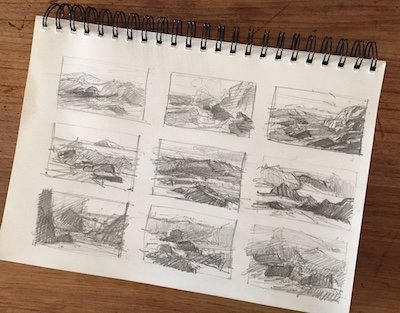 Following Sketching out my ideas, I begin to create more rendered representations of my thoughts. I use a variety of pencils to achieve a wide range of tones, and working directly on Watercolour paper, I create detailed sketches that will accompany my colour studies.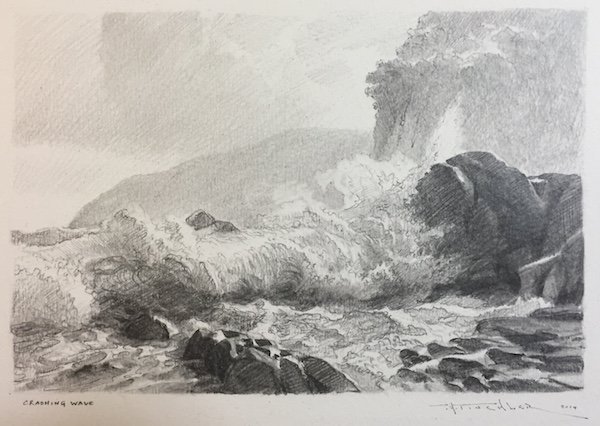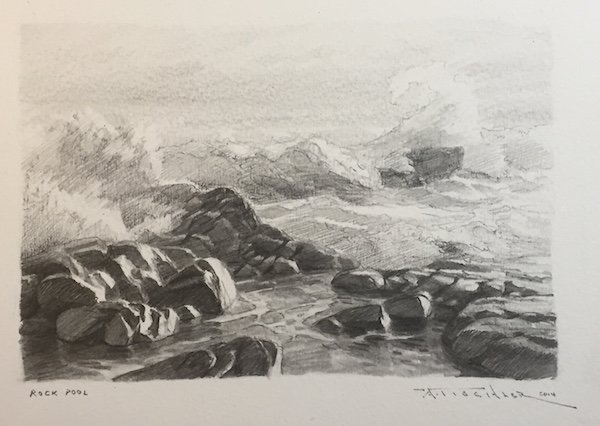 I still have not completely tied down the idea. I want this painting to really read well with dramatic weather and plenty of silvery light. With this in mind, I produce a painting that more closely matches my feeling for the subject - "Dramatic Albany Seascape".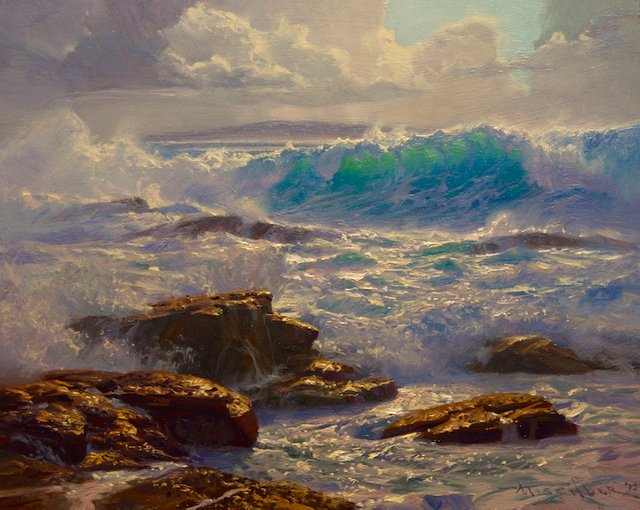 This little painting was painted onto a wooden panel, at an 8x10" size. I spend a lot of time in the planning and preparation stages. I believe that sound painting is the result of good design, and a deliberate, linear thought process. I did my utmost to create a composition that would engage me and sustain my interest over the 2-week period in the studio.
Preparation
I am working on a Belgian Linen ground. Frequently I will use a coarse grained linen, as I enjoy the way the extra texture pulls the paint from the brush. However, as this painting is quite small, only a 16"x20" I decided to choose a much finer weave, so that the texture didn't interfere with any fine details I would like to achieve. This linen comes pre-primed, and I cut the appropriate amount from the roll, and stretch to the desired size wooden frame. With my design in hand, and the final composition selected, I am ready to roll.
Step one – Sketching out the lines
I transfer the painting to a pre-coated colour ground, which is completely dry. I am using Langridge Burnt Umber as the ground. This is mixed with a liberal amount of Winsor and Newton Liquin, and a dollop of Pure Gum Turpentine. This ultimately achieves a very dark tone as a base, and will allow for a great contrast as I lay in lighter and more opaque colours. As I sketch in my design, I must be sure that the underlying coat of paint is totally dry. I am using a pointed synthetic round to sketch in the lines, which are a mixture of Langridge Titanium White and Quinacridone Magenta. Despite the obvious and distracting pink hue in the line work, this will mix quite well with the subsequent layers of blue-ish colour.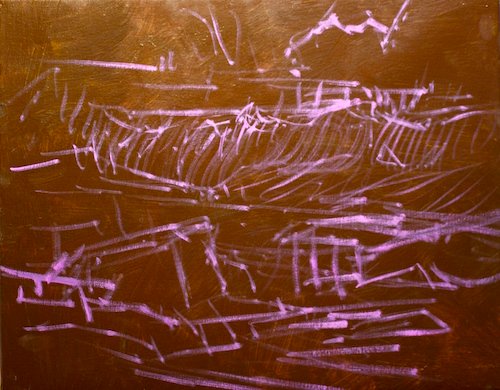 Step two – Blocking in the Composition
Generally, I start with whatever is furthest away, spacially, in the composition. This is frequently the sky. Whatever is happening in the upper atmosphere of the painting will set the tone and colour dynamic throughout the painting. Here, I have a rather overcast day emerging. I am using plenty of Titanium White in the sky, however to avoid this getting too tonally light, I knock it down with a combination of Ultramarine Blue and Burnt Umber. When the Umber and Blue meet, they cancel out and make a neutral grey, of a near black shade. Then this in kept tonally in check with varying amounts of white.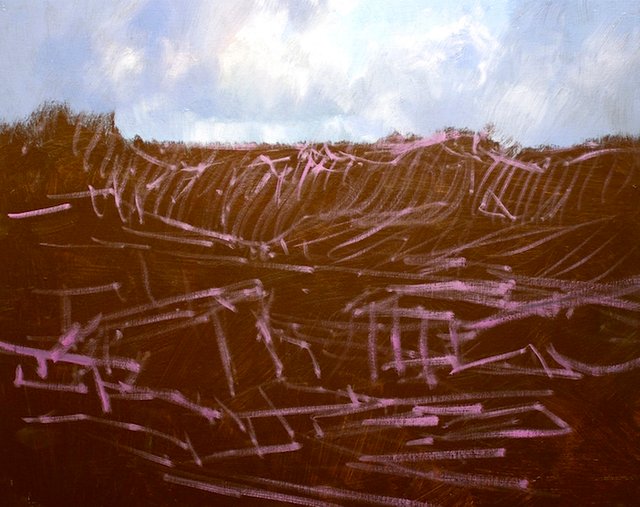 To avoid one dimensional and flat colour, I must introduce other ingredients. I use Quinacridone Magenta to achieve a mauve character amongst the shadows on the cloud. To balance this out, there is the slightest amount of Yellow Ochre and Burnt Sienna in the highlights of the cloud. Subtlety is key here. You must go gradually and carefully, to ensure your colours don't get out of hand. It is easier to turn up the intensity with saturation in delicate areas as opposed to knocking down intense colours by trying to de-saturate.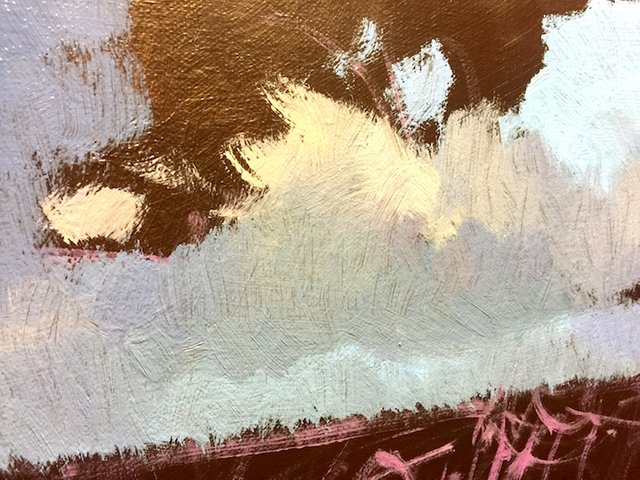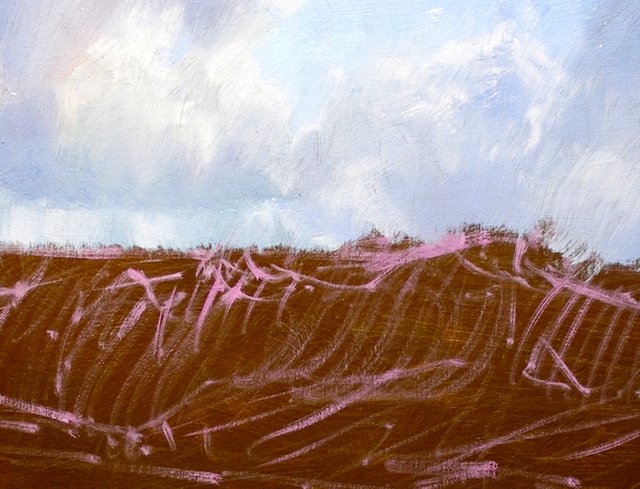 The shapes of clouds are important. I am doing my best not to create any distracting motifs in the sky which may divert attention from the intended target subject, being the wave. I do however, wish to create some interesting cloud like effects. I try to tease apart the clouds in areas, and then emphasize solidity in others. There must be some variation in the tone across the sky. Also, to avoid a solid monotonous mass across the top of the image I break it in appropriate places. This somewhat justifies the light in the foreground, though this opening in the sky occurs several kilometers behind the foreground drama.
Part 2 coming your way shortly!
If you want to check out more from me you can find me at www.andrewtischler.com
Thanks for reading and please follow if you like!