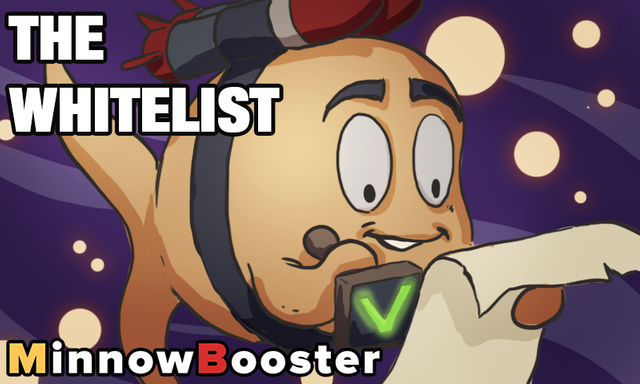 Hey folks, @trev03 from customer support with a refresher on our whitelist, how it works and the benefits of being a part of the Minnowbooster whitelist community.
We have seen tremendous growth amongst our loyal Minnowbooster users that make use of our upvote and delegation services which then go onto becoming whitelisted and enjoy the whitelist offerings. As a result, they show their gratitude by particiapting and growing the whitelist community.
The purpose of this post is to remind everyone of these service offerings as well as educating future prospective whitelist users and grow our community even further so that we can all aim to be the best versions of ourselves.
So by now I am sure that many of you are wondering why you should be a part of this, what the benefits of being a part of the @Minnowbooster whitelist community are and how you can become a whitelisted user.
To become a whitelisted user, it is possible someone may nominate you organically, but if you don't want to wait:
Join our discord server via the link below and introduce yourself in the #whitelist channel.
Tell us who you are and what you are about.
Wait for someone to take interest.
Once someone who is already a whitelisted user takes interest in your blog, they will send you an invite and thereafter you go into a pool of pending invites which are in order of oldest first.
You are then reviewed by the community who will either say "Yes" to accept or "No" to decline. You will need 5 clean accept votes before you are accepted. But also please note that for every reject vote you will need 2 accept votes to counter the one reject, which will the have a nett result of giving you one clean accept vote.
So the next question, What are the benefits of being part of the whitelist?
More profitability for a whitelisted user.
Higher vote availibility.
Whitelisted users are distingushed on the DLM, when you see a whitelisted user requesting a lease to be filled, you have peace of mind it's used for the right reasons.
Please come chat to us if you have any questions and we will be glad to assist.
Finally we'd just like to say that without you, the whitelist would not be possible. This is a community driven project highlighting the best in us as a unified group of like minded, quality content producers. Together we make Steem better!
---


| Visit our website for more info! | Subsribe to our YouTube Channel |
| --- | --- |
| | |
Join our Discord Chat

Get support and connect with us and other Minnowbooster fans!



We are always looking to improve @minnowbooster and try to keep you up-to-date whenever something changes. If you have any suggestions about what we should change or add to @minnowbooster, then please drop by and let us know!


Minnowbooster is a @buildteam project by
@thecryptodrive (witness), @cryptomancer and @reggaemuffin (witness)
---
This is a @steemvoter subscription payment post. Thank you to Steemvoter customers for allowing us to use your Steem accounts to upvote this post by virtue of your free subscription to the Steemvoter.com bot service. @steemvoter is proudly a @buildteam brand and sister project to @steemsports, @btuniverse and @minnowbooster.