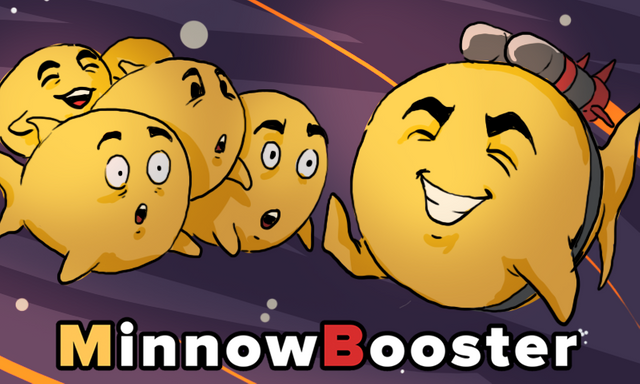 Hey folks, we hope you are having a lovely day! We'd just like to quickly remind Steemians about a few great opportunities MinnowBooster is currently providing in order to help Steemians grow their account.
In this article we will discuss 3 different areas which may be of use to you. Firstly, one way you can grow your account is through referrals!
How Do Referrals Work With MinnowBooster?
1.) It all starts with a link that can be found on your MinnowBooster.com user page.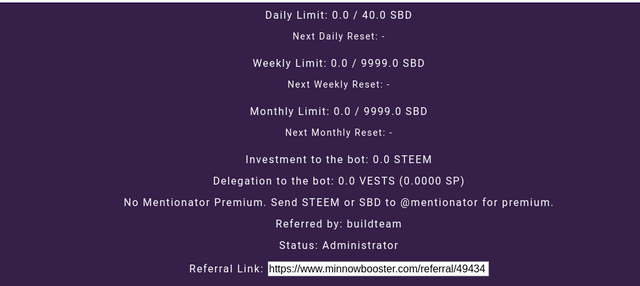 Copy the link and gain referrals by sending your link to friends. The more users you get to sign up and use the platform, the more you make! Your referral will go into effect after the first use by the person you have referred.
2.) How much can I make from referring a friend?
Well, we've tried to structure it so you will receive 1.5% of the profit your referral generates on the site.
We don't just reward the person sending the referral link, we'll also give your friend a nice bonus as well. Each person that signs up with a referral link gets 0.5% of their own generated profit!
Are there any limits to the program or how much I can make by referring friends?
Absolutely not! The more you refer the more you get! It really incentivizes minnows to bring in their minnow friends but we're also happy to accomodate dolphins and whales! The more the merrier!
The MinnowBooster Vote Market
MinnowBooster is and always will be a service dedicated to serving minnows and helping them become more successful on the platform. We want to help each and every minnow but these days that is becoming increasingly difficult. Due to the massive growth to both our whitelist userbase and our normal userbase, we're almost completely out of votes to offer minnows.
How to use the vote selling feature with @MinnowBooster
---
The following tutorial was written by a very talented author that goes by @ilyastarar. It and more can be learned by reading his complete @MinnowBooster guide which can be found here:
https://steemit.com/minnowbooster/@ilyastarar/understanding-minnowbooster-how-to-use-minnowbooster-7-minnowbooster-services-you-should-know-about
How to Sell Your Vote
After becoming a member, you can use all the services offered by MinnowBooster. Selling your vote is a very simple process. It is explained below.
Click My Account and then Edit Info as shown below.


You need to enable vote selling to @minnowbooster by sliding the button to green. Then you should authorize the bot to vote on your behalf. Then you can adjust the minimum Voting Power below which the bot should not vote on your behalf. Finally, do not forget to update your information. Too much to digest? See the screenshot below.


After enabling vote selling, you also need to authorize MinnowBooster to use your account to vote by clicking where asked. Clicking will take you to the authorization page. Click continue and enter your posting key to enable vote selling. Use active key only if you wish to use other services too.


Do not forget to click the UPDATE button to save your settings.

Let me share with you what happens after saving these settings. Whenever my VP is 75 or above, my account is used to give upvotes to users who send SBD and post URL to @minnowbooster. My vote is worth $1.30 at 75 % VP right now so anyone who sends upto approx 0.4 SBD to MinnowBooster can be voted by my account. For example, if someone sends 0.4 SBD to MB for vote and my account is used to vote on that post, I will get 85 % of the sent amount credited in my balance. In simple words, I earn 0.34 SBD from that vote. 

I calculated my SBD earnings from 18 December to 19 January just from vote selling and they turned out to be 55.695 SBD. This was made possible because I had used another MB service (SP leasing) to get some delegated SP for four weeks for just 25 Steem. Through vote selling alone, I earned so many SBDs that it was more than triple of my initial investment.

Now you can understand why I am creating a complete guide of MinnowBooser economy. I have benefited massively from this opportunity and I wish to share each detail with you. Here is some of the information that will help you use this service efficiently.

By selling your vote, you earn 85 % of all the SBD against which your vote was used. Massive!

Since MB is taking 0.01 SBD as minimum bid on posts, you need to be able to give a vote at least worth $0.03 to have a chance. At current Steem price, at least 75 SP is required. Drop in price will increase the minimum SP requirement and vice versa.

A full vote will cost you 2 % VP. VP is the only cost you pay when your account is used for voting. Set minimum SP such that you can upvote posts from the authors you follow and the comments on your posts too. Dedicating all you VP to MinnowBooster is greedy unless you are unable to be active for some weeks or months.

You can view the history of your vote selling and even the posts on which your vote was used. Randomly visit these posts to check them for quality and if you see an abuse, report in the MinnowBooster discord channel.


You can always see your earned SBD balance on the site and withdraw it to your Steemit wallet.


---

The MinnowBooster DLM

The MinnowBooster DLM is a first of its kind, fully functioning token leasing market, in which you can lease (delegate) Steem Power. If you'd like to have a look for yourself, the DLM can be reached by first going to www.minnowbooster.com and clicking on the 'New Lease Requests' button in the navigation panel on the left of the navigation panel.

You will now be connected to our Delegation Leasing Market which will allow you to fill Steem Power lease requests and even allow you to request a delegation for yourself.
The above video explains the DLM in great detail, however if you have any queries drop a comment in the chat below and we will be sure to answer it.
---
We hope these ideas give you incentive to build your Steem account with us. We are and always have been dedicated to helping minnows grow and achieve greatness through their utilization of the Steem blockchain.
So until next time, Steem on folks!
---
Make your minnow folks proud! Navigate the waters like a pro!



| Visit our website for more info! | Subsribe to our YouTube Channel |
| --- | --- |
| | |
Join our Discord Chat

Get support and connect with us and other Minnowbooster fans!



We are always looking to improve @minnowbooster and try to keep you up-to-date whenever something changes. If you have any suggestions about what we should change or add to @minnowbooster, then please drop by and let us know!


Minnowbooster is a @buildteam project by
@thecryptodrive (witness), @cryptomancer and @reggaemuffin (witness)
---
This is a @steemvoter subscription payment post. Thank you to Steemvoter customers for allowing us to use your Steem accounts to upvote this post by virtue of your free subscription to the Steemvoter.com bot service. @steemvoter is proudly a @buildteam subsidiary and sister project to @steemsports and @minnowbooster.