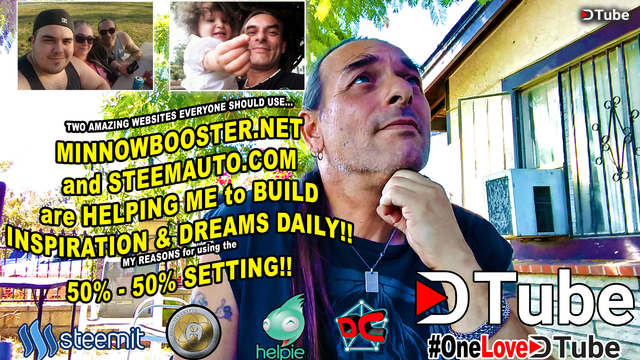 ---
Minnowbooster.net and Steemauto.com
Two Amazing Websites that Help Me
to Build Inspiration and Dreams Daily
More Shout Outs today - Lessons for the New People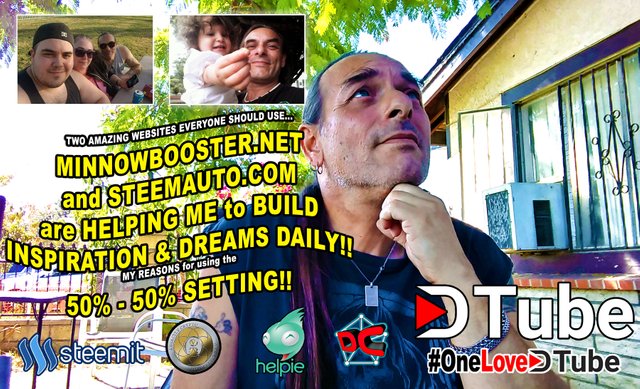 Hello #dtubers and #steemians,
Today I do a few Shout Outs to @manekineko, @reseller, @stewsak, @kawaiicrush, @sergiomendes, @nathanmars, @waybeyondpadthai, @ethanvanderbuilt, and @cowboysblog. I watched their videos and really enjoyed them a lot. They are all doing a great job bringing awesome value and variety to the @dtube, and @steemit platform.
MinnowBooster
Today I want to talk about why I use the 50/50% on my post. I use it because I find it more beneficial in helping to inspire other on the platforms I use daily which are @dtube, @steemhunt and @steepshot. Let me explain why. If I was to set my payout on my post to 100% Power Up. I would get just my payout in SP. So, 8 #steem equals 8 SP. But, if I take 8 #steem and go to https://www.minnowbooster.net/lease and lease SP from there I can get for the same SP about 450 SP for about 4 weeks. If I do this every week or even twice a week which is what I have been doing lately. It will increase my "Vote Value" and I can give higher value UpVotes to everyone. You can even choose to delegate SP to others and earn some @steem so it becomes a "Win Win" situation.
Doing this will help to inspire and encourage others on their journey here on the @dtube and @steemit platform and to do the same in their circle of people they like. In turn, it will help them to be excited about getting a nice upvote from someone with a High Reputation Score and a Higher UpVote Value.
SteemAuto
I use https://steemauto.com/ to follow curation trails so I can UpVote many people on autopilot to also help people feel good and do this while I am at work and just can't do it manually. You can even follow people you really enjoy and set up the UpVote value individually to vote for all their content on autopilot. With this website, you can even set up auto-posting or post scheduling if you so choose.
I also delegate SP to some of the platforms and trails that I am on because I am always trying to help wherever I can. This is how Valuable I believe that all of the people are here on these platforms and how valuable I feel these platforms are for the people. I support what I love. This is one way I "Pay It Forward" to things and people I believe in daily. I would recommend that all of you do the same. This is how you will get noticed here on these amazing platforms.
Peace and Godspeed everyone. I hope all of your days are filled with happiness and success and that it continues on for generations to come. Always love your self because you are a miracle of life and deserve it. Always prosper in peace, happiness, and love first.
I always say Thank you to All of My Amazing Family for always Supporting me with all their love every day. My Beautiful Fiance Vanja, All of Our Amazing kids and all of My Family in Norway, Thailand, Mexico, and the USA. I truly Love All of you.
I Always say Thank You to the amazing people and platforms here like all you #dtubers, #steemians, @dtube, @onelovedtube, @helpie, @dcooperation, @vladivostok and all the Platforms like @dtube, @steemhunt, @steepshot, and all the Dapps and Dev Teams for all of your amazing love, support, comments, and inspiration daily. Always Much Love from your Brother in Life Forever, @jeronimorubio
---
▶️ DTube
▶️ IPFS