Exotic Water Cooled GPU Mining Rig - Star Wars Prototype v1 (Nov 2017-Aug 2018)
Dark Side (AMD) vs Light Side (Nvidia)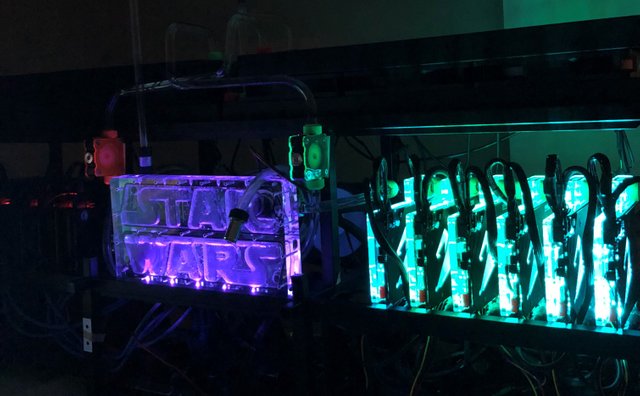 Background
I've just now got the time to write up a post on this epic crypto rig I built last fall. I intended to publish a video but am a little too lazy to edit the footage so maybe I'll make one for phase 2. Version 1 was built in Dec 2017 - just in time to ride the massive price surge and it ROI'd in only 3 months, despite the additional cost for the liquid cooling parts.
I originally contemplated building an epic watercooling rig to silence my stock vega/jet engine coolers and increase clocks on the HBM2. The decisive factor was the Black Friday sale on EKWB, which allowed me to load up on cooling equipment for about only a third of the price.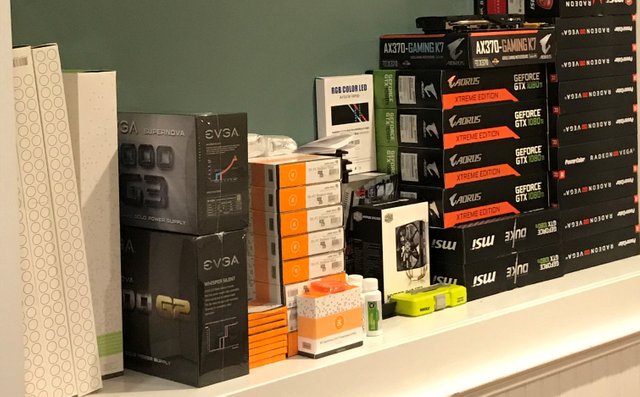 Dark Side Assembly
It was my first time removing the a heatsink and applying the waterblock myself. The first one took a little effort, but by number 8 I could essentially do it with my eyes closed. Definitely a time consuming process though.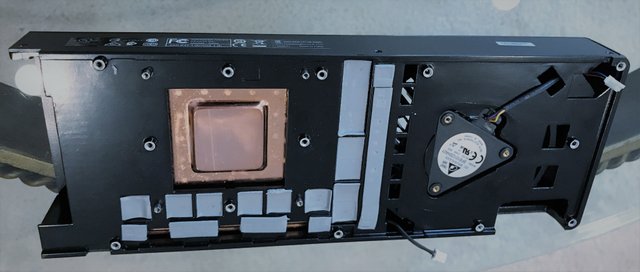 Once I had all the waterblocks on, I added 4x sli blocks and leak tested them along with the Star Wars dual D5 reservoir.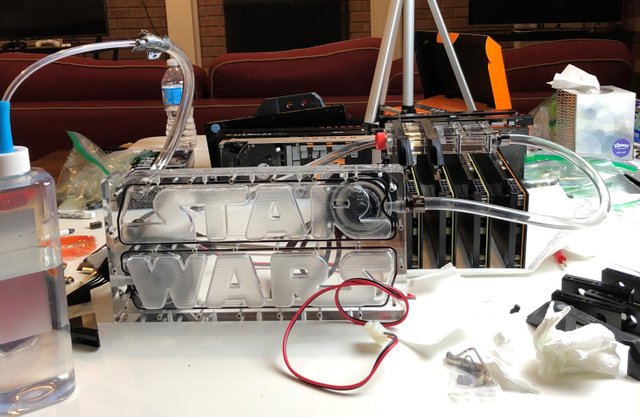 Then I put together the aluminum frame and started to set up the loop...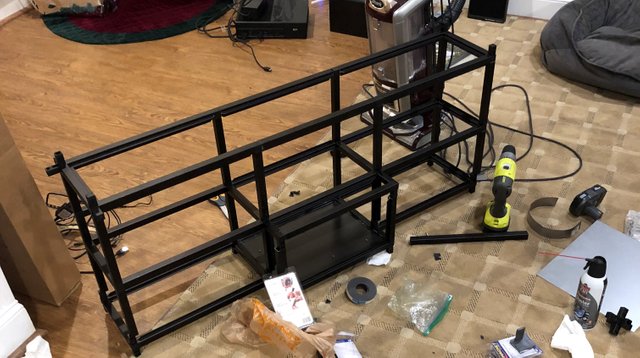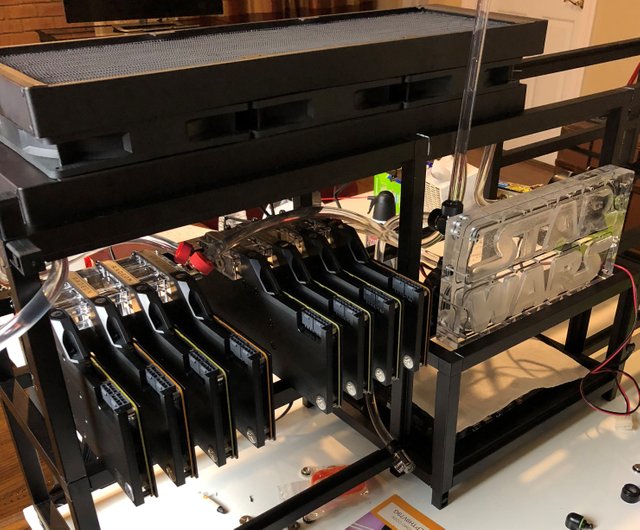 Unfortunately, that's when I realized that there was not enough space for the risers so I had to cut and rebuild the frame a little wider. It was a real pain in the a$$.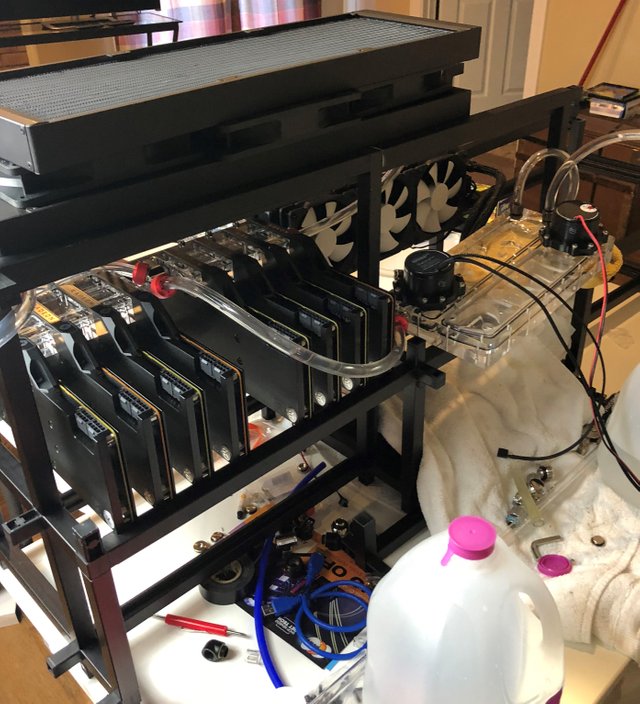 Thankfully there were no leaks and I was able to get all the Vegas up and running with ease.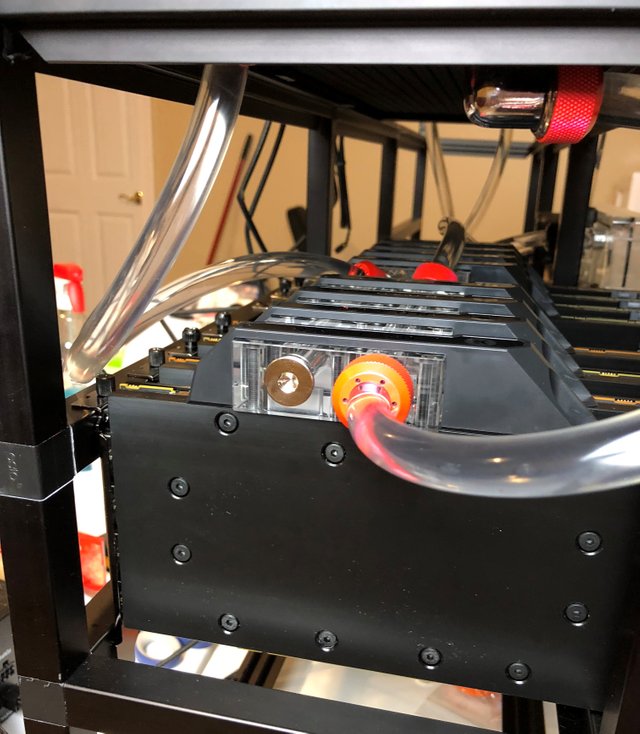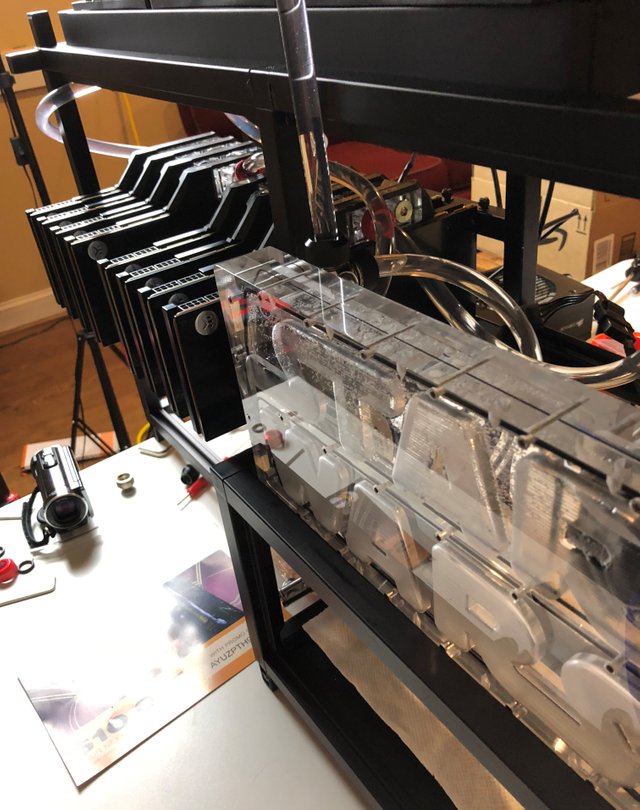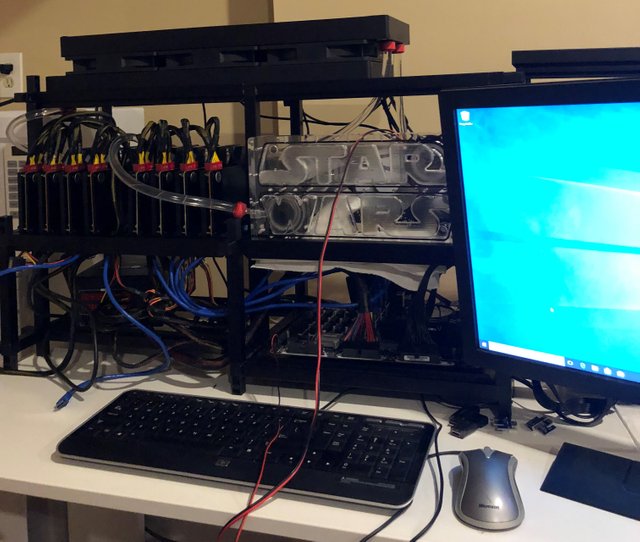 Light Side Assembly
Once the Dark Side (Vegas) were complete and ready to go, I started to put together the Light Side (Nvidias).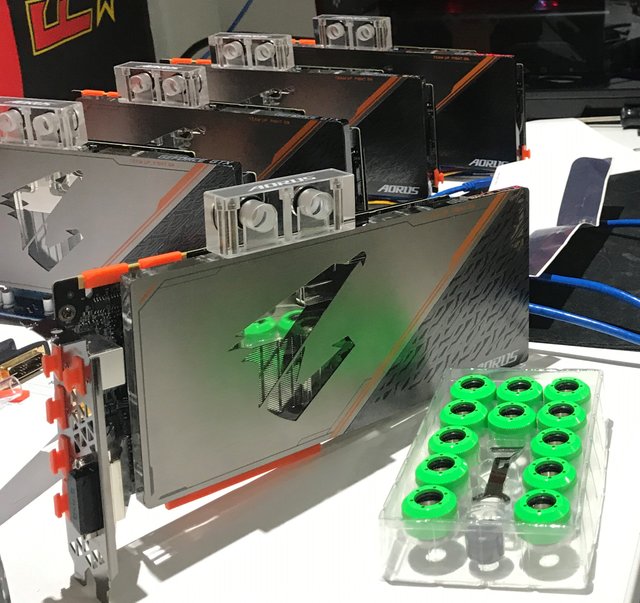 Light Side Triumphs
Not only was it easier and faster to put together the Nvidia cards, but they were also FULL RGB! Gigabyte also provides a 4 year extended warranty on them, unlike my Vegas which voided as soon as I removed the heatsink.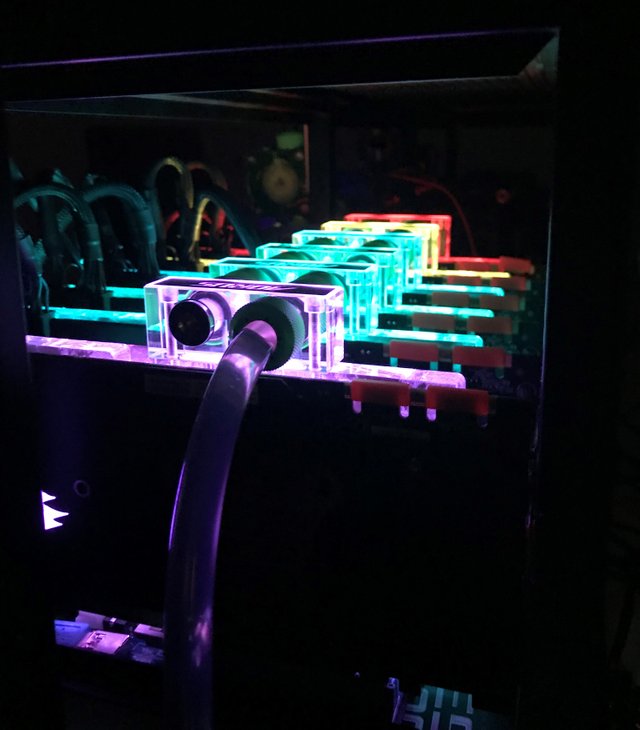 Attempting to Combine Light and Dark Together
Unbeknownst to me at the time, was the limitation of the 19 gpu motherboard to only support 13 standard gpus (with 6 headless). I had originally designed the frame to work perfectly with only one motherboard so I had to sacrifice perfection and add another motherboard. It ended up working out better that way since I was having issues assigning certain gpus to different algorithms on a single system. It's kind of ironic that the Dark side had issues working with the Light.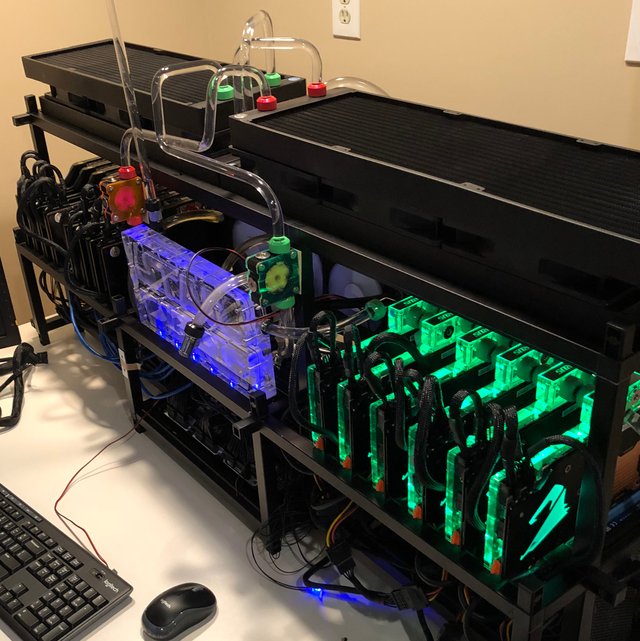 Complete Build Specs
August Update - Dark v Light Split
Unfortunately, I had to split the rig in order to move it. Over the past year, the light side has been losing the battle but recently called in reinforcements in the form of an extra 1080 ti. So now its 7 v 8.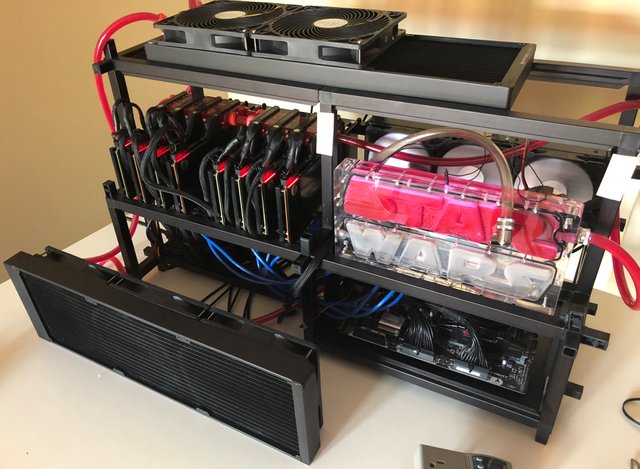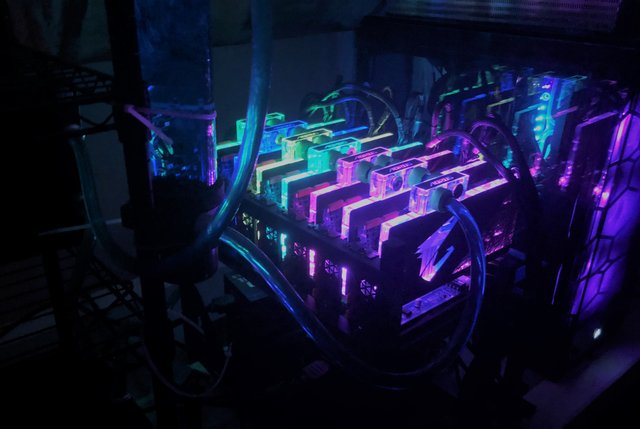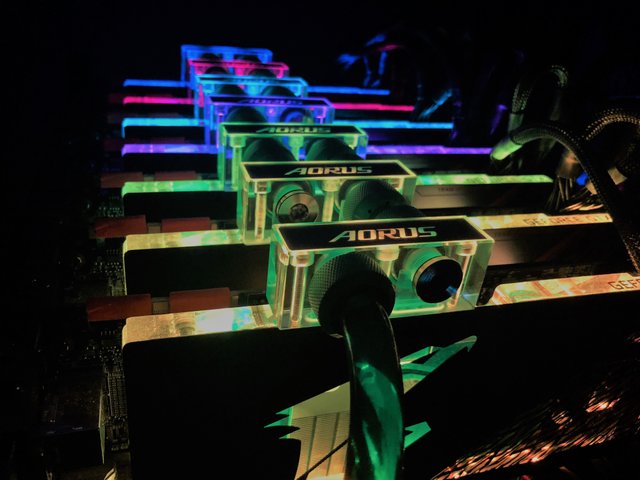 Phase 2 Design and rebuild coming later this fall, with actual enclosure and riser-less configuration. It will also be able to dual as workstation so it should be pretty bad-ass.
Let me know what you think!
Subscribe for more!