An Accountant's Attempt at Mining Crypto - Rig 2 - The Adventure Continues
Hey Steemit,
It's been awhile since my last post but I've been pretty busy with finals and tweaking the mining rigs. I've been concentrating my efforts on the installment of Rig 2 (aka Blue Leader) and as eluded to in my last post, its been a bumpy ride.
The First Casualty
Initially things were going well, as I managed to get 3 MSI 580s and 1 Nitro+ running at max efficiency. It was only when my other two GPUs came in a few days later, that I realized I ordered the wrong motherboard. There were only 4 available slots so I decided to order a PCIe splitter from China. While waiting for that to come in, I hooked up my other two GPUs to my Desktop and everything was working fine untill...
The GPU Caught Fire! Somebody Grab a Fire Extinguisher!
I was messing around with the video input and then the screen froze so decided to wait it out and grab something to eat. When I came back, it smelt like something was burning and low and behold there was smoke bellowing out my GPU. It became the first casualty of many in the days to follow.
Luckily I was able to get a free replacement for the fried GPU and there wasn't any collateral damage, not this time at least. While waiting for the new GPU to come in, the PCI switch came in and I was able to get 5 GPUs stable on BlueLeader.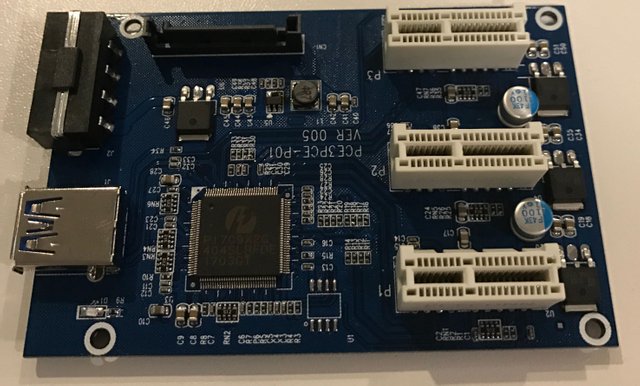 Mounting Casualties
Once the 6th GPU arrived, I hooked it up to the PCI switch but was having issues booting. After a little research I realized that it was a driver issue (only 5 580s work on windows) but was able to find a fix that allowed me to run all 6. At first everything seemed to be working smoothly, until the whole thing went dark (lost power).
Houston, We Have a Problem
At this moment the casualties started mounting. I tried rebooting but there was no response and after bunch of diagnostic tests found out we lost the backbone of our squad - the PSU. But that's not all. The outage also totally fried the SSD and PCIe switchboard, not to mention damaging most of the power cables. It was really frustrating and I wasn't it was the PSU or switchboard that shorted the system. Regardless, I upgraded to a 1600W PSU and bought a new mobo with 6 GPU slots. (really sucks that i had to liquidate some ETH to pay for it)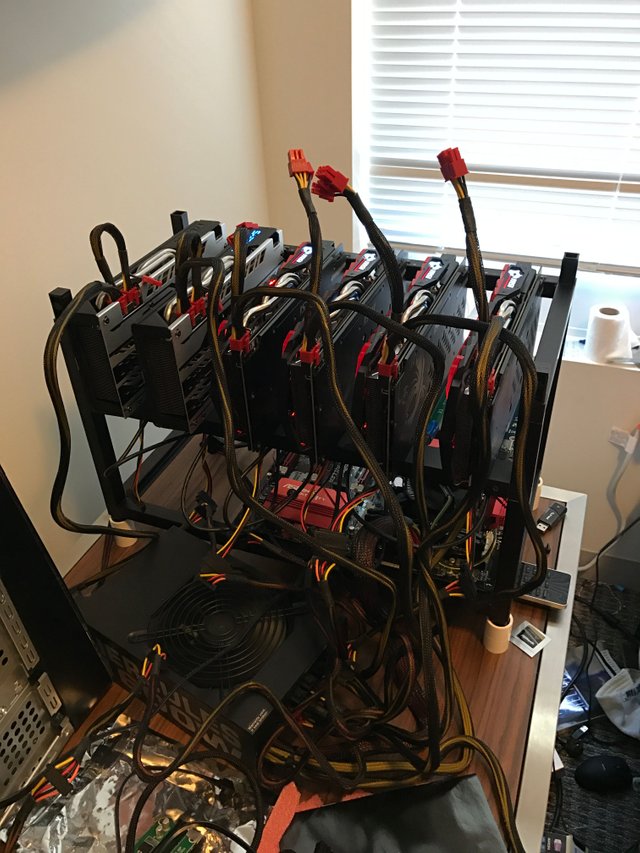 Upon attaching the GPUs to the new rig, I discovered that one of the Nitros was also fried. So for now BlueLeader's squad only consists of five members, with the 6th to be added as soon as I exchange the dead Nitro. Below are the hash rates I'm getting on that rig.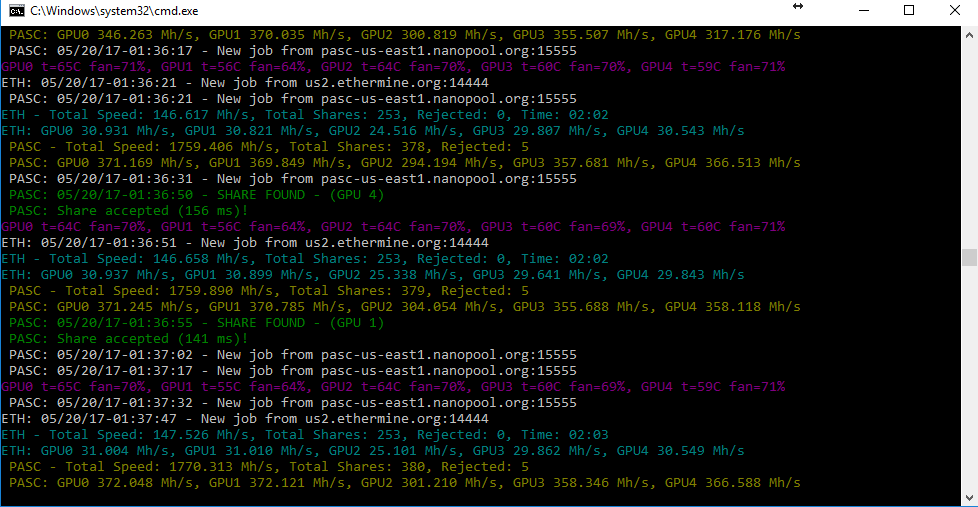 The Nitro+ has been an issue modding since its using Hynix instead of Samsung and I welcome any tips to boost that one. It was originally giving me only 22 Mh/s but I flashed it with the limited edition version but cannot really get past 25 Mh/s.
Now a moment of silence to remember those who have fallen...
MSI 580 Gaming X
EVGA 1300 G2
Nitro+ 580 (Samsung)
Sandisk 120GB SSD
PCI-E Switchboard
Thanks for reading!
Track my progress for Eth Miner or PASC Miner