Did you think mining bitcoin required high technical skills, alot of money and power bills that is sky high? Well, to get rich, you probably would need that.
But for us that just would like some almost free satoshi every day, we can use easy-to-use miners like Honeyminer.
I've been testing it for a few days,

It was pretty easy to install, two seconds to make an account and I was ready to earn my satoshies. On the computer I am using I am running a Nvidia GTX 960, not really powerfull but it works for gaming and actually easy mining.
The miner application started running at once and doesn't really slow down the computer as much as NiceHash application does.
It seems as you mine, you will increase in levels by getting XP-points, the higher level you get , the more rewards you will receive (+ the satoshi that you mine).
The interface is awesome and flat-designed (this image shows it running with more power btw)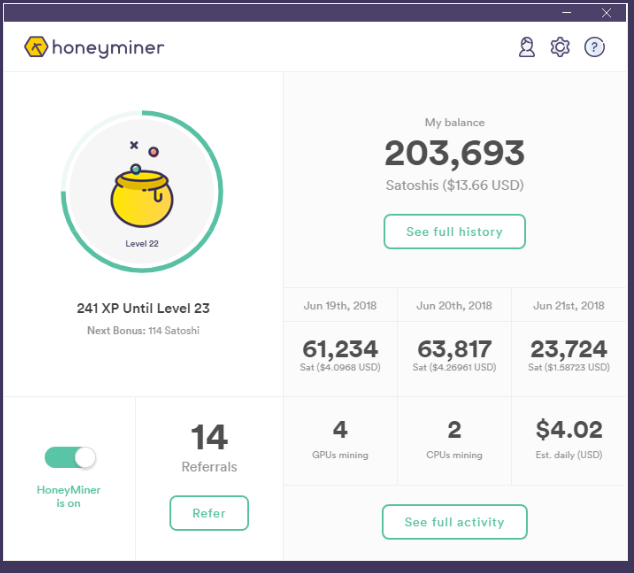 If you would like to try and get 1000 free satoshi for pretty much nothing, sign up by clicking this link and you will be rewarded with that:
https://honeyminer.com/referred/59kyu
Payout is pretty easy and you can mine on different computers by logging into the same account. There is also an option for mine only when the computer is not used, so when you are ready to use the computer for work or gaming, the miner will pause until you leave the computer idle again.
Awesome application, will have it run for a month to see if it's worth it!
Have you been testing this or other mining softwares as Nicehash or Minergate? Tell me by replying!