Cloud mining Real Live Comparison - not sponsored - Rockminer vs. Bitdeer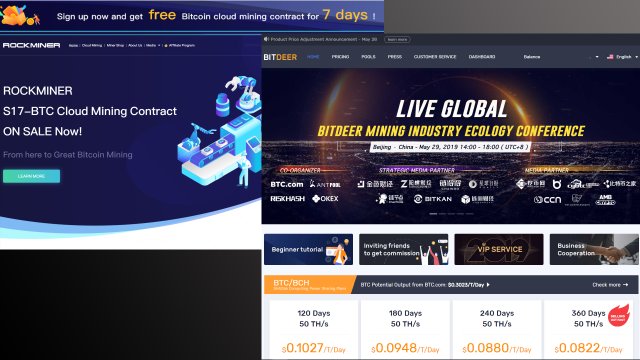 Rockminer vs. Bitdeer, real results, real comparison, not sponsored.
The contract I bought with Bitdeer was for 100 THash, for Rockminer 15THash.
Of course I expected the results to be in this ratio, Bitdeer should give me about 6.6 times more than Rockminer.
But it came different: Bitdeer exceeded my expectations while Rockminer disappointed.
Bitdeer is making me on as daily basis more than 12 times what I am getting from Rockminer.
On top, Bitdeer is depositing my profit daily in my ledger wallet at zero charge, while Rockminer's withdrawal fees of 0.0005 BTC make it impossible for to withdraw my funds into my wallet for a long time.
I have to mine alone for 2 days, just to cover their withdrawal fees.
Here is my video review:

I am really impressed by the results I am getting from my Bitdeer contract.
Referral link for Bitdeer: https://www.bitdeer.com/i/MTI5LDEyOCwxMzIsMTM2LDEzNiwxMjgsMTI4
It is the opposite of Rockminer, and this is why I can not put Rockminer's referral link down here.
I honestly think that it is not worth it.
Although the contract is open end, it will take you minimum 8 - 9 months to just break even - if Bitcoin never falls below a certain number and/or if the difficulty never goes up too much.
As soon as you don't make enough per day to cover Rockminer's ridiculous fees, it is game over.
I hope this review will help you to make the right decision,
Happy mining.
To open a Coinbase account (it is free) if you are using this link:
https://www.coinbase.com/join/5aa82754cdec1c029fd617ae
you will receive $10 in Bitcoin in addition to your first $100 investment.