Yesterday afternoon, the hose and fittings arrived for the pump. I assembled everything and attempted a test with nothing in the tank. The pump will not suffice. I am using an oil transfer pump, but the flow rate is too low at 14 LPM (3.7 GPM). It's effective, but not effective enough. My target is 75 LPM (19.8 GPM)--the tank size is 60.5 L (16 gallons).
So, what to do? Well, I have to order a pump. I'm ordering a Roughneck 22 GPM 120V continuous duty oil transfer pump. It's a bit more expensive, but it will be more reliable than using something like a commercial aquarium pump. I will also have to purchase new hoses and fittings as the inlet/outlet sizes will change, but this is alright because it will get me closer to the larger radiator inlet/outlet size (did I mention the performance radiator arrived?).
Let's take a look at the mining stats.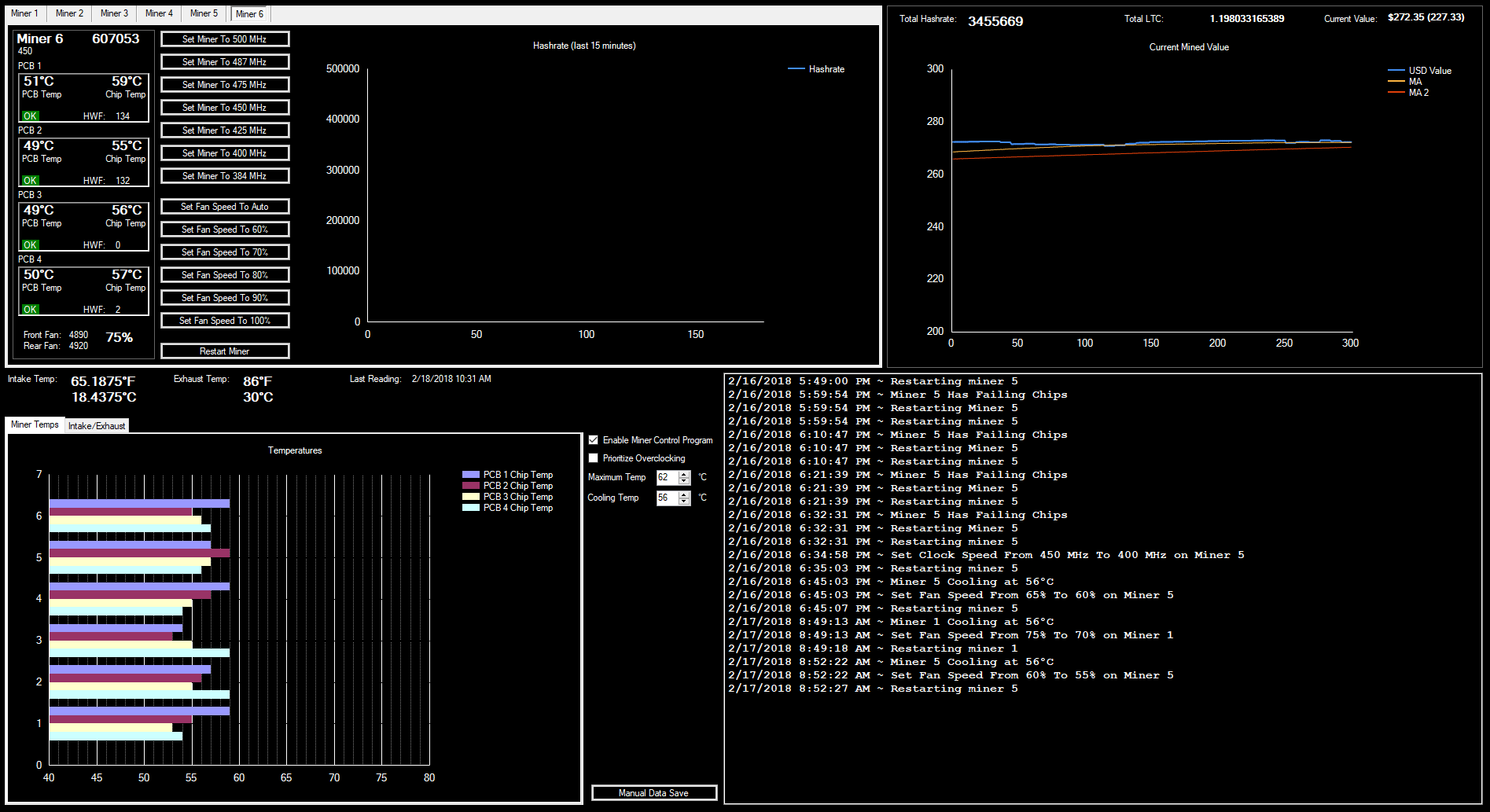 With the outside temperature dropping back to 0°C (32°F), we've had some reprieve from the heat in the house. In fact, I was able to bump the miners back to 450 MHz (except, of course, for miner 5, which is at 400 MHz because it's sort of a pile). We're back up to 0.37 LTC/day--which still hurts after a month of 0.5 LTC/day, but the value is still there.
If you look at the exhaust and intake temps, the situation is quite nice; However, it is going to be 17.2°C (63°F) tomorrow, and 21°C (70°F) Tuesday. I will be out of town tomorrow and even if I had all of the parts, I won't be able to build the immersion cooling system in time for Tuesday's highs. The miners would most likely be fine, but my family will not. So, the miners must come down. Two days with no mining...