BETTRONLIVE RAKE TOKEN MINING AND HOW IT WORKS
The #BetTronLive platform uses two currencies — #TRX and #RAKE. BetTronLive uses TRX as the standard currency for all betting games. This way everyone is playing with the same currency – TRX and mining RAKE. Both tokens have the TRC-20 format and the RAKE token is a registered name.
To further drive the value of the RAKE token, only 100,000,000 tokens will be minted, and this number will never be increased.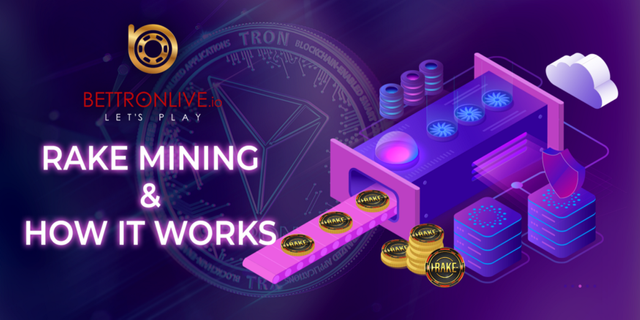 RAKE MINING
RAKE tokens can be mined by playing certain games on the BetTronLive platform and by watching video ads before the live dealer games begin.
BetTronLive's Proof-of-Play algorithm lets users mine RAKE tokens just by playing certain games on the platform or by viewing ads.

Mining will have 10 stages with each stage having a total of 10,000,000 RAKE tokens.

It will be further split into 10 mining levels with each level having 1,000,000 RAKE tokens.

The process of mining RAKE tokens by placing bets is divided into 10 levels.

Players can mine an unlimited number of unmined tokens per level.

To further drive the value of the RAKE token up, BetTronLive will apply a Golden Hold period of 48 hours upon launch of the platform.

The tokens that are mined after the launch of the BetTronLive platform will be time-locked for 48 hours. After that, they will be released to the holders' respective wallets to use without restrictions.

The Golden Hold will occur only once after the initial launch of the platform and end after 48 hours. During this time, users can continue to increase their amount of locked up RAKE tokens by playing mining games.
The Golden Hold is specifically geared toward making the macroeconomics of the token easier to follow by limiting the possibility of offloading tokens immediately after acquiring them. The end goal is to implement a mechanism that promotes transparency and trust in the RAKE token, thereby creating some stability to enable further development and growth of the BetTronLive platform.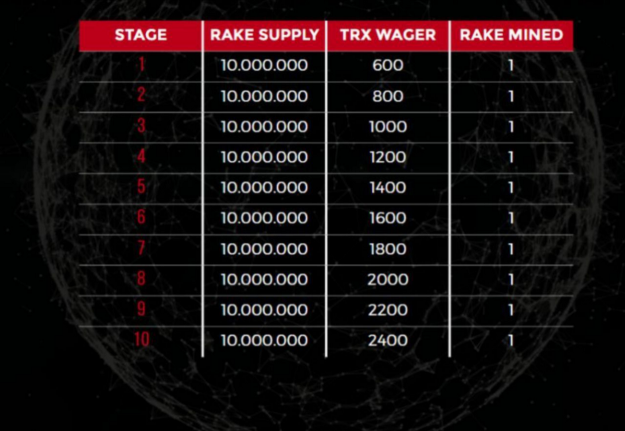 In every mining stage, there is a specific number that represents the TRX Wager required for a RAKE token to be mined. As the stage number goes higher, the level of mining difficulty increases, thus, the TRX Wager increases.
As soon as the Stage 1 RAKE mining quantity has been reached, Stage 2 will automatically commence. There is no limit to the number of tokens that a player can mine, and they can participate in any stages at any time.
For more updates and development, join our active community here: https://t.me/BetTronLive
Keep updated on announcements: https://t.me/BetTronLiveANN
Visit our Website: https://bettronlive.io/
Whitepapers & Summaries (Multilingual): https://bettronlive.io/documents.php
Follow us in our social media:
Twitter: https://twitter.com/bettronlive
Reddit: https://www.reddit.com/r/BetTronLive
Facebook: https://www.facebook.com/bettronlive/
Instagram: https://www.instagram.com/bettronlive/
Medium: https://medium.com/@bettronlive
Youtube: https://www.youtube.com/channel/UCxNpc_WniZ7iFYSTW1ppJ7g
BTT Ann: https://bitcointalk.org/index.php?topic=5155822
BTT Bounty: https://bitcointalk.org/index.php?topic=5159675.msg51639765#msg51639765
#BetTronLive #RAKE #bounty #trondapp #TRON #trx #Trondapps #casino #onlinecasino #gaming #onlinegaming #onlinebetting #sportsbetting #dice #slotmachine #baccarat #bingo #FOMO #jackpot #mining #wager #btc #alts #bitcoin #altcoins #cryptocurrency #blockchain #livedealers #dealers #players #winner #model #dividends #earn #2M #prize