If you are not familiar with solar cycles here is the forecast for the coming 28 years (Grand Solar Minimum):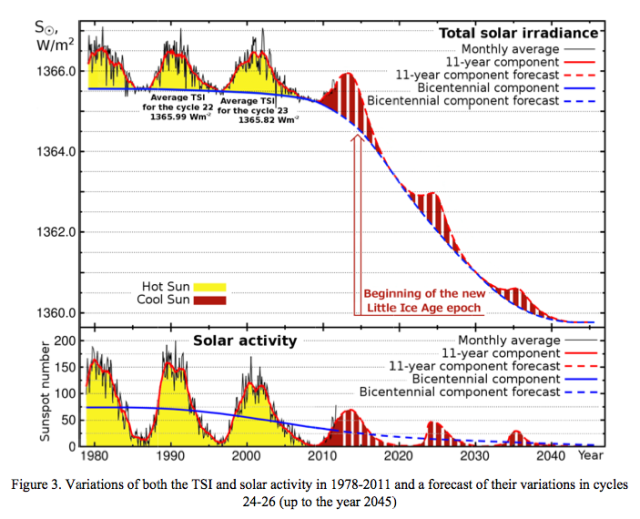 Comment: We are currently within the first "cool sun" solar cycle of 24 and now at 2017 the trend is clearly descending and it will worsen until year 2021. So most likely, we will have 4-5 really cool years ahead until the solar cycle 25 will pick up in 2022.
However, the problem with these coming cold winters will be that the snow will not totally disappear in the summer in many places and that is exactly what we are experiencing in the Sierra Nevadas in California right now. Here is a quote:
"The 2016-17 winter created one of the largest snowpacks in California history, so big that the Central Sierra Nevada snow accumulation was larger than the previous four years combined, according to NASA data. "
Here are some interesting stats from Mammoth Mountain and Squaw Valley:
"Mammoth Mountain, the state's most popular ski resort, announced it will close Aug. 6, making this the resort's second-longest season. The resort in the Sierra Nevada mountains still has 6 inches of snow at the main lodge and 35 inches at the summit, with three of 28 lifts in operation."
"Squaw Valley, the California resort northwest of Lake Tahoe that raised the possibility of saying open year-round, ended its season July 15, marking the resort's longest season."
So, this future snow accumulation will lead to snow lasting longer and a side effect of this will also lead to colder tempereratures.
These solar cycles are part of the Solar Grand Minimum and these only occur every 200 years and they are associated will very cold periods, called Mini-Ice Ages. The last major Mini-Ice Age occured 400 years ago.
There are other factors as well contributing to this global cooling such as cosmic rays and returning planetary alignments (400 year cycles) and I will get back to this in later posts.
Sources:
https://nextgrandminimum.wordpress.com/2012/11/10/russians-scientist-the-next-grand-minimum/
http://www.latimes.com/business/la-fi-mammoth-winter-20170726-story.html