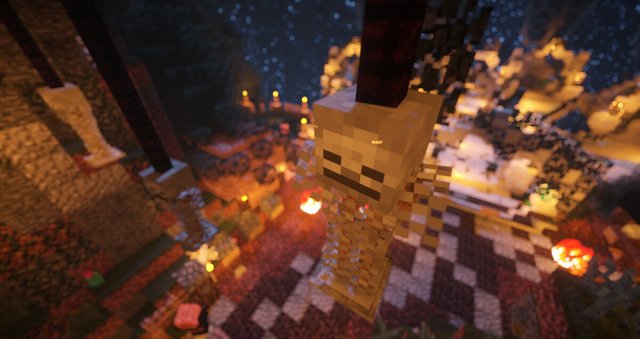 Today I realized that our lobby was badly devastated. The world of the undead and luminous heads of bodies now rules the lobby! Creepy, but very suitable for the coming Halloween soon. @creeperm4ster and other builders on the server have redecorated our hub into a little hell, with mandatory pumpkins, cobwebs, tombs, and not to forget, even soul sand from hell.
Take a look at the spawn at the address join.skyroad.me with the Minecraft Java Version 1.12.2. We may have some surprises and secret hiding places for you just before Halloween, keep your eyes open! =) Here are some pictures of the devastated Halloween Hub:
Heute musste ich feststellen, dass unsere Lobby schwer verwüstet wurde. Die Welt der Untoten und leuchtenden Kürbisse herrscht nun über die Lobby! Gruselig, aber sehr passend zum nun bald kommenden Halloween. @creeperm4ster und auch andere Architekten auf dem Server haben unseren Spawn zu einer kleinen Hölle umdekoriert, mit obligatorischen Kürbisse, Spinnenweben, Gräbern und nicht zu vergessen, auch Seelensand aus der Hölle. 
Schaut euch gerne bei uns auf dem Spawn unter der Adresse join.skyroad.me mit der Minecraft Java Version 1.12.2 vorbei uns kommentiert, wie euch die Deko gefällt. Gerne können auch noch weitere Änderungen vorgenommen werden, so ist Halloween ja doch noch etwas entfernt. Möglicherweise haben wir für euch kurz vor Halloween und währenddessen ein paar Überraschungen und geheime Verstecke parat, haltet die Augen offen! =) Hier ein paar Bilder vom verwüsteten Halloween Spawn: 


Thats it for now, let me know how you like the changes. I hope to see you soon and keep steeming! :)
Das war alles für erstmal, lass mich wissen, wie dir die Änderungen gefallen. Ich hoffe, wir sehen uns bald und macht weiter auf Steem! :)
 Realistico texture pack by Matteo Rizzo, http://matteorizzo.com/realistico