Focus for Success - 6 - Domino Effect
While the key to success is focusing on the most important thing in a particular moment in time, the next concept we are going to discuss shows you the power of starting small and building up.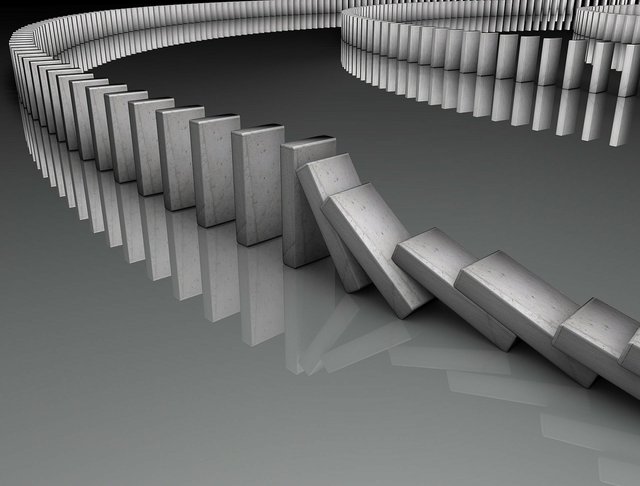 Pixabay
Gary Keller uses the perfect example in The One Thing*. Using the simple, yet extremely descriptive domino effect, Keller explains the power of starting with small wins or success and building to something much bigger.
I'm sure you've heard of the domino effect. Essentially, you line a bunch of dominos up and, when ready, you knock over one, which knocks over the next and so on. We teach small children to do this all the time without realizing the real-life ramifications.
But the secret which I did not realize is that each domino can be larger than the previous. Why? Because, each domino fall releases energy and when combined with the next domino, even greater energy is released. In 1983, Lorne Whitehead described his experiment where he proved this point. And, Keller notes the experiment in The One Thing*.
The bottom line is that focusing on the one thing can generate small successes which in turn generate larger and larger successes. You are unlocking the power of each success and adding it to the next, sometimes even larger success, to build an empire of success. You start small and build your skills and knowledge as you go. This is a very simple and effective method for living a successful life.
This is one of the most important chapters in this series. It shows how simple it is to build upon one small yet important thing until you have unstoppable momentum.
Successful people build small successes into great careers. Words by Guy Sellars

***
A community is build on interaction. Please leave a comment, always appreciated and makes for a more enjoyable experience.
***
*The One Thing, 2012, by Gary Keller with Jay Papasan, Bard Press of Austin Texas, Rellek Publishing Partners LTD.
***
Photo is courtesy of Pixabay which is a License, free for commercial use and with no attribution required ID domino-163523_1280.
***
PrePostSEO, is a free online plagiarism checker. You can view the report for this blog showing that this post is 100% Unique and 0% Plagiarised.