Focus for Success - 12 - Pareto's Principle Helps Identify The One Thing
Ever heard of Pareto's Principle? I'm sure you've heard that 20% of the effort returns 80% of the results. But the key is that 20%, must be comprised of the one most important thing you need to be doing. I love the way Keller put it in The One Thing*, which simply stated, the majority of your efforts will be driven by the minority of the most important things you identify. Wow, by focusing on the one thing, you can do less, but reap the majority of the benefits.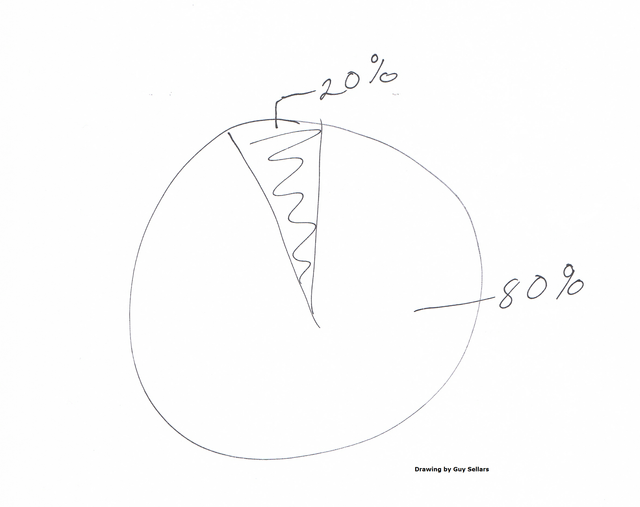 Drawing by Guy Sellars
As a project manager for many years, I can assure you that Pareto's Principle does work. In fact, many of the top project methodologies speak to and rely on Pareto's Principle. But in a project, especially a large one, there are many things that you have to do, so let us look at "Extreme Pareto" as described by Keller*.
So, how does the extreme version of the Pareto Principle help identify the one thing?


Drawing by Guy Sellars
By systematically identifying the overall to do list, say 25 items and then taking the most important 5 items to create a new list. And, finally taking the five items and selecting the one thing that will make the difference. That will yield 80% benefit for a minimal amount of work.
In business, the one most important thing is often tied to profit. In other words, what is the most profitable one thing that we should work on at the moment? And, this makes perfect sense when you think about it as businesses are driven to be profitable all the time.
So, in my experience in developing enterprise software and business process, we always looked for the biggest bang for the buck. Which usually translated into what could we do quickly as being the first to market or just getting into the market was always key to profits. The Pareto Principle was key to the success of many projects and all types of projects. Prioritization of actions has always been a key. Remember as we previously discussed, not everything is equal.
To focus for success you must do the one most important thing that lies within the 20% Pareto's Principle. -Guy_Sellars
***
A community is build on interaction. Please leave a comment, always appreciated and makes for a more enjoyable experience.
***
*The One Thing, 2012, by Gary Keller with Jay Papasan, Bard Press of Austin Texas, Rellek Publishing Partners LTD.
***
1st drawing by Guy Sellars
2nd drawing by Guy Sellars
***
PrePostSEO, is a free online plagiarism checker. You can view the report showing that this chapter is 100% Unique and 0% Plagiarised.