Our THOUGHTS are SEEDS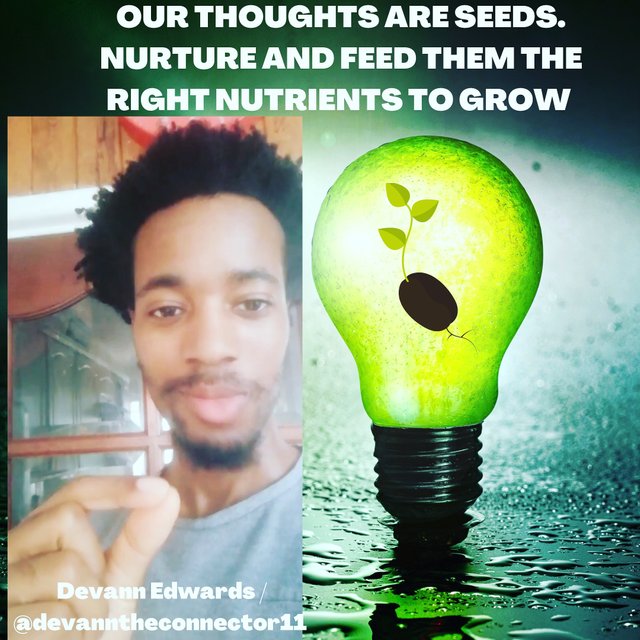 Our THOUGHTS🧠 are SEEDS🌱💫 NURTURE AND FEED THEM THE RIGHT NUTRIENTS TO GROW 🤓
Our thoughts are seeds, In the same way that Our CAUSES are our EFFECTS (Desired or undesired).
And the Seed can be seen as the End Goal or Collection of Connected Goals that we want to actualize / or succeed in Achieving.
And that End Goal or Collection of Connected Goals are the realities we want to create and experience in this lifetime.
Therefore, Our THOUGHTS🧠 are SEEDS🌱 (OF MANIFESTATIONS/OUTCOMES /EFFECTS💫)
Now reeling this Powerful phrase back in, we can then truly innerstand that each THOUGHT manifests into a Reality (Desired or undesired)
And the genius realization is that it ALL OF OUR THOUGHTS (our manifestations, our desired outcomes and effects) BEGINS AND ENDS IN THE MIND. .
SO this leaves us all with the question: 'What Thoughts are we cultivating?'
I'm cultivating thoughts of , ABUNDANCE, JOY, EMPOWERMENT, ENRICHMENT, EXPANSION IN EVERY ASPECT OF MY LIFE AND I WELCOME THOSE THOUGHTS AND WILL NOURISH THOSE SEEDS THAT ARE NOW PLANTED TO BLOSSOM INTO FLOWERS, TREES, FIELDS, FORESTS AND KINGDOMS OF UNLIMITED POSSIBILITIES IN THIS LIFETIME 🙏🏾🙏🏾🙏🏾🙏🏾😇💥💫💫💫💫
How about you??