Growing Up Under The Patriarchy & Breaking The Cycle
Exploring my tenuous relationship with the patriarchy is something I'm beginning to devote more time to these days. And I'm guessing my fellow female "tomboys" of the 80s & 90s might be doing the same. I feel this type of self-analysis is necessary to break the hold of the patriarchal systems we've all had to navigate and to do so in a mindful way that helps break the cycles for good. (If you've already done this hard work, skip down to the bottom and toss your methods into the comment section so we can all benefit from your insight!)
I've never really viewed myself as a feminist until recently. Strange, I know. I grew up as a tomboy in the 1980s, was the only female soccer player on my school's team and worked for years as a female photojournalist in a world dominated by white men. I was also the only bartender at an oyster bar— for years. I was the only woman who could shuck oysters and make martinis. Go figure.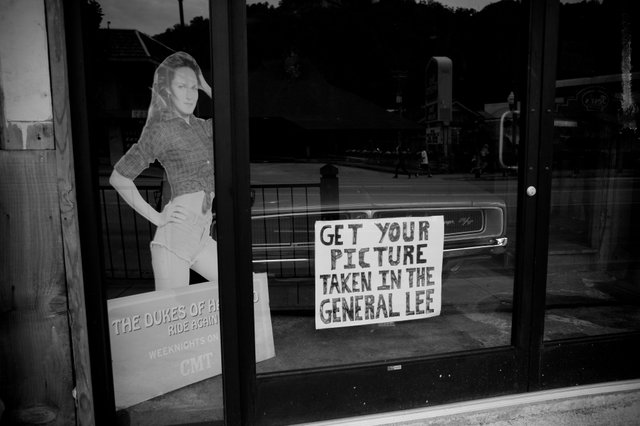 Gatlinburg, TN. Of course.
Still, through all of that (and so much more), I never looked at myself as a feminist. I just figured if I wanted to do what I WANTED, I had to compete in a man's world and I had to be better than my peers especially the men. And I was. I never really looked too deeply at the systems I grew up within or that I thrived in professionally. I used my femininity to my advantage when I needed to. I'd flirt with my fellow bartenders because our work environment was beyond sexualized, I would sweet talk my way into access while photographing NASCAR or Dave Matthews concerts. If someone sexually harassed me— I threw it right back at them. No one fucked with me because I made it perfectly clear I could be as vicious as I could be sweet.
But now, in my mid 40s, and in the age of rampant violent misogyny, toxic masculinity and #metoo, I'm questioning my role in it all. It was just something I considered normal— to play in a male dominated world, you had to walk the line of feminine and masculine in a way that is simply outdated and toxic now. I had to suppress the feminine most of the time and only embrace it when it fit into the male paradigm. That's so fucked up, I get that in hindsight.
I wonder how this toxicity has ingrained itself in my psyche and into my daily activities. Hell, my website business, which I started 7 years ago, serves one of the most misogynistic and difficult male demographics— chiropractors. I know, it's weird, but I can speak their language and throw the masculine right back at them. And sometimes, I like it. And that's why, among other reasons, I'm shutting that business down now.
So, I'm writing this article for me and for those like me. The women who stepped into adulthood in the early-mid 90s, after the previous generations of women laid the groundwork for us to even be present in the places we worked and gathered, but before it was truly socially acceptable to do so. We didn't really have the language of female empowerment (at least not at scale), we had to simply internalize the male language we functioned within and keep our femininity hidden—and intact. We are a part of this shadow feminism that had to embrace the masculine or go nowhere with our careers.
Yet here I am, in my 40s, trying to release that toxicity and adjust to this new world. To look at the word "feminism" through a different lens. Not a lens of victimhood and excuses (which, sadly, is how I've classified a large part of the feminism I've been exposed to over the years) but through the lens of empowerment and community. And I imagine I'm not alone.
I get it now. Even though I was a huge fan of feminist art in my 30s, I was still fighting to wedge my way into a field that, at the time, was 95% men. And white men, at that. I never connected completely with feminism. I've also never fully connected with the capitalistic social structures of my peers.
In hindsight, I see that this was an internal rebellion to a system that has always felt wrong or unnatural. I've never married, never had a mortgage, never worked in a cubicle and didn't get a "real job" until my mid 30s, and that was short lived.
My attitude shifted fully the day T*ump was elected. I knew, as a woman, I was now a target of violent extremism in a way I wasn't before. I knew my rights as a women would be violated by the power structures of my government. I also knew that as a partially brown woman (second gen Asian-American) I was even more screwed.
As I struggle to navigate this chaotic world we're muddling through here in America, I find myself turning more and more to feminist movements, language and truly trying to understand just how deep the patriarchy is and how embedded I am within that system.
Just how deep does the patriarchy go? Deep, my friends. The patriarchy flows deep.
According to the wikipedia..
…Lewontin and others argue that such biological determinism unjustly limits women. In his study, he states women behave a certain way not because they are biologically inclined to, but rather because they are judged by "how well they conform to the stereotypical local image of femininity".[67]:137…
This is definitely part of the problem. Our ability to thrive was due in part to our conformity. And for us "non-conformist" the underlying implications of compliance over a lifetime, to a system that we barely acknowledged, are profound. Fighting conformity chips away at the soul and we lose a part of ourselves over time. The true battle is to restore those lost parts. I'm still figuring that one out, but I do have my ways (most of which involve my yoga mat, spending winters off-grid in the desert and working with crystals).
And this gem from the wikis is spot on…
…representation of women in media, and popular culture is "within a patriarchal gaze".[99
My generation of women grew up a time when our popular culture was 100% steeped in this "patriarchal gaze". Straight up. Look at the movies, sit-coms, music videos and magazines that dominated our childhood. All sexualized, objectified and celebrating the traditional role of the patriarchal family unit.
I could write about this topic for days— years. And many brave women already have. I know I'm late to the game here, but I do believe this is a conversation my generation needs to embrace more often. And we should look within to see how we, specifically, grew up, struggled to thrive within and are now trying to undo a lifetime of conformity within this system.
I'm going to try and wrap this up with some positive solutions so I can take action. Here are several ways I'm working to break this patriarchal system in my own life. Take what works for you or tell me what you're doing/have done to step out of this system in your own life. Or did you never function within this system in the first place?
Shutting down a business that serves a male-dominated demographic.
Replacing that work with teaching yoga, selling crystals and supporting/celebrating energy healers.
Trying to do more work in the Gift Economy and less in the patriarchal capitalistic system.
Eventually unplugging from the technological systems that support and reward misogynistic behavior and give a platform to hatred. (So, this one is tricky. I've deleted Facebook multiple times and have Instagram on the chopping block soon. Amazon Prime is on the chopping block and so is twitter. The problem is that all of these structures also power my business in some way. That's the part I must change— running a business without these tools).
Trying to embrace different language that is more supportive of gender equality and less sexualized. (I hate to admit that this one is a tough one)
And so much more, I'm sure. Your turn…tell me your journey below and are you a child of the 80s/90s now questioning the role of the patriarchy in your life?