Memory Monday #1 - Vacation Photography
Hello Steemit-Friends
Memory Monday #1
Photoseries of previous vacations.
This is the first part in the series Memory-Monday. Every week we like to present a random memory of our past vacation to relive the memory and share our experience.
We took that picture very early in the morning hours between striking our tent and leaving the camping. It all started on the previous day. I got up early to hit the showers just to find out about the sweet orientation of Saintes-Maries-de la Mer's beach.
The sun had almost risen but I've seen some people already coming back from the beach. With a bunch of fresh croissants I delivered the happy news to my girlfriend. Our decision was clear. We will take the time to appreciate this sunrise the next day. Despite the fact we had to leave at 07:15 we still calculated enough time to really absorb the morning sun.
Easy if you get up at four o'clock. We got plenty of energy from that moment so we could endure the next traveling day. We know this is not something to expect on a given day but when the moment is right you just have to enjoy life.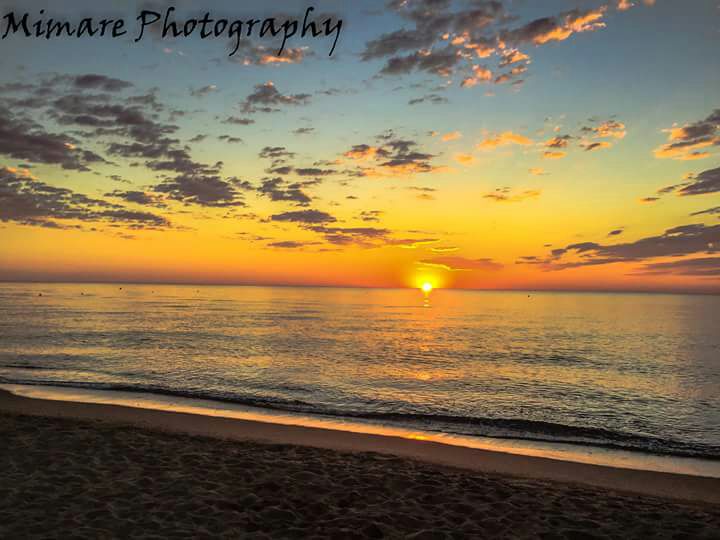 Dieses Foto entstand in den frühen Morgenstunden zwischen dem Zelt abbauen und dem Verlassen des Campingplatzes. Angefangen hat es, als ich am Vortag am Morgen nach 6.00 Uhr wach wurde um auf dem Campingplatz zu den Duschen lief. Ich sah per Zufall das Saintes-Maries-de la Mer's Strand so liegt das die Sonne direkt über dem Horizont aufgeht. Leider war ich schon etwas spät dran, da die Sonne schon fast aufgegangen war und mir einige Leute entgegenkamen. Mit frischen Croissants vom Campingbäcker berichtete ich meiner Freundlin was ich entdeckt habe. Für uns war klar, am nächsten Morgen müssen wir uns die Zeit nehmen, um diesen Moment zu geniessen. Trotz der frühen Busfahrt um 07:15 konnten wir uns genügend Zeit nehmen, um den herrlichen Sonnenaufgang zu beobachten. Nebst zwei weiteren Frühaufstehern, hatten wir den Strand für uns alleine. Es war ein unglaubliches Gefühl dieses Naturspektakel in den Morgenstunden zu beobachten und die Ruhe zu geniessen. Um 04:00 aufzustehen war hart, aber die Energie, die uns dieser Moment gab, verlieh uns Schwung für den kommenden Reisetag. Uns ist bewusst, dass dies nicht etwas ist, dass man bucht und jederzeit erleben kann, dies sind einzigartige Momente die einem das Leben schenkt:)