$1000 CryptoCurrency Investment May 8th 2017, Day 43
Here's what $1000 of Bitcoin, Litecoin and Ethereum looks like on Day 43.
Even if you do no trading at all one can make more financially investing in these 3 crypto's than in any other market segment to my knowledge. If you know very little or nothing, these 3 are an EXCELLENT start into long term gains.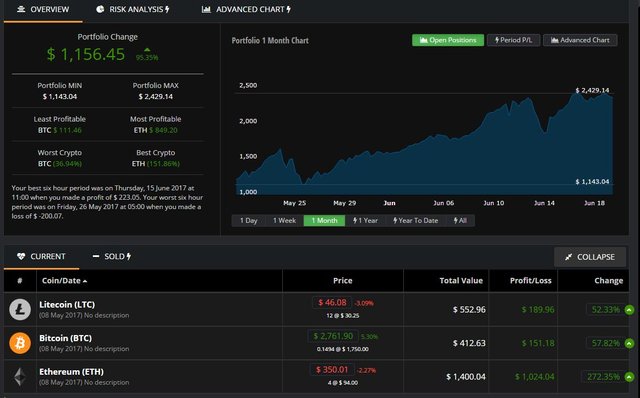 Follow this investment portfolio from time to time, https://www.cryptocompare.com/portfolio-public/?id=24418
ALWAYS REMEMBER:
Invest only what you are comfortable risking, always ask yourself, what is the risk? what is the reward? Ask yourself can I emotionally handle losing all of my investment? Before purchasing any cryptocurreny ask, what is my strategy with this investment?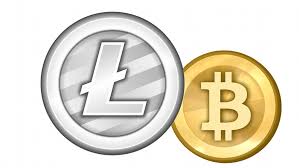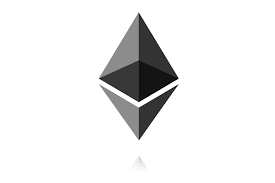 Thanks for visiting! Here are some products and services I use regularly and recommend.
Secure your Crypto with the Ledger Nano S portable storage device.
https://www.ledgerwallet.com/r/158f
Want to Purchase Bitcoin? Sign up a receive $10 free in Bitcoin.
https://www.coinbase.com/join/56cc011508cb067dd8000029
Track all your Bitcoin and Altcoins using this website/app.
https://cointracking.info?ref=O971969
Trading Platform that connects to many of the main cryptocurrency exchanges
https://www.coinigy.com/?r=05cb7d50
Want to show you appreciation? Send crypto to any addresses below:
Bitcoin Address: 1KEFNix9WHNwNqD6GpexcJxJunhje6nmcT
Dash Address: XixQou59qh4cQWuxQ3evNLzc2jMo24wJ7s
Ethereum Address: 0xB26bE4D9ce4f9Df16Fd116fA2dfF101228A48BD9
Ethereum Classic Address: 0x472d481C22e8d288f27aC2A477dc97FF12FCF0FC
Expanse Address: 0x5A1fb0E7a62569dcAd0570f348257B261fB5dFfE