How has the Facebook scandal influenced the way we own our data?
Anton Dziatkovskii, Founder of MicroMoney, talks about the new rules of data ownership.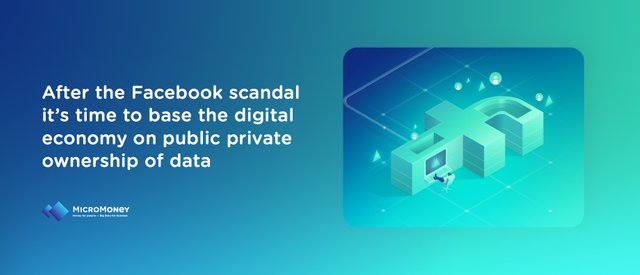 In the past few months, data ownership has been firmly in the spotlight. After the Facebook–Cambridge Analytica data scandal, there has been much discussion about the ownership of data, its importance, and of course, data protection. It's evident that the enforcement of General Data Protection Regulation (GDPR) — which became enforceable on 25 May 2018 — has changed the way we will be able to 'treat' data, which will have flow on effects for the digital economy.
The main question is who will own our data? Is it possible to build a global community where we all can benefit from data?
Until Marc Zuckerberg stood in front of the Congress to face multiple very public questions related to data protection and data ownership, data wasn't particularly in a spotlight. Most people when they are filling out forms on social media or registering online, do not think about the security of their personal information, and who will go on to use this data. It feels like everyone knows that their data on social media is accessible, but no one really cares. Why does this happen? So, your data can be taken for marketing/ sales purposes without noticing you, and someone will profit from your own data.
The GDPR is fighting for your data protection, and you are the one who decides how your data should be used. However, today more discussions are surrounded by the question: 'who will profit from data?'
It is possible that we, rather than the people behind social media platforms, could sell our data to third parties and benefit from it. Doing this, we would play the role of 'data shareholders', and get revenue for our own data, as companies such as Google and Facebook constantly use it for advertising and marketing purposes. Data is a big asset for companies, and while data-driven giants like Amazon or eBay earn billions thanks to our data, it would be nice to think we could profit from this.
The European Commission claims that "everyone has the right to the protection of personal data." Ideally, this would mean that data could be used only for legitimate purposes by authorized companies. Large and small companies have taken the ramifications of the enforcement of the GDPR seriously; no doubt you have received multiple notifications regarding these new regulations. Companies need to show compliance with accountability and individual rights. This means that you are secured in terms of deleting or correcting your personal information, and accountability means that all your rights have documentary evidence.
As you see, the ownership of data is moving to the hands of the customers and users. And the point is that we can benefit and earn revenue through our own data. The GDPR brings us more autonomy and more opportunities in terms of data. However, there are some pitfalls with these changes in data usage and ownership. While some will start earning from data, others will be spending more on someone's data. Social media platforms, for example, will pay fees to access data, and if this happens, these platforms can monetize some services or access to information. The data is divided into individual and collective, where citizens should have the right to use it. Another threat, while companies will lose the ownership of the data, the government can take care of it.
Big data plays an essential role for MicroMoney, as we are a decentralized open source credit and big data bureau on the blockchain. We use big data that reflects the needs of our customers and their online behavior. This helps us to share necessary data to banks, e-commerce, and retail businesses, as well as financial institutions to get access to new customers while minimizing the risk.
The Facebook data scandal has changed the way we treat data forever. We are making a new step to secured data, where people who actually own this data are authorized to give it to third parties. Experts claim that these changes can also bring the opportunity to earn revenue from our own data, so both parties can benefit from it.