How can local payments unlock the door to global success ?
Anton Dziatkovskii, Founder of MicroMoney, talks about the role of local payments on the way to global success.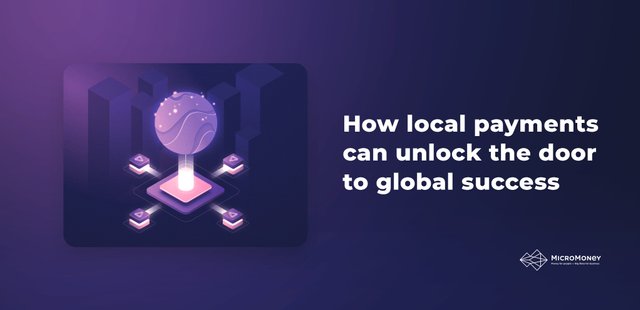 There are more than 2 billion people in the world who do not have access to bank accounts and bank cards. We launched MicroMoney as a financial institution engaged in microcrediting to solve this issue. That is about local payments.
Today there are more than 5000 alternative payment systems in the world, including 246 local "currencies": 102 in Europe and 75 in the US. The following systems are functioning in Brazil, South Africa, Japan and New Zealand.
In the context of a decline in confidence in the national currencies and banks, people are striving to get a 'local' guarantee of wages and access to goods and services. Moreover, local payments today are modern means of mitigating consequences of the economic crisis.
And this is better than a simple barter exchange, which generally excludes taxation altogether. Thus, local money stimulates local production.
What makes alternative payment methods so popular ?
Firstly, it is about trust and security. As this article from Trustly shows, in the United Kingdom, 84% of clients trust their banks, and 76% find online banking e-payments as the most secure way to transfer funds. Similarly in Germany, according to the study, 71% of customers said that banks provide a secure online banking service and 70% used online banking e-payments last year.
Secondly, convenience and speed are also among the advantages of local payments. These parameters are increasing, and are driven by technology. Speed plays an important role in this sphere. The implementation of fast local payment methods reduces settlement times from hours to even seconds. What is more important, both merchants and consumers benefit from this.
Cross-border shopping is another benefit of alternative payment methods. People buy different goods from online retailers abroad, but when it comes to payments, there are few issues. In order to accept bank payments from consumers in other countries, merchants should integrate with local banks. In addition, not all users have access to bank accounts. At MicroMoney we assist bank clients, microfinance and insurance companies, online services, and retail chains. Financial services for customers not served by banks or without access to banking services, or services for processing large amounts of data for business form the MicroMoney ecosystem.
Last but not least is mobile adoption. Thanks to modern technologies, all users now are able to get access to financial services, which was impossible recently due to the high bureaucracy of banking. That has become possible with MicroMoney. Customers can get instant loans by submitting an on online application on a smartphone. In order to obtain a loan, you do not need to provide collateral or additional documents.
The growing importance of local payments and its role in global commerce
As the report from WorldPay Global Payment says, over half of online payments will be made using APMs (Alternative Payment Method) by 2021. While PayPal is considered to be the most recognized payment method in the west, Alipay and WeChat Pay are taking the lead in China.
Popularity of local payments varies greatly between countries. While e-wallets are preferred by American citizens, Europeans prefer bank transfers. However Europe is not entirely united. For example, in Germany , credit cards are not so popular among customers. The political component also matters here. For instance, the Italian government has long encouraged citizens to switch from cash to electronic and card payments.
In order for local payments be more popular and better used, merchants should support prefered payment methods. Providing clients with convenient APMs is essential; the growth in global electronic commerce is largely being driven by cross-border ecommerce. The improvement in logistics has also been an important factor, with companies such as eBay and Amazon make it easier to shop overseas.
Localized payment methods play a vital role while doing business worldwide. You may have the right product that your target market seeks, but if you're not offering the consumer's preferred payment method, you won't seal the deal. This is particularly true in different markets, like China. Now, only around 5% of all online payments in this market are made with credit cards.
At MicroMoney, a key goal is to make local payments more accessible for customers. For that, an online-model is being used. It is an easy way to issue and raise money thanks to a well-developed and affordable money transfer system using local payment systems. As a result, all people get access to financial services.