Success Mantra of Life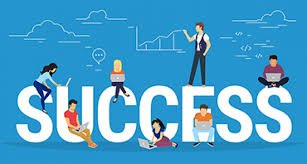 Joy, success and inner peace are not easily achieved in life. You have to work hard for it. You have to create these happiness.
In this way, find out the necessary exercises for your own happiness and make them continuous.
We all know that the work done for the happiness of the mind gives birth to ideas.
Now it depends on us whether we put our thoughts in creative work or in negative work. Where our focus is, there is a creation of pay, and all the forces of the universe start doing our work. If our focus is on positive work.
But as soon as our focus is negative, the connection with God is also broken and the powers of the universe also do not accompany us.
Consequently negative thoughts like unrest, sadness, fear and anxiety are beginning to rise.
Whereby we start questioning ourselves. How to make yourself perfect, how to keep yourself happy, how to decide the success, how to practice some good? Know the Success Mantra of Life
The best and the easiest way to get the best results in important areas in your life is to keep practicing something good every day. Practice is also what can be done to maintain a positive mentality.
There can be anything in these positive thoughts, such as writing diaries in the morning, in which you can cherish all your good memories associated with your emotions, goals, thoughts and life. If you want, you can start the day with jogging, physical exercise and balanced eating habits.
Many people start their day with listening to melodious music. So many books like to read books for the great success stories. If you do not practice anything good or anything besides this, you will feel a new energy sensation day by day, which will make your life better.
Now the question is how to keep focus on the most important things? We consider this question something like this -
Every day like those days, that day is your last day."
Understand the truth of this idea that life is very small and no one is the public when it ends. Therefore staying busy in your personal preferences is a very good practice.
If you wake up early in the morning, ask yourself, 'If this day was the last day of my life, how would I win it?' This is not a motivational practice, but this practice is definitely capable of making you more committed and dedicated towards your day.
is. Most of us allow life to live independently - in which we keep holding the steering wheel of our life car and sleeping, and when it changes in days, weeks, months and years, it shows when the last breath Is knocking in life.
Then we keep thinking that after all what life has been spent doing.
So think everyday, today is your last day. Dedicate yourself to the name of your life. Do not be scared of risk. Look at every risk as an opportunity. This priceless idea of ​​Theodore Roosevelt will inspire you-
Anyone who lives with ease in history has never left the name to remember. "
Confront struggle Banee, too generous towards life Make your dream worthwhile Tell your truth. Express the respect and gratitude to God for the life style. Believe me, from this point of view, you will be shining today and tomorrow, more successes than today will touch the buldain. As a result, the world will always remember you as a great personality.
Now it depends on you that what are you going to make today? Both influence and legacy are one of our favorite words. Start something like this for greatness and success, it will not end with your death, the great work you started will be alive for anyone as an influence for someone. This precious idea of ​​Oprah Winfrey will definitely help you -
"If you are to achieve the goals of your life, then you have to start with your soul."
So do not worry about dying and think about life, care for it. What are you going to create on this day? What will be your contribution towards life today? What are you going to win today? What mistake are you going to improve today? In this way you can become immortal by creating a difference through your life and work performance.
Remember the Success Mantra of Life - "It is an easy formula for success, you give your best and people may like it."