Hello Dosto, Apka fir se meri post me swagat he jese ki aap jante he India ko Festival County bhi kahte he.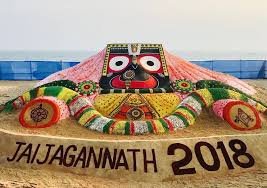 To aaj baat karte bhavan jagannathji ki jinko Load Krishna ka avtar kahte he.
Hindoo dharm ke behad pavitr sthal aur chaar dhaamon mein se ek jagannaath puree kee dharatee ko bhagavaan vishnu ka sthal maana jaata hai.
Ek bahut prachalit katha ke anusaar maata yashoda, devakee jee aur unakee bahan subhadra vrndaavan se dvaaraka aaeen. unake saath maujood raaniyon ne unase nivedan kiya ki ve unhen shreekrshn kee baal leelaon ke baare mein bataen. is baat par maata yashoda aur devakee un raaniyon ko leelaen sunaane ke lie raazee ho gaee. unakee baaton ko kaanha aur balaraam sun na len iseelie maata devakee ki putri subhadra baahar daravaaje par pahara dene lageen.
Maata yashoda ne krshn kee leelaon kee gaatha aarambh kee aur jaise-jaise vo bolatee chalee gaeen sab unakee baaton mein magn hote gae. khud subhadra bhee pahara dene ka khyaal bhoolakar unakee baaton sunane lageen. is beech krshn aur balaraam donon vahaan aa gae aur is baat kee kisee ko bhanak nahin huee, subhadra bhee itanee magn theen ki unhen pata na chala ki kaanha aur balaraam kab vahaan aa gae.
Bhagavaan krshna aur bhaee balaraam donon bhee maata yashoda se mukh se apanee leelaon ko sunane lage.apanee shaitaaniyon aur kriyaon ko sunate-sunate unake baal khade hone lage, aashchary kee vajah se aankhe badee ho gaeen aur munh khula rah gaya. vaheen, khud subhadra bhee itanee mantramugdh ho gaeen ki prem bhaav mein pighalane lageen. yahee kaaran hai ki jagannaath mandir mein unaka kad sabase chhota hai. sabhee krshn jee leelaon ko sun rahe the ki is beech yahaan naarad muni aa gae.
Naarad jee sabake haav-bhaav dekhane lage hee the ki sabako ahasaas hua ki koee aa gaya hai. is vajah se krshn leela ka paath yaheen ruk gaya. naarad jee ne krshn jee ke us man ko moh lene vaale avataar ko dekhakar kaha ki "vaah prabhu, aap kitane sundar lag rahe hain. aap is roop mein avataar kab lenge?" us vakt krshn jee ne kaha ki vah kaliyug mein aisa avataar legen.
Yeto baat hui k bhagavan jagannathji ke bare me ab baat karte he ki unki jo rath yatra hoti he uske piche ki kahani kya he.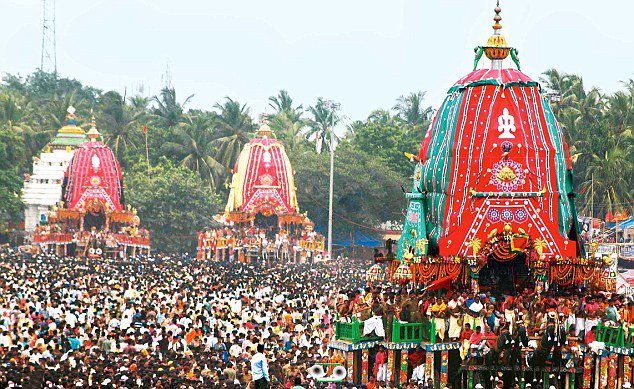 vaade ke anusaar kaliyug mein shree krshn ne raaja indradyumn ke sapane mein aae aur unase kaha ki vah puree ke dariya kinaare ek ped ke tane mein unaka vigrah banavaen aur baad mein use mandir mein sthaapit kara den. shreekrshn ke aadeshaanusaar raaja ne is kaam ke lie kaabil badhee kee talaash shuroo kee. kuchh dinon mein ek boodha braahman unhen mila aur is vigrah ko banaane kee ichchha jaahir kee. lekin is braahman ne raaja ke saamane ek shart rakhee ki vah is vigrah ko band kamare mein hee banaega aur usake kaam karate samay koee bhee kamare ka daravaaza nahin kholega nahin to vah kaam adhoora chhod kar chala jaega.
shuruaat mein kaam kee aavaaz aaee lekin kuchh dinon baad us kamare se aavaaz aana band ho gaee. raaja soch mein pad gaya ki vah daravaaja kholakar ek baar dekhe ya nahin. kaheen us boodhe braahman ko kuchh ho na gaya ho. is chinta mein raaja ne ek din us kamare ka daravaaza khol diya. daravaaza khulate hee use saamane adhoora vigrah mila. tab use ahasaas hua ki braahman aur koee nahin balki khud vishvakarma the. shart ke khilaaph jaakar daravaaza kholane se vah chale gae.
us vakt naarad muni padhaare aur unhonne raaja se kaha ki jis prakaar bhagavaan ne sapane mein aakar is vigrah ko banaane kee baat kahee theek usee prakaar ise adhoora rakhane ke lie bhee dvaar khulava liya. raaja ne un adhooree mooraton ko hee mandir mein sthaapit karava diya. yahee kaaran hai ki jagannaath puree ke mandir mein koee patthar ya phir any dhaatu kee moorti nahin balki ped ke tane ko istemaal karake banaee gaee moorat kee pooja kee jaatee hai.
is mandir ke garbh grh mein shreekrshn, subhadra evan balabhadr (balaraam) kee moorti viraajamaan hai. kaha jaata hai ki maata subhadra ko apane maayake dvaarika se bahut prem tha isalie unakee is ichchha ko poorn karane ke lie shreekrshn, balaraam aur subhadra jee ne alag rathon mein baithakar dvaarika ka bhraman kiya tha. tab se aaj tak puree mein har varsh rathayaatra nikaalee jaatee hai.
Or dusri yah bhi manyta he jisme bhavan jagnaathji ki murti or bhagavan krishna ki mot se
hindoo dharm ke behad pavitr sthal aur chaar dhaamon mein se ek jagannaath puree kee dharatee ko bhagavaan vishnu ka sthal maana jaata hai. jagannaath mandir se judee ek behad rahasyamay kahaanee prachalit hai, jisake anusaar mandir mein maujood bhagavaan jagannaath kee moorti ke bheetar svayan brahma viraajamaan hain.
brahma krshn ke nashvar shareer mein viraajamaan the aur jab krshn kee mrtyu huee tab paandavon ne unake shareer ka daah-sanskaar kar diya lekin krshn ka dil (pind) jalata hee raha. eeshvar ke aadeshaanusaar pind ko paandavon ne jal mein pravaahit kar diya. us pind ne latthe ka roop le liya.
raaja indradyumn, jo ki bhagavaan jagannaath ke bhakt the,unko yah lattha mila aur unhonne ise jagannaath kee moorti ke bheetar sthaapit kar diya. us din se lekar aaj tak vah lattha bhagavaan jagannaath kee moorti ke bheetar hai. har 12 varsh ke antaraal ke baad jagannaath kee moorti badalatee hai lekin yah lattha usee mein rahata hai.is lakadee ke latthe se ek hairaan karane vaalee baat yah bhee hai ki yah moorti har 12 saal mein ek baar badalatee to hai lekin latthe ko aaj tak kisee ne nahin dekha. mandir ke pujaaree jo is moorti ko badalate hain, unaka kahana hai ki unakee aankhon par pattee baandh dee jaatee hai aur haath par kapada dhak diya jaata hai. isalie ve na to us latthe ko dekh pae hain aur hee chhookar mahasoos kar pae hain. pujaariyon ke anusaar vah lattha itana sopht hota hai maano koee kharagosh unake haath mein phudak raha hai.
pujaariyon ka aisa maanana hai ki agar koee vyakti is moorti ke bheetar chhipe brahma ko dekh lega to usakee mrtyu ho jaegee. isee vajah se jis din jagannaath kee moorti badalee jaanee hotee hai, udeesa sarakaar dvaara poore shahar kee bijalee baadhit kar dee jaatee hai. yah baat aaj tak ek rahasy hee hai ki kya vaakee bhagavaan jagannaath kee moorti mein brahma ka vaas hai.
to dosto apko kya lagta he konsi baat sahi he or apke pas bhi bhagavan jagannah se judi koy story he to hame bataye comment me.
Dosto apke liye mene ek blog taiyar kiya he so please visit kare : http://za.gl/Y1dcY
or aap sabhi pr bhagvan jagannathji ki kripa rahe or aap sabhi sada haste rahe. Jay Jagannath