Hello everyone.
Hope everyone is doing very well.
After SEC postpones key decision on a cryptocurrency ETF, bitcoin dumped below $6500. Around Over $9 billion wiped off bitcoin's value after that news. But in that mean time here is a very good news for all crypto currency investors. The parent company of the New York Stock Exchange (NYSE) which is Intercontinental Exchange Inc. (ICE) is partnering up with big companies like Microsoft, Starbucks, and others to launch Bakkt. Bakkt will be a primary solution for buying and selling digital assets.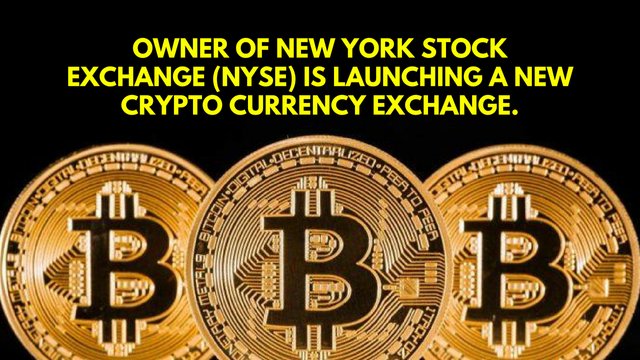 Jeffrey C. Sprecher, founder & chairman & CEO of ICE stated on 3rd of august that they will launch a new company " BAKKT". Bakkt will introduce a very trusted and seamless way for users to buy, sell, store and spend digital assets. This new platform will help Microsoft by leveraging the existing cloud solutions. As i said earlier this new company already partnered with big companies such as BCG, Starbucks and others.
This new platform will launch by November 2018, however they mentioned that this would first have to be cleared by the US Commodity Futures Trading Commission (CFTC). After that this platform will fully launch to its users.
While many of us thinking that bitcoin has no future and selling their assets at a very low price without seeing the possibilities. I know its very natural to react like that but we have to be a long term player in this game. Then we can earn big money with this. The first 6 months of 2018 was not so good for bitcoin, but from last few weeks we are seeing so many good news which can pumped the bitcoin price & overall crypto market. The founder of investment firm BKCM LLC Brian Kelly thinks that the news which i shared today is one of the biggest news so far in 2018.
So at the end of this article i just want to say that if you're planing to buy bitcoin then now is the perfect time to do so and if you're holding your bitcoin till now then keep holding for long term. I think its totally a long term game. Short term player will always loss this game.
What do you think about this news. Let me know in the comment box if you're holding your bitcoins or already sold & share your thoughts on this news.
Thanks
Dhanjyoti Kalita