Beware of this ongoing SCAM
In this cryptospace, most of us must have been well acquainted with the term SCAM. When we hear scam many big scams like ICO, hacking, shutdown of sites or exchanges generally trigger our mind. But in this article I am going to reveal one of the most planned, intelligent & ongoing scam that is still not covered by any popular youtubers or crypto pundits in details.
The Beginning: It all started with a tweet on 29th Nov 2017 when this exchange declared to offer 10% return on daily basis for all investors in a coin called LIZA if the investors keeps their LIZA coin in Investbox, which is a special feature of this exchange.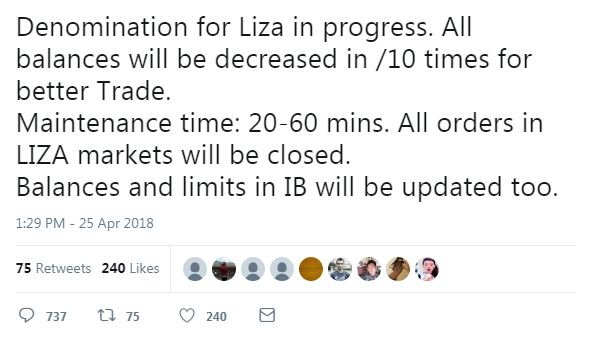 You will be astonished to know that the exchange has never failed to offer what they have promised, though on few occasions, there were few hourly delays in payment. I have seen small investors have literally lost everything in this gameplan.
Masterplan: Now we need to know how the mechanism works for the exchange. LIZA is a computer programmed coin having no real existence in coin marketcap & having unlimited supply. It is basically a numeric figure only generated in system. Trading of this coin is allowed in BTC, ETH,DOGE, WAVES & USDT market. Investors need to enroll in the said exchange & buy the LIZA coin from the given market & then put those coins in investment box (IB). The IB also mentioned the minimum & maximum coins that can be invested at once. 10% payout is automatically added in the principal balance after every 24 hours & the system also allow to withdrawal at any point of time by simply cancelling the investment in IB. Trading is allowed in concerned market at prevailing rate. An important aspect is for getting 10% daily, investors are required to play minimum dice games 5 times within 24 hours.


Readers must be getting a bit confused, how this can be a scam at all. Here comes the masterplan.
LIZA was initially launched at a price of over 200000 satoshi. With regular payout & unlimited supply, the price dipped gradually and when whales started to enter, the bearish candles got worse even within hours. Now most of these whales are none other than admins of the exchange & they use to troll the chatbox with different names to spread more & more rumours which fit best for their vested interest. People keep on compounding with the hope that even the huge price dip can be easily compensated by the effect of compounding. For few it has worked who had exited the nasty game by Feb-Mar 2018 by controlling their greed. Things got worse when the price of LIZA coin came below 100 satoshi, as you can understand that decline in price percentage is more in such situation than the interest offered. I was amongst one of such greedy investor who had converted 0.96 BTC to almost 2.68 when price of LIZA was hovering around 12-18 satoshi. All of a sudden the price dropped to less than 8 satoshi & then the daily volume of transaction in LIZA coin rose from normal range of 200-300 BTC to 2500-3500 BTC as the price fluctuation of even 1 satoshi within few minutes works out to more than 10%. This game continued for 3-4 days before price settles to 4-6 satoshi. Investor who had invested at higher prices were only having hope to compound & come up to breakeven point. The price of LIZA was largely manipulated by the exchange by creating dummy buy-sales through bot trading and rumours in chats. Even the admin blocks account if anyone comments against the exchange or its coins.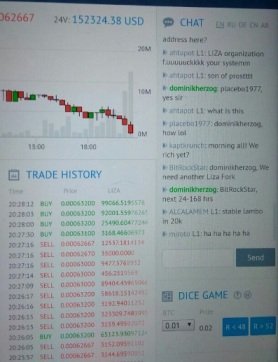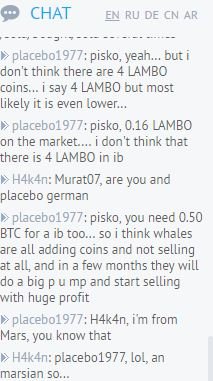 Now the nails in the coffin: A tweet of denomination was posted overnight & the price of LIZA coins were multipled by 10, effectively increasing the price from 6 to 60 satoshi & all balances in the exchanges or in IB were divided by 10. So a person having 1 crore was left with only 10 lakh coins & the minimum investment in the IB was increased. The best part is that most of the investors failed to trade when this was implemented & when the price has dropped to 25-30 satoshi, normal investors actually got the chance to convert their leftover LIZA coins to BTC/ETH etc. Whales & admins actually dumped their portfolios of LIZA & again bought at lower price within few hours. The game continued till it again reached 2-3 satoshi as real investors were terrified & was in confused status with this master move by the exchange. Volume of trading of LIZA in the exchange drastically falls as people suffered huge loss & loses faith.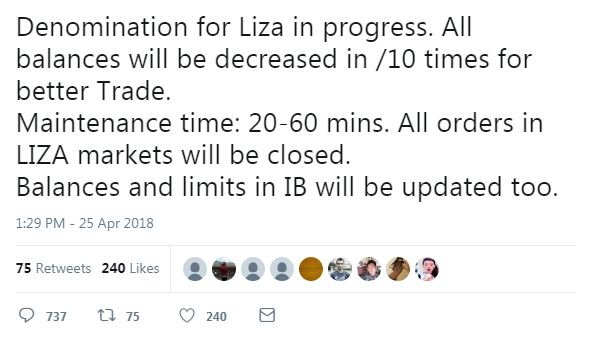 Another new beginning: Another new tweet probably in first week of May 2018. Now the exchange had come up with LIZA forked coin named LAMBO which offer 100% hourly return & LIZUN which offers 100% daily return. Both these coins were launched at extremely high price & within 10-15 days, their price came back to 1 satoshi as expected due to inflationary of these coins. By the end of May they have reworked with the daily percentage on different coins & had also introduced LAMBO forked LIMBO.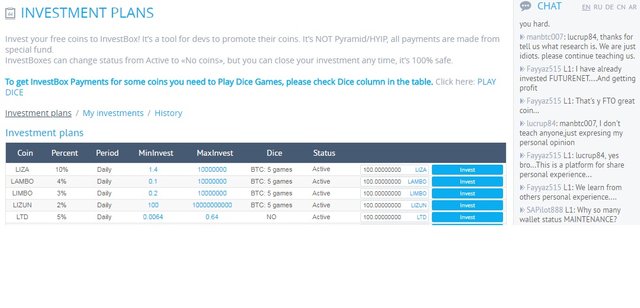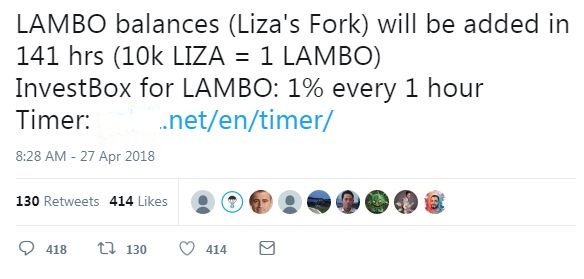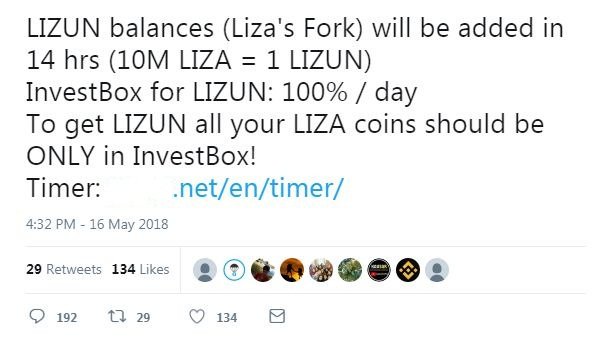 The exchange is having highest volume of trading for these coins & is enjoying daily trading fees & also earning daily from mandatory dice games. All small value, pump-dump coins, lesser known coins are suitably place in the exchange. With no KYC issues, investors are more prone to open their account in this exchange. Still they are continuing the same strategy as they are aware that everyone loved the short cut to earn money, but eventually 90% end up ruining their entire portfolio.
A famous dialogue "Everything is planned" once used in a bollywood movie Ajnabee correlates exactly with the way this exchange works.
Special thanks to :
Sandeep Bhai (Crypto Point Hindi) @sandeeptgs for covering this exchange withdrawal issue aspect in one of his video published in April 2018.
Sumeet Kapoor @moneyguruu for introducing Steemit platform to me.
@crypto.update for extending all help as & when I require and guiding me.
I have intentionally not mentioned the name of the exchange as I would like you all to go through the entire article & comment @cryptokuber the correct name of the exchange. I will follow all readers who leave their comments correctly. After 24 hours of my posting, I will upvote all readers if they can correctly confirm my total loss in LIZA trading. Option: Below 1 BTC, 1-2 BTC, More than 2 BTC.