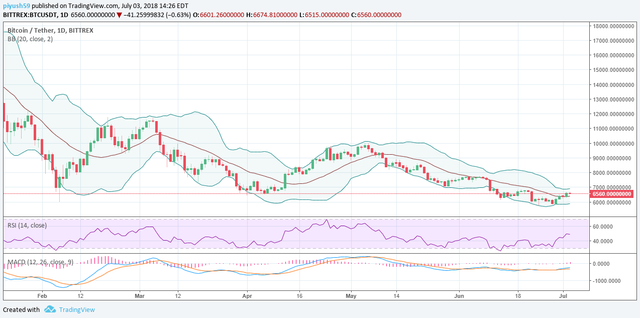 After a slight bounce and rally towards 6600$, we are now looking for the next scenarios!
There has been something on the charts showing some bearish patterns only in case if Bitcoin drops below 6450$ levels, which is the new support. Bulls might take it to 6800$ as well if to stays above this level! And the next targets will be decided after we go to that level!
Major reversal point is around 7800-8000$, where will see a pure reversal! Anyways we can make good profits while we reach there!
Key points for now after a full green week, we made huge profits! I hope all of you are happy and your portfolio also looks sweet tripled! Our premium members made a hell lot of money this week by our expert calls!
Now the part is how to save those profits, the major part is to save your assets not to make the assets only!
Bitcoin can take back those gains in a single dump!
We advise you to keep some profits always in the USDT and be ready always for both scenarios!
If bitcoin goes for a little correction to 6450$ and jumps back from this level! Then we are okay if goes below and volume goes out as well! Then it will be bad scenarios! So far it's good!
The next drop levels, it happens, are 6150$, 5950$ and the worst 4850$! These are the zones where we can see the final drop!
But not saying we are going there! We might jump from the current levels as well!
Best of luck with your trades.
I will update this chart as new info comes up for my followers.
The information provided by @arjunsingh is for informational purposes only. It should not be considered legal or financial advice. You should consult with an attorney or other professional to determine what may be best for your individual needs.