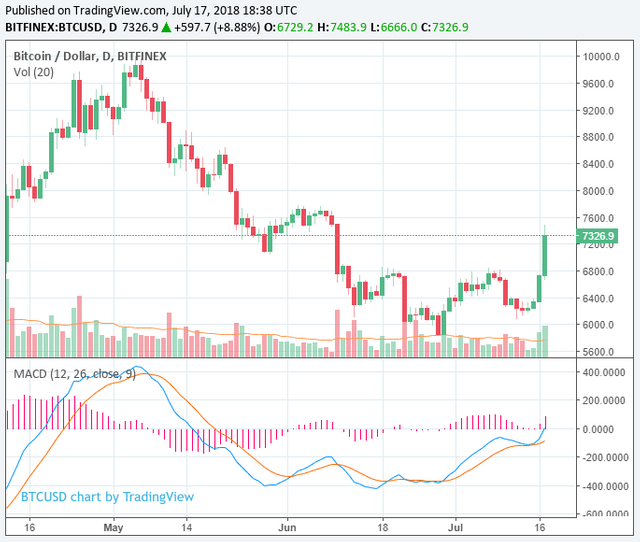 Now bitcoin is zooming with a great momentum upward now bitcoin is above $7300 at the time of writing this is is only a start of bitcoin sharp upmove again. Bitcoin is moving up great momentum and with great volume so now there is a chance for people to join the ride now as it is going to be beneficial. Now Bitcoin have to sustain over this for some time after that next target is going to be $7800 and after achieving that next target is for above $8000 which we can see in only a couple of days. So be ready and hold your position tightly.
An unexpected corrective rally occurred in the evening of July 17, pushing the price of major digital assets to spike by large margins. Bitcoin and EOS have been the best performers out of the major cryptocurrencies, rising by nearly 10 percent in a short period of time.
In previous reports, CCN noted that the market has seen the emergence of a series of positive events such as the government of South Korea regulating its cryptocurrency market, which could fuel the next rally of the market.
The last time BTC spiked by a margin as big as today's rally was April 9, when the price of BTC surged from $6,900 to $8,000, within 30 minutes. Ultimately, the rally from $6,900 to $8,000 led the price of BTC to test $10,000.