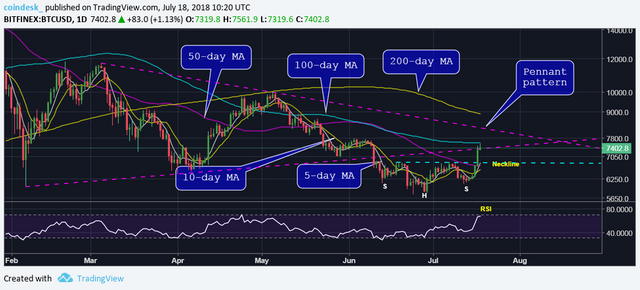 Now bitcoin is zooming with a great momentum upward now bitcoin is above $7300 at the time of writing this is is only a start of bitcoin sharp upmove again. Bitcoin is moving up great momentum and with great volume so now there is a chance for people to join the ride now as it is going to be beneficial. Now Bitcoin have to sustain over this for some time after that next target is going to be $7800 and after achieving that next target is for above $8000 which we can see in only a couple of days. So be ready and hold your position tightly.
The above chart shows BTC has pulled back from near 100-day moving average (MA) hurdle of $7,613. Still, the bias remains bullish as the cryptocurrency has found acceptance above the 50-day MA.
As a result, BTC is more likely to extend the rally to $7,900–$8,000 in the short-run and confirm a successful reentry in the pennant pattern. That would be a major blow to BTC bears as the bearish pennant breakdown in June had signaled a revival of the sell-off from the record high of $20,000 reached in December.
A move back inside the pennant pattern would signal a long-term bearish invalidation. Meanwhile, a break above the pennant resistance, currently seen at $8,210, would strengthen the odds of a long-run bullish reversal.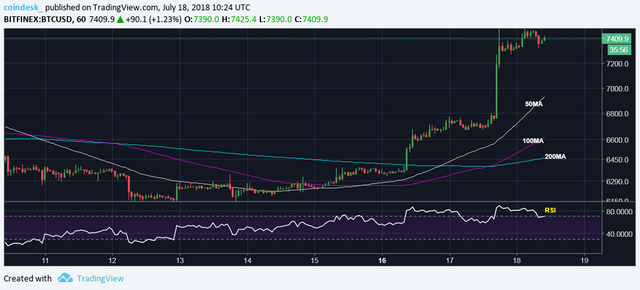 BTC price is seen rallying to $8,000 in the short-run, albeit after a healthy pullback to $7,000.The technical correction will likely help BTC chart a more sustainable rally to $8,000.A close below $6,080 (July 12 low) would shift risk in favor of a drop to $5,755 (June 24 low).