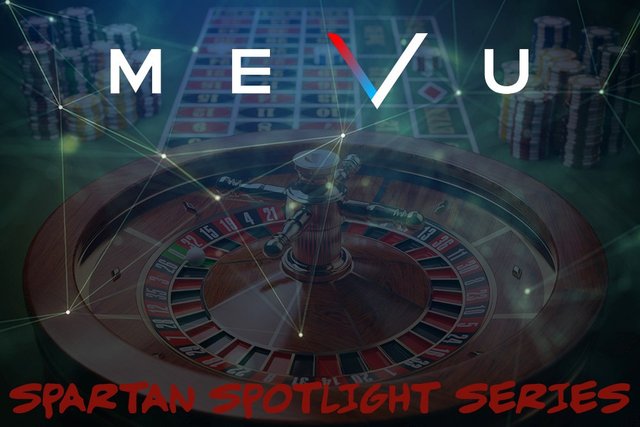 Though DApps are still in their infancy, one pioneering use case has established itself as the daddy of early decentralized application use cases: gambling. According to Dapp Radar, almost half of the top 100 DApps by user volume are betting-related- a trend which has persisted for some time. The main bulk of the current most popular DApps are built on top of EOS or TRON, where betting-related DApps (mainly casino-style platforms offering roulette, blackjack and other games of chance) dominate the scene. Ethereum's popular DApp base is more gaming-heavy, but still consists of a healthy proportion of betting-based platforms. Gambling is clearly persisting as the primary DApp use case of the early blockchain era.

Stats relating to the TRONbet gambling platform- the most popular DApp on TRON, as seen on Dapp Radar: https://dappradar.com/tron/2/tronbet
Advantages of a Decentralized Betting System
Why such a heavy percentage of gambling DApp users? Because it's a use case for which blockchain can inherently solve many traditional problems and provide a wealth of benefits for players by its very nature. Blockchain is enabling the development of applications which do not rely on a centralized party for operation, meaning they can be more resilient, autonomous, and immune to misconduct than their traditional counterparts. For players, this translates to a more flexible, engaging and secure betting experience.
At the tech level, blockchain-based bettors benefit from the decentralised nature of the blockchain and the autonomous nature of smart contracts. Based on a decentralized system with an inherent system of value transfer, not only are DApps immune to traditional hacks and censorship resistant, but users of gambling DApps do not need to rely on traditional payment processors.
By using smart contracts to conduct the vital operations of a betting platform, a unique element of trustlessness can be added to the equation; odds of winning are verifiably transparent, and smart contracts can perform calculations and conduct transactions autonomously in a secure, fast and completely transparent manner. Tricking or tampering with a smart contract is simply not possible.
But decentralized betting still has a long way to go.
Decentralized Betting is Evolving- Meet MeVu
Not only does the use of blockchain negate the need to rely on problem-prone centralized actors of any kind but allows users of decentralized applications themselves have the opportunity to benefit from increased control and autonomy over their funds and activities, if blockchain is utilized to its fullest. In their early form, however, many decentralized gambling apps are extremely simplistic, lack functionality and are limited to the use of a certain cryptocurrency.
A new generation of decentralized betting platform has thus begun to emerge, providing the ability for players to bet on a wide range of scenarios in a fully decentralised peer-to-peer manner and with a choice of currencies- changing the game by introducing a whole new level of functionality and freedom. This is the purpose of MeVu, a project with a vision of bringing betting back to the basics by removing the unnecessary high costs, long transaction times and security risks of centralized gambling solutions through their Ethereum-based P2P betting platform. Also acutely aware of the limitations of current decentralized betting platforms, MeVu has been designed with rich functionality explicitly in mind.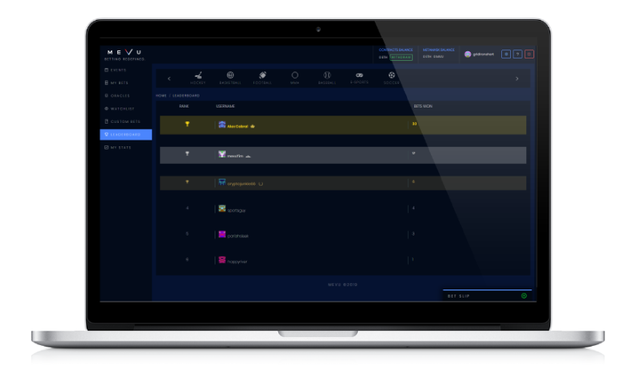 Still of the MeVu beta DApp, accessible at https://dapp.mevu.bet
MeVu's platform will offer a range of betting types from launch, with an initial focus on sports and custom/social head-to-head betting- meaning players are given the opportunity to bet against one another on the outcome of virtually any activity in a completely peer-to-peer manner. On top of this, MeVu will allow the use of both ETH and their own native MVU token; free from the shackles of traditional payment processors and offering multiple currency betting through smart contracts, MeVu will offer unparalleled flexibility, autonomy and security during the entirety of the wagering process.
Placing the power back into the hands of the users rests at the core of MeVu's mission, an aim which is carried much further than their use of secure smart contracts and flexible functionality. By utilising a community-powered system of 'Oracles', platform users will be financially incentivised to report correct results and stake MVU tokens to act as honest mediators in case of disputes; MeVu is building a fully autonomous ecosystem, right down to the in-built dispute resolution mechanism.
Not only betting more broadly, but decentralized betting in itself is evolving, and MeVu aim to showcase the possibilities of utilizing blockchain to its fullest in that arena.
Join me as I dive deep into MeVu's solution and explain how the platform represents the evolution of betting in the upcoming instalment of the Spartan Spotlight Series.
Token Sale Details
MeVu's token sale is scheduled to take place on June 10th on Probit exchange.
⯈ IEO Duration: 10 Jun 2019 (Monday) 12:00 KST to 21 June 2019 (Friday) 11:59 KST
⯈ Price: MVU will be priced at $0.15/MVU.
⯈ Bonuses
• Purchase MVU using PROB, Get 40% Bonus
• Purchase MVU using USDT, BTC, ETH, and XRP, Get 35% Bonus
More details can be found in the official exchange announcement: https://support.probit.com/hc/en-us/articles/360028771211-MeVu-MVU-will-launch-IEO-with-ProBit-Exchange
Have any questions regarding MeVu? Join their community on Telegram where you can discuss anything MeVu-related: https://t.me/betmeVu
Learn more at their website: https://mevu.bet/
Dig in deeper with MeVu's whitepaper: https://www.dropbox.com/sh/irhmw1y7wj3b2tn/AAAdoYYsNUqTctBkh8TdrYgCa?dl=0
Get connected to MeVu on social media:
Twitter: https://twitter.com/mevu_bet
Facebook: https://www.facebook.com/betmevu/
Disclaimer: this is not financial advice in any form, it is my opinion and insight based on research and you should always do your own research before committing to anything financially whatsoever.