If you have ever struggled to enter an address into a car's navigation system (which is pretty much everybody) Mercedes-Benz could change that.
The German manufacturer will soon begin rolling out its new Mercedes-Benz User Experience (MBUX) infotainment system in North America, starting with the A-Class compact sedan that will go on sale in a few months. In addition to improving natural language voice commands, it integrated What3Words technology to make entering addresses easier and faster, and that move could entirely change the way drivers navigate.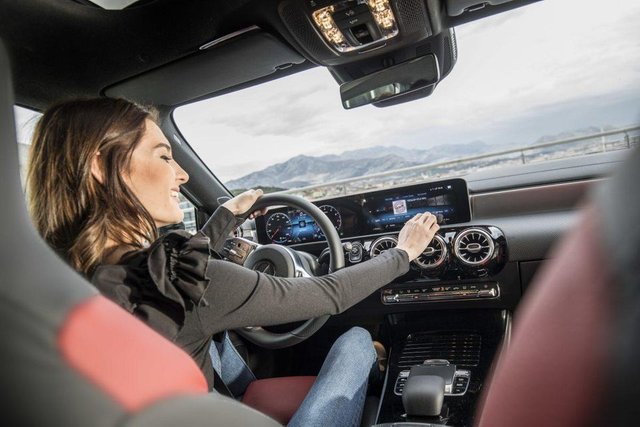 The new MBUX infotainment system by Mercedes-Benz integrates a new way to input destination addresses.Mercedes-Benz
What3Words is a geo-mapping startup based in the UK that assigned a unique three-word combination to every house, business, or 3-square meter patch of land or ocean in the world. Strictly speaking, What3Words is not a navigation platform--rather it's an addressing system that provides a point of reference for mapping applications. Think of it as a verbal shorthand for locations. The system translates the three-word address into GPS coordinates that it hands off to a navigation application, which is HERE maps in Mercedes-Benz's case, to devise the best route to reach that destination.
As it stands, many people rely on Waze, Google Maps or Apple Maps to get directions to where they're going--even in vehicles equipped with embedded navigation systems. After all, with the click of a button on your ever-present mobile phone, a linked address on a Web page launches one of those familiar apps rather than requiring you to speak or peck out complex addresses into in-dash display screens. However, mobile apps have limitations, such as inability to send directions to a vehicle's Head-up Display or instrument panels, and they may not be able to identify a specific spot in a large building, such as the East entrance of a mall.
But MBUX could entice users to stop relying on smartphones for navigation, and instead opt to use a verbal shortcut to enter destinations in their infotainment system. What3Words integration already available as an over-the-air update in Mercedes-Benz's existing COMAND infotainment platform for some eligible models, and it's going to be a native feature of the new platform. Since the A-Class sedan is an entry-level compact vehicle offered by the luxury brand, its affordability could mean a quick adoption of the What3Words address nomenclature by a large number of American buyers.
That is, of course, if businesses and users catch on the the addressing shorthand.
Although the platform eliminates the friction point of entering an address, it doesn't do anything to faciliate discovery of the abbreviated location name. It's still up to the driver to look up the verbal coordinates using the What3Words website or app, or learn it from a business or friend at the destination. And until it's easier to learn you're new address alias, it may also be easier to stick with the map you already know.