Top nine reasons people are switching to Melamine in 2018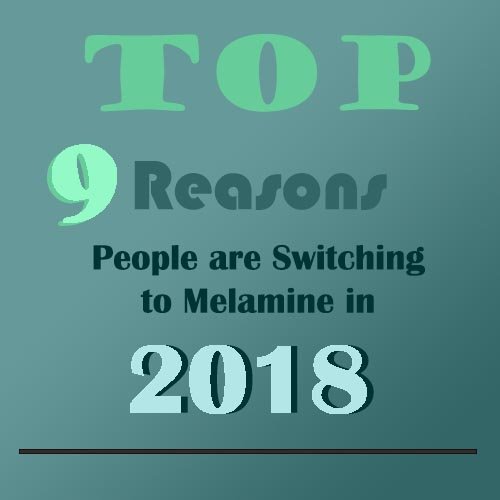 In 2018 Consumers upgrading their kitchen or home with wood cabinets face too many confusing options. How does one know what to choose between Hardwood, Melamine, MDF, and Acrylic products?
All these materials can be used for high-end wood product designs including paneling, casework, countertops, cabinetry, interior closets, residential and office furniture, shop and job site application of millwork finishes and similar architectural woodwork.
Stevenswood thermally fused Melamine panel is a composite wood-based panel onto which a decorative paper layer is thermally fused (heat and pressure) to the top and bottom surface in order to create a durable and decorative panel. The melamine resins used to bond the decorative paper and panel together are renowned for their unique physical properties including: durability; hardness; scratch and stain resistance as well as color stability.
Top nine reasons people are switching to Melamine in 2018:
1.) It is Perfect. Your Customer will love it for years.
Melamine is perfect for all types of furniture & cabinetry many customers prefer it to natural hardwood. You get quality, it is easier to clean and you don't have to worry about irregular poor quality plywood. Melamine always looks good, is always perfectly straight, and comes in many finishes.
2.) Its Not your Parents Kitchen Cabinets.
You might enjoy watching your favorite reruns of old sitcoms, but NO ONE wants a Brady Bunch Kitchen!
High end Melamine wood finishes today have little in common with the products and finishes of even - a few years ago. Used by high end European Designers, this material is no longer a lower quality alternative to wood.
3.) Melamine is GREAT for the environment and LEED building.
Greengold Certified so you are getting an environmentally friendly and sustainable product to use in your finished products. Most MDF and Acrylic Products cant claim they are environmentally friendly.
There exists an additional often overlooked benefit of our quality Melamine Wood Products: California has been a national leader in air-quality initiatives, CARB is the California Air Resources Board, which has created requirements to limit VOCs in cabinets, furniture and other materials used in homes. The requirements focus specifically on plywood, particleboard and MDF
Formaldehyde Emission Requirements: Less than 0.09 ppm (CARB Phase 2);
Recycled Content is 100 percent post-industrial recovered Wood fiber.
For LEED project, include the following as applicable Sustainable Design Submittals- LEED v4 New Construction;
Materials and Resources Credit 4, Recycled Content: thermally fused Melamine Particleboard manufacturer's product data indicating percent of pre-consumer and postconsumer recycled content;
Materials and Resources Credit 5, Regional Materials:
Indoor Environmental Quality Credit 4.4, Low Emitting Materials:
4.) Durability.
Melamine is exceptionally dense, and unlike wood does not have a porous nature: this enables cabinets to be exceptionally resistant to, stain, moisture, mold, and color fade. In addition the heat resistance factors dramatically increasing fire safety protocols in both commercial and residential environments.
Fire Resistance: ASTM E-84, Class C or III
Impact Resistance: NEMA LD-3, 15 inches (381 mm per linear m)
Wear Resistance NEMA LD 3-2005:
Warping: CPA Appendix D, 3 mm per linear m
5.) A large variety.
Because melamine is a synthetic material, it can be produced with an almost endless number of finishes. You can select from faux wood grains in various shades or solid colors.
Available in the following sizes and thickness:
4' x 6' through 5' x 10' sizes
1/4" through 1 1/8" thicknesses
Dual-Sided Textured Panels. Available in a range of thicknesses from .25" to 1.25", panel size: 5' x 8'.
Mouldings. Perfectly matches panels and doors; 2 contemporary profiles; 2.70m / 109" length.
3-Dimensional Vinyl. Matching vinyl to offer another option for doors, drawers and tops. Perfect for commercial and residential applications.
6.) A uniform finish: Flexible material options.
Unlike solid wood that can vary in grain patterns and colour, even within the same order, melamine offers a consistent finish since it is manufactured in a controlled setting. Also with the advanced Edgebanding technicque: exposed edges can be finished with different products including Polyester, thin PVC or 3mm PVC glued and shaped mechanically, solid wood, wood veneer or mounding (plastic, wood, or metal).
7.) Low cost - Better Value.
Compared to solid hardwood cabinets, melamine cabinets are offered at a much lower price point.
With these savings homeowners and installers alike are pleased to find the increased value from Melamine durability and long lasting finish.
8.) Quality.
With the peace of mind knowing the built in Mildew and Mold resistance in Melamine will have you breathing clean pollen and spore free air for many damp winters to come.
Comply with ANSI A208.1, Grade [M-2];
FSC®- Mixed Sources accreditation
CPA member - Composite Panel Association
CPA- ECC
UL GREENGUARD Gold Certified
9.) Nine out of Ten Pick Melamine Cabinets over Finished Wood.
We really thought this comment hit the proverbial nail on the head, This installer over at WoodWeb.com says:
We build frameless melamine boxes with plywood exposed ends finished interiors. The melamine has a natural maple finish to it. I have two displays across from each other, so when the customer asks what the difference is, I show them both and let them decide. 99% go with the melamine. We will build all plywood boxes but I have to charge more for the material, and there is more waste on defects. I can't recall having to replacing a box due to bad melamine though.
National Wood Products carries a wide variety of StevensWood Melamine,
We have been expecting you!
Contact us RIGHT NOW to speak to your personal NWP So-Call Concierge!!