Steem Philippines | 6th Official Meetup in Davao City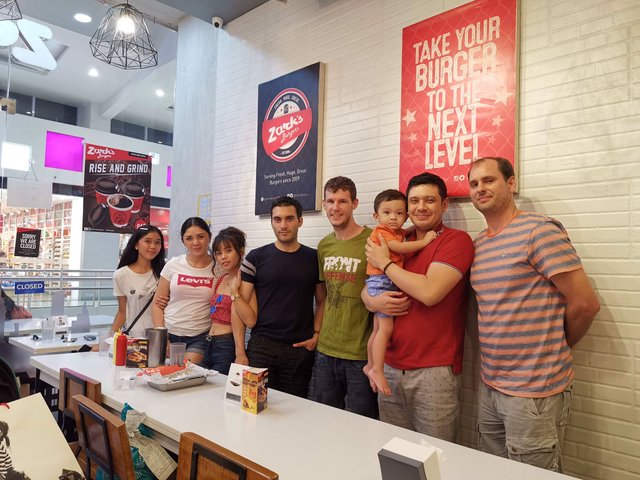 ---
Yesterday the #SteemPhilippines group had it's 6th official meetup in Davao City, Philippines.
@chrisrice got there first and met with Aaron (blue shirt), a new member, at Zark's Burger (SM Ecoland). The two of them got some water and waited for the other members to arrive. Paul (striped shirt) who is another new visitor to the group, showed up next, and @nathansenn arrived a few minutes later while Aaron (blue shirt) was explaining the need for end-users in cryptocurrencies to increase before he'll take any of them seriously.
He is interested in accepting cryptocurrency as a form of payment but is not interested in investing in crypto himself. The comparison he made was the USD and Filipino Peso and how the majority of users don't invest in those currencies but actually hold them and use them as actual currencies, not investments. The lack of actual users in the cryptocurrency space and the over abundant amount of investors in relation to those users, is what keeps him skeptical of their investment prospects.
---
That is when @nathansenn brought some of his expertise to the table. He explained different aspects of blockchain technology and even explained how Bitcoin in its current state cannot scale. As we've shared in previous posts, @nathansenn is working to build a decentralized Internet and it might be appealing to Aaron since Aaron is a strong supporter of free speech and dislikes the censorship of companies like Facebook, Twitter & YouTube.
As for Paul, he is currently skeptical of Steem and cryptocurrencies but unlike Aaron, he is actually a little interested in the idea but doesn't yet grasp exactly what Steem is, what it's for and if it is something of value.
---
@nathansenn discussed how he is now importing products such as clothes and watches from China, and Paul shared how he works as a dropshipper for a U.S. based company.
At the end of the meetup, Aaron left early and @chrisrice talked to Paul about him possibly opening a Steem account. Paul is a little interested but wants to research more first. He sees himself as doing a lot of due diligence before undertaking or investing in anything and that is why he is hesitant to get too involved, too fast. Paul wants to do more research so he can catch up with members @chrisrice and @nathansenn before attending another meetup and Aaron will be back with us next Wednesday 😊
Overall, the meetup was great. They got some more business ideas and there was more chatter about @nathansenn building a #SteemPhilippines DAPP on Steem.ph with @chrisrice.
---
If anyone lives in Davao City and is interested in meeting other blockchain and crypto enthusiasts, or if you just want to meet other people, you are invited to the next #SteemPhilippines meetup at SM Ecoland on October 9th, 2019 (Wednesday) from 5:00 PM - 8:00 PM.
CONTACT US on Steem.ph
---
Originally posted on Steem Philippines. Steem blog powered by ENGRAVE.