Steem Philippines | 14th Official Meetup in Davao City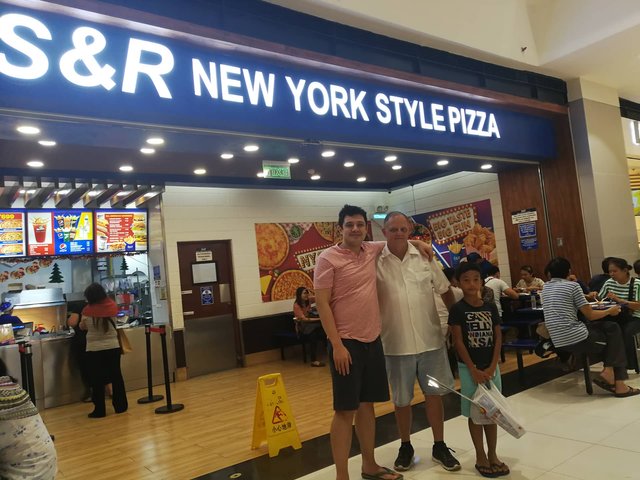 The #SteemPhilippines had it's 14th official meetup 2 days ago at SM Ecoland in Davao City, Philippines.
In attendance was @usveteran, who of course, enjoyed some good pepperoni pizza and @chrisrice was also there, eating right there with him. It's one of the favorite places for the group to meet and one of the reasons is @usveteran's love for S&R pizza.
---
The main topic discussed at this meetup was @usveteran's new job as the curating Manager for #SteemPhilippines.
He had accepted the job a week or two before but is still getting used to posting on Steem and didn't entirely know how to curate yet. So @chrisrice downloaded the right icons on his phone with @steem-net-ph logged in via the posting key and now @usveteran is off to a good start, curating Philippine-related content once a day.
---
Our group online and here in Davao City has a diverse set of personalities, and all of us have strengths & weaknesses, just like everyone else. The key thing for us though is for all of our members to find areas of expertise, work and hobbies that match their skillset and potential. Gerhard @usveteran is a strong extovert, and was actually looking for something enjoyable that could fill his time.
In addition to that, Gerhard @usveteran has made it to a decent amount of our meetups, so @chrisrice wanted to give him a role in the group to get him more involved, and help him fill his skillset. It's @chrisrice's hope that Gerhard @usveteran will enjoy his time curating, and also that he'll benefit a bit from adding Steem to his account.
NOTE: @usveteran will receive 33% of the curation rewards that @steem-ph receives for at least a year, and as long as he continues curating.
---
If anyone lives in Davao City and is interested in meeting other blockchain and crypto enthusiasts, or if you just want to meet other people, you are invited to the next #SteemPhilippines meetup at SM Ecoland on December 11th, 2019 (Wednesday) from 5:00 PM - 8:00 PM.
CONTACT US on Steem.ph
---
Originally posted on Steem Philippines. Steem blog powered by ENGRAVE.