What we have experienced in first Steemit League
Last Sunday, Steemians both players and non-players that are in the venue are very excited since we never know who will win the very first game. The players are making sure that they are fully fit for the basketball league and well-prepared that both body and mind can handle the possible stress during the league.
The committee also are very busy doing their task so that the league are well-organized and that the rules should be observed for both players and non-players. There's the table committee who are in-charge on the tallying players fouls, points and other related to in-game team and player performance.
There are also committee that are in-charge on the scoring board and referees which the ones controls the game.
Even the game was so intense, each players are still making sure that they practice clean play style, to make sure we avoid some injuries and other accident.
It is really amazing that sportsmanship are observed and maintained always.
Credits to phoenixlady for the photo
We can see some aggressiveness of the players which are wanting to win. Looking at the ball always where it might go, each of them making sure that they will be the one to get the ball so they could have a chance to score.
As of our current standing :
| Team | Win | Lose |
| --- | --- | --- |
| Team 1 | 0 | 1 |
| Team 2 | 1 | 0 |
| Team 3 | 1 | 0 |
| Team 4 | 1 | 0 |
| Team 5 | 0 | 1 |
| Team 6 | 0 | 1 |
We did some pose as a remembrance for the first day of Steemit League.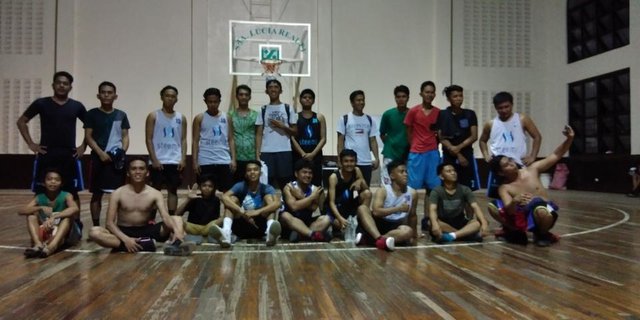 As of the moment there are still players that has no Steemit uniform but all of them are already in queue and we are hoping that all player uniforms will be ready for the next Steemit Meetup League.
After all the basketball matches all the players are really happy with the outcome of the play and all of them are looking forward on playing the next part of the league.
I am hoping that the next league would happen on day time so players that are far from venue would not have difficulty especially if it rains.