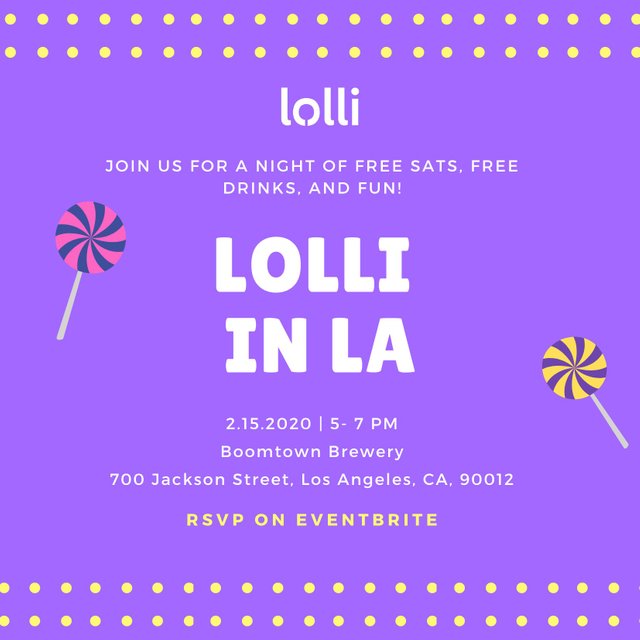 Sorry for the short notice but it just occurred to me we have quite a few in the LA area and may enjoy meeting up with some fellow Crypto folks
Wendy (aka @CryptoWendyO) is hosting a meet up in LA tomorrow evening on behalf of @trylolli.
Date And Time
Sat, February 15, 2020
5:00 PM – 7:00 PM PST
Location
Boomtown Brewery
700 Jackson Street
Los Angeles, CA 90012
Come join Alex from Lolli and Wendy at Boomtown Brewery in Downtown LA for a night of all things bitcoin, education, and fun!
See her original announcement HERE
And don't forget to register HERE if you plan on attending


What's Lolli?
Lolli is a web based application that rewards it's users in Bitcoin when doing their normal online shopping. They have partnered with over 500 well known brands and their plug in browser is extremely user friendly.
They are actually working to make earning Bitcoin easy for all, by incorporating it into individual's daily lives.
From their site (lolli.com)-
Lolli is the first bitcoin rewards application that lets people earn & own bitcoin when they shop online. We've partnered with 700+ top brands to help drive sales and conversions on their sites. When you shop on one of our partner sites, we get a percent of each sale. We then split that percent with you, sending bitcoin to your Lolli wallet!
Mission
We believe that bitcoin is the future, however, bitcoin in its current state is not easily accessible. Our mission is to change this with Lolli, making it easy for everyone to earn, save, and share bitcoin.
We see online shopping as an incredible opportunity to both educate and reward people with the power of bitcoin.
We want to live in a world where every payment is as fast, inexpensive, and universal as sending a text message. We are on a mission to spread bitcoin to billions of people all around the world with the click of a button.
We're building the future we all want to live in and hope you'll join us on this journey. ✌️❤️🍭
I'm a big fan of the lolli team as well as their mission to bring Bitcoin to all.
---


So if you are in the area and want to take the Tron load off with a cocktail and some good conversations with fellow crypto folks, come join us! I'll buy you a drink 😉
I do know fellow steemian @cryptostache (who you should be following) will be there as well as many from around the crypto twitter world.
It should be a good time, hope to see you there!




Much love,
Justine